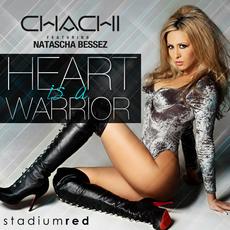 Chachi -"Heart is a Warrior" feat. Natascha Bessez
As one of the most popular DJs in NYC, Chachi has teamed up with International vocalist, and former Miss New York, Natascha Bessez to bring you, "Heart is a Warrior".
Chachi was first introduced to the turntables at a young age. His passion made it possible for him to turn his love of music into a successful career as a House DJ/Producer and he is currently a permanent fixture in the New York City music scene.
From New York to Naples, Ibiza to Istanbul, Natascha Bessez's music is the definition of international. In today's global dance music community, her hypnotic beats and sultry vocals are likely to be heard on sun kissed beaches, wintery northern cities and all points in between.
Together, the two bring you a high energy track with sultry, yet powerful vocals that complement each other in every right. This track has already become an anthem and has began the "Warrior" movement from Las Vegas to Atlantic City and beyond. The track is already in rotation on dance stations including Fusion Radio "Best Internet Station" as voted by Promo Only, and the dance industry.
Now available on iTunes!