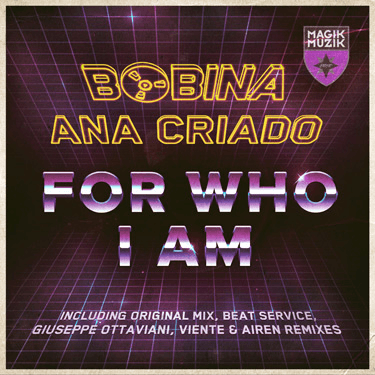 Bobina & Ana Criado – For Who I Am
Taken from his pan-genre 'Same Difference' long-player, here comes the next single testimony from Russian electronic dance don Bobina. Following the orchestra-driven euphoria of 'Sacramentum', the trance-noir of uber-deep 'Basque The Dog' and the infectious house elevation of 'Miami Echoes', he expands the album's range again. Featuring the vocals of the infinitely talented Ana Criado, here comes the much anticipated
'For Who I Am'.
Kicking off 'For Who I Am's single release, Bobina himself has expanded the album's original into a stunning mood-fused Extended version. With the intro's long held sweeping notes setting its tone, he laces it masterfully with pianoforte lines and the deep LFO throb of its bassline.

Having previously sung on releases by some of electronic music's biggest names (W&W, Markus Schulz Armin van Buuren and Alex M.O.R.P.H. being just a few), Holland's Ana Criado sweeps the track floor-bound. With its moving theme of unfulfilled love providing its emotional core, Bobina brings the steel, with an incising leadline, which takes the track out of the dark and dazzlingly into the light.

To do full justice to one of 'Same Difference's numerous highlights, Magik Muzik have lined up a comparably impressive remix-rank to take the track to pastures new. On his rework Giuseppe Ottaviani brings 'For Who I Am' peak-of-the-night floor-physics. Channeling pure energy trance into every drum, synth and bass note, he raises it to an Everest-high zenith.

Estonia's Beat Service furthers 'For Who I Am' trance-progressive ends. Sonorously maximizing the reach of Criado's voice, he balances the song's pathos with melodic sequences and punch-packing drums. Newcomers Viente & Airen meanwhile start their mix in a deceptively deep 'n' moody space. Once clear of the intro though the pair deliver a sudden rush of blood to the head, letting the sirens rip, pitching the synths up high and glitching the FX to effect bring about an atomic conclusion.
Purchase here: http://btprt.dj/16sQyoA