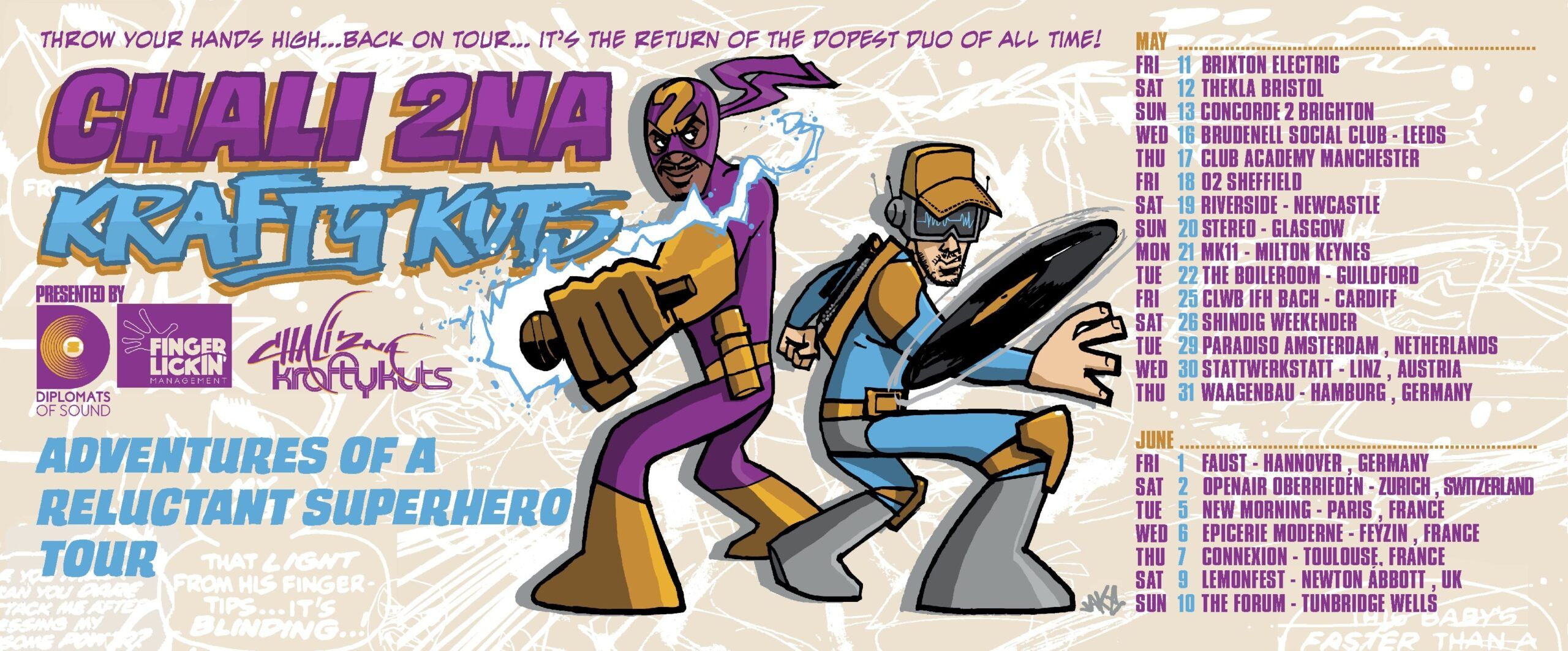 Chali 2na & Krafty Kuts – Adventures of a Reluctant Superhero Tour
Soaring high from the sonic boom their hit single 'Hands High' created, this dynamic duo is landing back to earth with a bang to take to the road for what is set to be an historic and unforgettable tour.
Hip hop legend and Jurassic 5 frontman Chali 2na and award winning multi genre turntablist Krafty Kuts, joined forces in the studio in 2016 to produce a whole host of lethal weapons that have been destroying dancefloors across the world ever since. In 2017 they took to the sky and toured the UK, US, Canada, Australia, New Zealand and more, showcasing their unique partnership that left audiences with no doubts of their rhythm and rhyme shooting superpowers.
There has been no twist of fate, no accidental spill, no evil mastermind that has given these two Masters of Music their unquestionable skills. Krafty Kuts and Chali 2na are artists that have put in the leg work, grafted for every success that they wear with honour and have transformed themselves into almost mythical maestros.
Since they joined forces and took on the world side-by-side, nothing has stood in their way and as summer beckons, they will ramp up the heat ready for the 2018 launch in London. This gargantuan mission includes dates in Bristol, Cardiff, Newcastle, Sheffield, Leeds, Brighton, Glasgow, Manchester, Guilford, Paris, Toulouse, Hamburg, Amsterdam, Zurich and more – with 15 shows to tackle in May alone, this isn't a challenge for any ordinary performer…
You might not find any spandex-clad, cape wearing, sword wielding characters on stage at these events but you will definitely be blown sideways by the beats, breaks, bass and turntablist chase that will be in your face… that will be sure to be the case!
On top of this sure to be sell out tour, comes their killer move – the hotly anticipated album. The single 'Hands High' was just a taster of what's to come, on the horizon is the promise of something special, something that will change the face of hip hop as we know it.
In short, you are promised one of the world's greatest DJs and hip hop's most recognisable MCs to bring their own brand of superpower right to your feet – keep those Hands High and be ready!
Catch Chali 2na & Krafty Kuts on tour:
11/05 – Brixton Electric, London
12/05 – Thekla, Bristol
13/05 – Concorde 2, Brighton
16/05 – Brudenell Social Club, Leeds
17/05 – Club Academy, Manchester
18/05 – O2, Sheffield
19/05 – Riverside, Manchester
20/05 – Stereo, Glasgow
21/05 – MK11, Milton Keynes
22/05 – The Boileroom, Guilford
25/05 – Clwb Ifh Bach, Cardiff
26/05 – Shindig Weekender, Somerset
29/05 – Paradiso, Amsterdam
30/05 – Stattwerkstatt, Linz
31/05 – Waagenbau, Hamburg
01/06 – Faust, Hannover
02/06 – Openair Oberrieden, Zurich
05/06 – New Morning, Paris
06/06 – Epicerie Modern, Feyzin
09/06 – Lemonfest, Newton Abbott
10/06 – The Forum, Tunbridge Wells