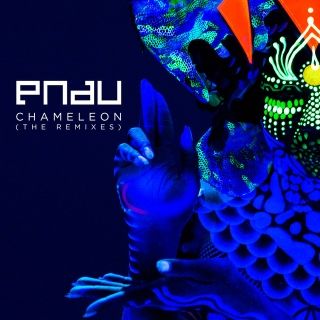 PNAU - Chameleon (Remixes)
Blonde, Mele, Dom Dolla, The APX, and Klue have each dropped killer remixes of acclaimed Australian electronic act PNAU's global anthem 'Chameleon', out today via Island Records. Already making huge waves in their native Australia, 'Chameleon' has gone double-platinum and hit the #1 Spotify viral chart and Top 20 globally.
Blonde take the lead with a scorching summer banger, perfect for festival season and proving once again why they're one of UK house's hottest duos. Mele's bass-heavy mix was given its first spin courtesy of DJ Target on 1Xtra this week, while Pete Tong is supporting Dom Dolla's remix over on Radio 1.
Constantly inspired by the emotional weight of our world, the single is spiritually anchored in the medicinal plant culture of the Peruvian Amazon and laced with all the energy that's expected of the Australian outfit comprised of Nick Littlemore, Peter Mayes and newest member Sam Littlemore. The band's last LP, Good Morning To The Night, with the legendary Elton John, went straight in at No.1 in the UK, while the huge track 'Changes' from French producers Faul & Wad Ad that samples their 2007 hit 'Baby', hit No.1 in several countries across Europe.
Not shy of output over the last 12 months, Nick Littlemore has dropped new Empire Of The Sun material (also produced by Mayes), a White Shadows EP (Nick and Sam Littlemore's project with The Vines' Craig Nicholls) as well as a forthcoming ambient collaboration with Celia Pavey, aka Vera Blue, all of which provide a true picture of PNAU's expanding interests, influence and creative energy.
Sam Littlemore (multi-ARIA Award winning super producer) joins the inseparable duo of Nick and Peter to bring a wealth of new material into fruition. Having been involved as producer for their 2007 self-titled album, Sam is an integral part of PNAU, genetics aside. The single 'Chameleon' also welcomes the addition of Shakira Marshall – previously a dancer and backing singer for Lauryn Hill – on vocals, bringing a new and electrifying layer to the band's vision for 2017.
FACEBOOK | SPOTIFY | TWITTER | INSTAGRAM