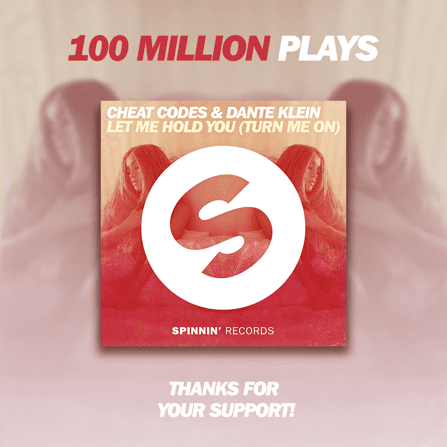 Cheat Codes x Dante Klein's 'Let Me Hold You (Turn Me On)' 100 million Spotify plays
Cheat Codes x Dante Klein's rework of classic summer hit reaches milestone 'LET ME HOLD YOU (TURN ME ON)' SURPASSES THE 100 MILLION SPOTIFY PLAYS
Two and a half months after its release, Cheat Codes x Dante Klein's summer tune 'Let Me Hold You (Turn Me On)' reaches the impressive milestone of 100 million Spotify plays.

With its sensual beat, uplifting summer sounds and luring vocals by Cheat Codes, the LA bases trio and the Dutch Dante Klein have created the perfect recipe to heat up any dance floor. Their version of Kevin Lyttle's classis 'Turn Me On' has proved to be the perfect tune for the summer of 2016.

Earlier this year Cheat Codes already reached worldwide success with their track 'Sex', together with the Dutch trio Kris Kross Amsterdam. With 'Sex' they reached yet another milestone surpassing the 300 million Spotify plays earlier this week.