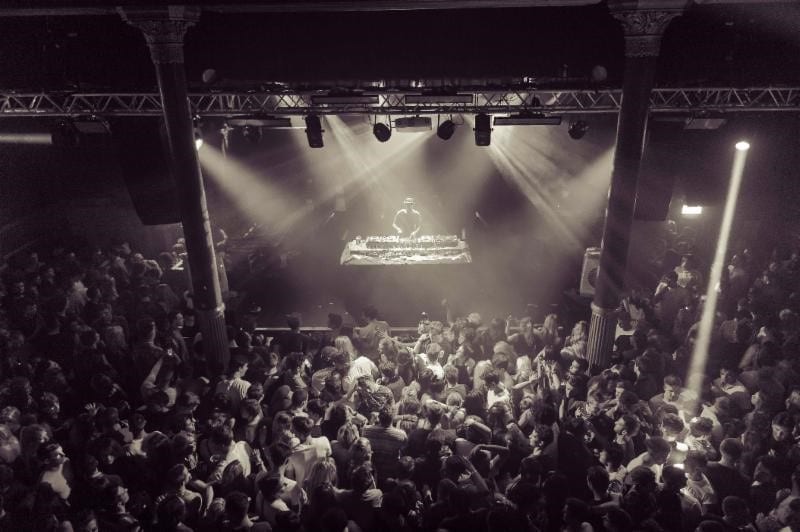 Chibuku Announce Full Line-Up
Having already announced their opening weekend with grime royalty Skepta, Preditah, The Square and Oneman, Chibuku are ready to lay all of their cards on the table as they announce their full mandate for the 2015 series.
Chibuku welcomes man machine and disco royalty Giorgio Moroder. Producer, songwriter, composer and in recent times DJ, Moroder has spent a lifetime obsessed with the mechanical, the magical and the melodic which will all be served up for An Evening With this musical mastermind.
With her astronomical rise in recent months setting dancefloors alight worldwide, Hannah Wants brings her signature bass heavy house to the Liverpool institution and comes armed with backup from the mighty Redlight, Shadow Child, T Williams and many, many more.
The 17th October holds no prisoners with Bonobo and David 'Ram Jam' Rodigan going head to head, curating a hand-picked gang of diverse musical masterminds with the likes of EZ, Marcel Dettman, Scuba, Leon Vynehall, Bicep and Paul Woolford's Special Request amongst the ranks holding court across the two rooms.
Saturday 7th November sees the undisputed stars of no nonsense house music Dusky and the soul and shake of Seven Davis Jnr take over Chibuku's home the Arts Club alongside Moxie and a plethora of artists still to be announced.
Over the years Four Tet has pretty much become a musical institution and integral part of the British electronic landscape. He's just at home producing leftfield dancefloor destroyers as he is offering his unique touch to the pop fraternity – his recent reworking of Chvrches has already notched up almost a 300k plays in just two weeks. Kieran Hebden aka Four Tet plays all night for a special show at the Kazimier
Another all-nighter in the form of Midland pops its head up the following week at Shipping Forecast whilst later in the season will see Amsterdam's San Proper and Gerd Janson step uptp the mark. The same night Mano Le Tough takeover the Theatre alongside rising stars Lewis Boardman and Felix Dickinson
The titans return to Liverpool for 2015 showcasing classic Chibuku programming and a return to form once again.
Full line-up below.
Friday 25th September 2015
Theatre
SKEPTA
ONEMAN
THE SQUARE ft NOVELIST, ELF KID, FAUST, HILTZ
BSSMNT
Loft – CIRCLES
PREDITAH
KLOSE ONE
MATT JAM LAMONT
BASS BOY HOSTED BY C4
PAUSE DJS BAR
Bar – Hot Plate Takeover.
NAUTZ
THOM WHITE
GILBEY
11pm – 4am | £20 Full Price £18 NUS
+++
Saturday 3rd October 2015
Theatre
JULIO BASHMORE
*Plus special guests to be announced
Loft – BONDAX & FRIENDS
BONDAX
JAX JONES
MOON BOOTS
SWEATERBEATS
Bar – Colours
DEXTRIC
EDEN & J DALY
SOUL SHELTER
10pm – 4am | £16 Full Price £14 NUS
+++
Saturday 10th October 2015
Theatre
HANNAH WANTS
REDLIGHT
JOSHUA
Loft
SHADOW CHILD
T WILLIAMS
PAUSE DJS
Bar – Rum & Bass
KINYUME
MANTRA
FEED THE APE
J. PLANT
10pm – 4am | £16 Full Price £14 NUS
+++
Saturday 17th October 2015
Camp & Furnace
*Daytime Event*
CAMP – CHIBUKU
BONOBO (DJ SET)
VERY SPECIAL GUEST TBA
PBR STREETGANG
JASPER JAMES
FURNACE : RAM JAM
DJ EZ
DAVID RODIGAN
SPECIAL REQUEST
RANDALL
BARELY LEGAL
PAUSE DJS
HAUS UPSTAIRS – FEEL MY BICEP
BICEP
MARCEL DETTMAN
SCUBA
LEON VYNEHALL
ANDREW HILL
2pm – 11pm
£25 Full price £22 NUS | After party details TBC

+++
Saturday 7th November 2015
Theatre
DUSKY & FRIENDS.
SEVEN DAVIS JNR
MOXIE
With More To The Announced.
10pm – 4am | £16 Full Price £14 NUS

+++
Friday 13th November 2015
MIDLAND – ALL NIGHT LONG – Shipping Forecast
10pm – 3am | £10 Full Price £8 NUS
+++
Saturday 14th November 2015
Theatre
AN EVENING WITH GIORGIO
GIORGIO MORODER
SEVERINO
THRIS TIAN (BOILERROOM)
PHIL CHARNOCK
THE QUEEN AND DISCO
STEVIE WONDERLAND
+ SPECIAL GUESTS TO BE ANNOUNCED.
10pm – 4am | £20

+++
Friday 20th November
Abandon Silence & Chibuku present Four Tet At The Kazimier
FOUR TET
SG LEWIS b2b ANDREW HILL
10pm – 4am | £12
+++


Saturday 5th December 2015
Theatre
MANO LE TOUGH
LEWIS BOARDMAN
HARRY SHEEHAN
Loft
GERD JANSON
SAN PROPER
FELIX DICKINSON
PHIL CHARNOCK
Bar – ZUTEKH AND FRIENDS
BURTON JOYCE
QUIXANO
DAVE DUFFY
GRRD
10pm – 4am | £16 Full Price £14 NUS
+++++
+++
LINKS & FURTHER INFORMATION
chibuku.com
LOCATION
Arts Club Liverpool,
90 Seel Street, Liverpool
artsclubliverpool.com
TICKETS
facebook.com/chibuku.shake.
chibuku.com