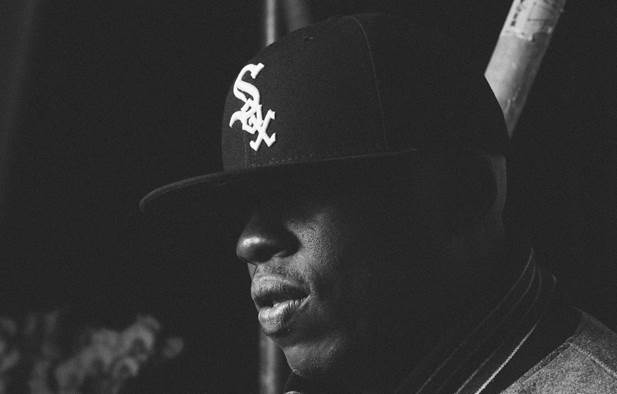 Chicago house hero MIKE DUNN announces first album in 27 years
Chicago godfather Mike Dunn presents a new album that's fuelled by a pumping heart of pure house and a body of powerful analogue muscle. 'My House From All Angles' is a record destined to fully reinstate this already respected figure at the upper echelon.
Despite releasing countless classics like 'Face The Nation', 'God Made Me Phunky', 'Let It Be House' and 'Personal Problem', plus plenty more underground gems under pseudonyms like QX-1, The Jass Man, The Phunky People and The MD Connection – this is Mike's first longplayer since 1990.
The album title represents the different styles of Mike's large and long-standing catalogue that's beloved of both diggers and DJs alike. A master of deep stroboscopic acid, booty jackers, hip house and groovy US house/garage – all are represented within.
Kicking off is a triptych of heavy 303 werk; the self-explanatory 'Acid Rush' and 'Body Music', followed by the breathy LA electro meets squelchy thumper 'Coal Mine'.
'DJ Beat That Shhh' is vintage bumping Chi goodness and 'Have It 4U Babe' revives Mike's Jass Mann alias, in the classic cut-up soul style.
'Modulation's slight move into progressive territory wouldn't sound out of place in a classic Danny Tenaglia or Junior Vasquez set, whilst 'Move It, Work It' is a no-nonsense stripped-back throbber, that recalls the best of Trax and DJ International.
The mood shifts on the subtly-deep brooding vibes of percussive bubbler 'The Frontier' and epic 'The Wake – Up Call', before ending on the classy uplifting 'You R' (which features the vocal talents of JR Jordan, who's best known for voicing the acid house classic 'Fantasy Girl' by Pierre's Phantasy Club).
The digital release contains three extra tracks: the re-worked update of Mike's smut-fuelled classic 'Phreaky MF', killer bassline-driven 'This Beat', and 'If I Can't Git Down', in which Mr Dunn explains the necessary vibe requirements to fuel his re-ascension.
For anyone who knows their shit, Mike should need no introduction, but for those that don't, he was highly influential in birthing the modern day dance music phenomenon, most notably as a major progenitor of acid house.
Mike also had an essential role in creating hip house and DJd with fellow legends Larry Heard, Armando Gallop and Ron Hardy, who backed Dunn to follow in his footsteps.
Mike produced for house heroes Fast Eddie and K-Alexi Shelby, forged a close friendship with Frankie Knuckles, and worked with the iconic voices of Byron Stingley and Kym English.
Dunn was one of the Radikal Fear Chicago All Stars with Armando, Felix Da Housecat and Roy Davis Junior, and is currently one of Chicago's unofficial royal family – the Chosen Few DJs, alongside Jesse Saunders, The Hatchett Brothers, Terry Hunter, Alan King and Wayne Williams.
Mike's seminal early release for label like Underground, Westbrook, Trax and Nitestuff are already common knowledge, but less known is that, as well as inadvertently creating hip house, Mike is an actual hip hop OG. "In the 80s people didn't take Chicago hip hop seriously, so MCs moved over to rhyming on house", explains Mike on hip house's inception.
"A hip hop demo I did for an artist called Swing gained the ears of multiple late 80s/early 90s industry moguls and culminated in a bidding war, which included Dr Dre and P Diddy. Despite my preference for Dre, Swing opted for Diddy, who soon-after copped gun charges and subsequently scrapped all deals on the table"recalls Mike.
This and other missed opportunities sent Mike into a depression, which was only finally alleviated by the help of friend Gill 'Skattamann' Carpenter, who "got me back in the house" and K Alexi, who recommended Mike connect with manager-to-be Mark Potts.
Following huge gigs during the first house music explosion, Mike was forced into a 12 year exile from Europe, due to passport issues. Eventually, with the help of Potts, the issue was sorted and Mike returned in 2015 to rock crowds at Panorama Bar, Fabric, Concrete, Sub Club and Glastonbury, demonstrating why Dunn's skills are still in high demand.
"I really appreciate things now", comments Mike. "During my first time in Europe I never complained, but now I'm less young and complacent – I'm older and wiser. I feel revitalised and full of ideas."
Recently Dunn has collaborated on big tracks with Murphy Jax, Alden Tyrell, and Jax Jones, whose 'House Work' featuring Mike has been streamed on YouTube over 10 million times.
Vinyl tracklisting
Acid Rush (Vokal MixX)
Body Muzik (Album MixX)
Coal Mine (Album MixX) (
DJ Beat That Shhh Feat. MD X-Spress (Album MixX)
Have It 4U Babe Feat. Jass Mann (Album MixX)
Let's Go! (Album MixX)
Modulation (Album MixX)
Move It, Work It(Album MixX)
The Frontier (9 – 1-1) (Album MixX)
The Wake- Up Call Feat. Dee Jay Alicia (MD Vokal MixX)
You R' Feat. J.R. Jordan (New Album MixX)
Digital tracklisting
Acid Rush (Vokal MixX)
Body Muzik
Coal Mine
DJ Beat That Shhh Feat. MD X – Spress
Have It For You Babe Feat. Jass Mann
Let's Go! (mastered)
Modulation
Move It, Work It (MD Vokal MixX)
The Frontier (Vokal MixX)
The Wake – Up Call Feat. Dee Jay Alicia (MD Vokal MixX)
You R' Feat. J.R. Jordan (New Album MixX)
Phreaky MF (2017 MD RemixX) – digital bonus track
This Beat (Album MixX) – digital bonus track
If I Can't Git Down (Album MixX) – digital bonus track
DJ dates
Fri 16th September – Panorama Bar, Berlin
Sat 23rd September – Shelter, Amsterdam
Thu 28th September – Melbourne, Australia
Fri 29th September – TBC, Australia
Sun 1st October – Sydney, Australia
Fri 6th October – Bonjour Bonsoir, Lyon
Sat 7th October – Liverpool Disco Festival, Liverpool
Sat 14th October – La Bellevilloise, Paris
Sat 21st October – Blitz, Munich TBC