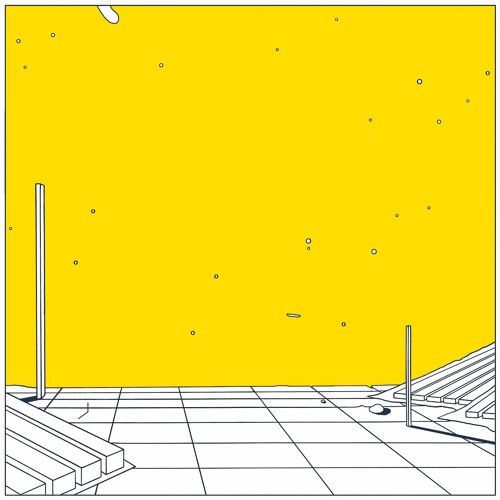 Go March - Chop Chop
Motorik-beats, disco drums, and infectious guitar lines from Belgium's critically acclaimed Go March.
The instrumental trio are pleased to share 'Chop Chop', the first track taken from the band's new album, 'II', released 28th September via Yokozuna Records/N.E.W.S.
'Chop Chop', clocks in at a cool 9 minutes in length, and is an explosive blend of psychedelic, electronic synth rock that makes for an entrancing experience, much like the rest of the new album. "'Chop Chop' was a bit alien, it started with an old drum machine I had that was bigger than a computer," recalls Go March's guitar wizard Philipp Weies. "I ran it through this filter and it went on for seven minutes, it got crazier and crazier and more distorted. Then our keyboardist, Hans, he found this sound, made it way faster, and we thought 'whoa' – then we had to keep up with the tempo."
Antwerp's Go March are pleased to announce the release of their sophomore album, 'II', released 28th September via Yokozuna Records/N.E.W.S. An exciting blend of electronics, post-rock and ambient passages, the trio have gained prominence of late with their futuristic propulsions and has led to their music being described as Mogwai meets Kraftwerk. Across 'II', abstruse melodies merge with synthesised pulses and shuffling poly-rhythms, that evolve throughout each track. The modular electronics and subtle sounds of 'Leopolderson' offer a slight reprise from the thunderous 'Chop Chop', while tracks likes 'Meristem' hint towards the proto-techno artists such as Manuel Göttsching and Giorgio Moroder who are obviously a clear influence of the band.
Go March have performed shows across Europe and Japan including Benelux, UK, France, Germany, Sweden, Italy, Czech Republic and Japan. They have supported such acts as Holy Fuck, Maserati, Trans Am, Föllakzoid and Millionaire. The trio have received the remix treatment from the likes of Psychemagik, Shigeto, Peaking Lights and Dreams.
"You might not know a huge amount about Belgian cosmic rockers Go March but hopefully that's set to change." THUMP