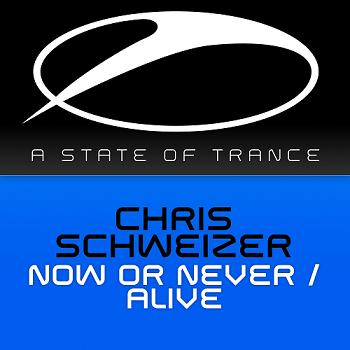 CHRIS SCHWEIZER – NOW OR NEVER
Known for delivering back-to-back hit records that combine powerful electro punches, enchanting trancey melodies, and basslines that'll knock your knickers off, 21-year-old Chris Schweizer is on the verge of graduating from notable "up & comer" to superstar DJ status. Schweizer's action packed sound has resulted in a plethora of Beatport Trance #1's, including The Kraken, The One, and Reflections. His "Nasty" collaboration with Heatbeat was released last month and has generated serious heat of its own. The genre-blending tune has gained airplay on SiriusXM's BPM, and has held steady at #3 on the Beatport chart for weeks–surpassed only by the latest Dash Berlin and Armin van Buuren singles.

Riding on the success of "Nasty," Schweizer is set to release a new EP on September 30th titled "Now or Never / Alive." The Buenos Aires-native subtly alters his hit-making magic formula, using more trance-inspired elements on the forthcoming EP. "Now or Never" (the A-side) takes off with celestial melodic chords, until big-room style drums take center stage, transcending into yet another potential #1 to add to Schweizer's repertoire. The B-side ("Alive") begins in the same vein as "Now or Never" with equally magnetizing trancey chords, yet impeccably transitions into the signature-Schweizer sound, complete with a head-bobbing electro bassline and a punchy groove that truly will make you feel 'alive.' Both "Now or Never" and "Alive" take listeners from a tranquil state of trance to a sweaty dance floor where nothing matters but the music.

The release of this enthralling EP serves as a prime illustration why Chris is often dubbed as one of Armada Music's premiere talents. As typical of every Schweizer release, the "Now or Never / Alive" EP is receiving positive reviews and support from DJs and industry insiders alike. The senior editor of the highly-esteemed VIBE magazine states "(the EP) is sure to raise Chris among the ranks of EDM's elite–just like his label boss Armin van Buuren." Bet on it!

"Now or Never / Alive" EP hits Beatport via Armada Music's A State of Trance imprint next Monday, September 30th!