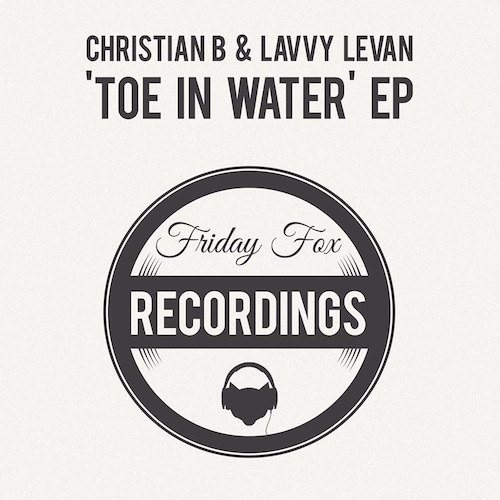 Christian B & Lavvy Levan – Toe In Water EP
Brand new for 2014, UK production duo, Christian B & Lavvy Levan, make a grand entrance to the house scene, launching Friday Fox Recordings with their superb 4 tracker, 'Toe In Water EP'. This EP comes armed with a unique flavour, that oozes honesty, credibility, accessibility and mighty beats, as the boys kick off the party with the sublime 'It's on!'. A deep and disco tinged outing, introducing Lavvy's versatile yet endearing laddish vocal, who features on all 4 tracks. This is followed by the quirky baseline groove and sassy vocal hook that bounce to the deep house groove of 'Now?". More signature quirks resonate through the heartfelt song, 'Two Sides', before rounding off the package with the sublime deep house chugger, 'Insatiable'.
"Bringing some fun to the UK Dance Music scene – Friday Fox is not hung up on sub-genre or expectation, but simply; good music. Friday Fox loves great dance music from all influences and backgrounds; celebrating individualism and creative freedom is our goal." – Lavvy Levan
Pals from a young age, Christian B and Lavvy Levan have always had music at the core of their friendship. The early days included forrays into Rave and DnB, Pirate Radio sessions among other musical adventures. Musically reunited in 2013, they decided that the time was right to create Friday Fox and give birth to some individual yet accessible dance music and make their mark on the scene. Christian B's family have a long history in music with his Dad being a prolific musician Russ Ballard, with a career spanning 5 decades. Christian's environment growing up was always focused around the studio, and it was clear from an early age that music would be his profession and passion. Meanwhile, Lavvy 's parents liked to party and he grew up in a house filled with the sounds of Funk, Soul and Disco. As such, the natural attraction to unusual and funky music came early for Lavvy – and he started his vinyl collection at young age. While Lavvy explored the UK club scenes with his DJ sets, Christian moved into professional studio production writing and producing for Pop Idol and The Voice stars in UK and Germany. He's also had 5 top tens in the UK and 4 in Germany and was part of the remix team for Christina Aquilera, Leona Lewis, Alicia Keys and Lemar, among others. Christian also produced House music for Stip Records, more recently releasing with Bonnie Bailey on Strictly Rhythm and Fierce Angels. Christian & Lavvy's paths moved in different directions for a number of years, before re-connecting last year. Both bursting with fresh ideas, they jumped into the studio to write for themselves, emerging with 4 fantastic house cuts, making up the aptly titled 'Toe In Water EP' and launching their own label Friday Fox Recordings. The guys already have many remix projects in the pipeline from Robot 84 and Alex Barck, among others. Christian B & Lavvy are definitely one's to lookout for this year, have perfectly positioned Friday Fox to be one of the breakthrough labels of 2014; pushing fresh UK talent.
TRACK LISTING
1 It's On!
2 Now?
3 Two Sides
4 Insatiable