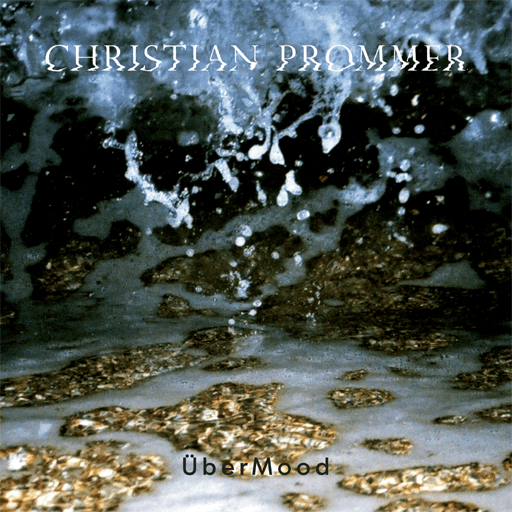 Christian Prommer – Ubermood
Christian Prommer releases his first solo album "ÜberMood" on Compost Black Label in February 2014.
ÜberMood is a very personal travel of Christian Prommer into his roots. Having collaborators with most of his projects for the last two decades, he now debuts with his first solo album: ÜberMood.
These 16 songs are a refection on his musical journey for the past 12 month.
ÜberMood says it all. You need the german Übermut (may be translated as cockiness or devilment) as an artist to go the extra mile out of your comfort zone to tap into new territory. And the mood or atmosphere is something that defines your voice as an artist. This record was written and produced all over the world on the many travels that Christian Prommer took to concerts, studio session and DJ shows. Improvisation is the main mantra of Christian Prommers creative process. Playing with the various instruments, drum machines, sequencers and records. Christian this is a mission to the perfect moment. Whether it's when playing live with his band, at solo concerts or as a DJ, the moment is what brings music to life and connects you with the audience.
To describe the music of this album is quite a challenge.
This record travels through all of Christian Prommers musical interests. From classical, jazz, electronic soundscapes, folk and soul-music to deep house music. The rhythm and the improvisation is always a very distinctive element in the music of Christian Prommer. He played many of the instruments on this record himself but reached out to some fine collaborators to get the extra input he was looking for.
Seasoned jazz musicians like Kelvin Sholar (Detroit), Florian Riedl (Muc), Raoul Walton (Nyc) and Jan Krause (Muc) as well as vocalists and co-writers like Simon Jinadu (London), Kim Sanders (Atlanta), Tommy Hien (La/Muc), Adriano Prestel (Muc) and Lew Stoi (Muc). Some new names and some old friends.
This release also celebrates the long love and dedication that Christian Prommmer has for Michael Reinboth and his
Compost Records. Christians first release was on Compost Records in 1995. Since that time Michael Reinboth continued to be one of the main friends and supporters of his music and art.
Christian Prommer is an american producer, DJ, drummer and musician who has produced and composed genre defining and award winning dance music for two decades. As founding member of Fauna Flash, Trüby Trio and Voom:Voom, as producer and co-writer for Kruder & Dorfmeister, DJ Hell, Kim Sanders, The Dining Rooms, Incognito and with his own projects Prommer & Barck and most notably Christian Prommers Drumlesson.
As a musician and collaborator he has worked with Carl Craig, Tony Allen, Bugge Wesseltoft, Joe Sample, Till Brönner, Mousse T, Wolfgang Haffner, Incognito, Klaus Doldinger and many more.
With his band, solo shows and DJ sets he travels the world non stop from big jazz festivals to the darkest after hour club.
About the Songs:
Shanghai Nights – Homage to the reed instruments. All played live by Florian Riedl on all flutes and saxes. Is it jazz or is it house music….?
Can It Be Done – Deep and sexy slo-tech-house with muniches finest vocals Andiano Prestel.
Arturo – Debussy inspired chord sequence. A club tune with a very cinematic soundscape. Piano and deep bass.
Zao Bretu – Dark trip into strings and voices from the melancholy side
Future Light – This tune joins forces with UK vocalist Simon Jinadu from the band The Beauty Room.
Beautiful – Classical minimal music influenced love song…she's so beautiful….
Hanging on the DJ Booth – Heavily inspired by a cool girl that loves to hang upside down on the DJ Booth at our favorite clubs in Munich.
Wonder Of The World – Collaboration with longtime family friend Tommy Hien. A wonderful, folky song that has some 70ies Los Angeles memories in stall. A Catz n` Dogz remix brings this to the club.
Waltz – Really a waltz, the triplet rules this rhythmic grid. Florian Riedl on flute. deep and rolling.
Marimba – All played on an electronic mallet controller. Musicianship meets technology.
Tob, Der Bär – Christian Prommer calls this "Jazz Rave" music. Kelvin Sholar on Piano and Herman Puschner on Trumpet. 60ies Jazz meets house beats.
Synth Jazz – Synth and drum jam.
Where You Gonna Go – Collaboration with longtime friend and co writer Kim Sanders. Beautiful soulful vocals meet ruff beats and weird synths.
Duckwalk – first time collaboration with Beanfields Jan Krause. Classical voices, Tripping 70ies Synths and futuristic beats.
Where Is The Sun – again Jan Krause (Beanfield) and Christian Prommer do it together. MPC3000 style tripping downbeat extravaganza.
Double Red – Collaboration with Roland Appel. Deep and spacey Vocals and a fierce bass make this a club workout.
Quotes:
DJ Hell: Geiles Album! Future Light ist der Hit! (Great album! Future Light is a hit!
About "Future Light (feat.Jinadu)":
Laurent Garnier: Whaouuuu this is good! Will play everywhere…
Tedd Patterson: "WICKED!!!! Full support on this monster.
Meat: I like….. mucho!!
Bill Brewster: It's all about the CP mixes!
Luke Solomon: Mega…big up my munchen brother
Quentin Harris: Love the sound and feel of Christian Prommer version.