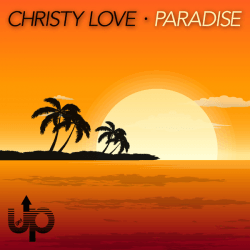 Christy Love – Paradise
Next up from Get Up Recordings is the tech house slammer "Paradise" from label owner Christy Love. The package includes the original and two remarkable remixes by fellow NYC DJs and producers The Carry Nation and Lauren Flax, each adding further depth to the release.
Christy Love has been immersed in the house music scene for more than two decades and is one of the most sought-after DJs in NYC because she consistently destroys dance floors all over the city and beyond. Her distinct sets are comprised of a clever mixture of classic and modern house bursting with driving beats and funky bass lines, playing a pivotal role in defining the current underground sound of New York. This DJ prowess, combined with her production work as House of Stank with longtime collaborator W. Jeremy and the success of their label Get Up Recordings, has transformed Christy into a house music triple threat. Her production work on "Paradise" is characteristic of her other work; it has a big, thumping bass line complimented by a driving house percussive beat. She cleverly uses vocal samples to highlight elements of the track. The orchestration of the organ stabs, reminiscent of the '90s industrial rave sound, really becomes hypnotic and makes this into a lovely big room house track.
First up on remix duties is The Carry Nation, a NYC-based production team comprised of Will Automagic and Nita Aviance. Both noted producers and DJs on their own in the NYC and London scene, their collaboration brings a unique, stripped down version of "Paradise" to the table. The remix is a true 'bonus beats' type of track with heavy drums, claps, rides, and cymbals. The quick, choppy use of rhythm is The Carry Nation's signature style.
The second remix of "Paradise" comes courtesy of Lauren Flax, a DJ, songwriter, and producer from NYC. Flax is currently a member of the band CREEP with long-time collaborator Lauren Dillard and was the official Fischerspooner tour DJ from 2008 – 2011. Her debut single, "You've Changed", featured vocals by Sia of Zero7 fame. Flax's remix is a beautiful departure from the original and The Carry Nation's addition. She gets real deep and warm with her complex take on "Paradise". Using the strong elements of the original, she adds analog bass and hits that make it into a full on dreamy, melodic track all its own.