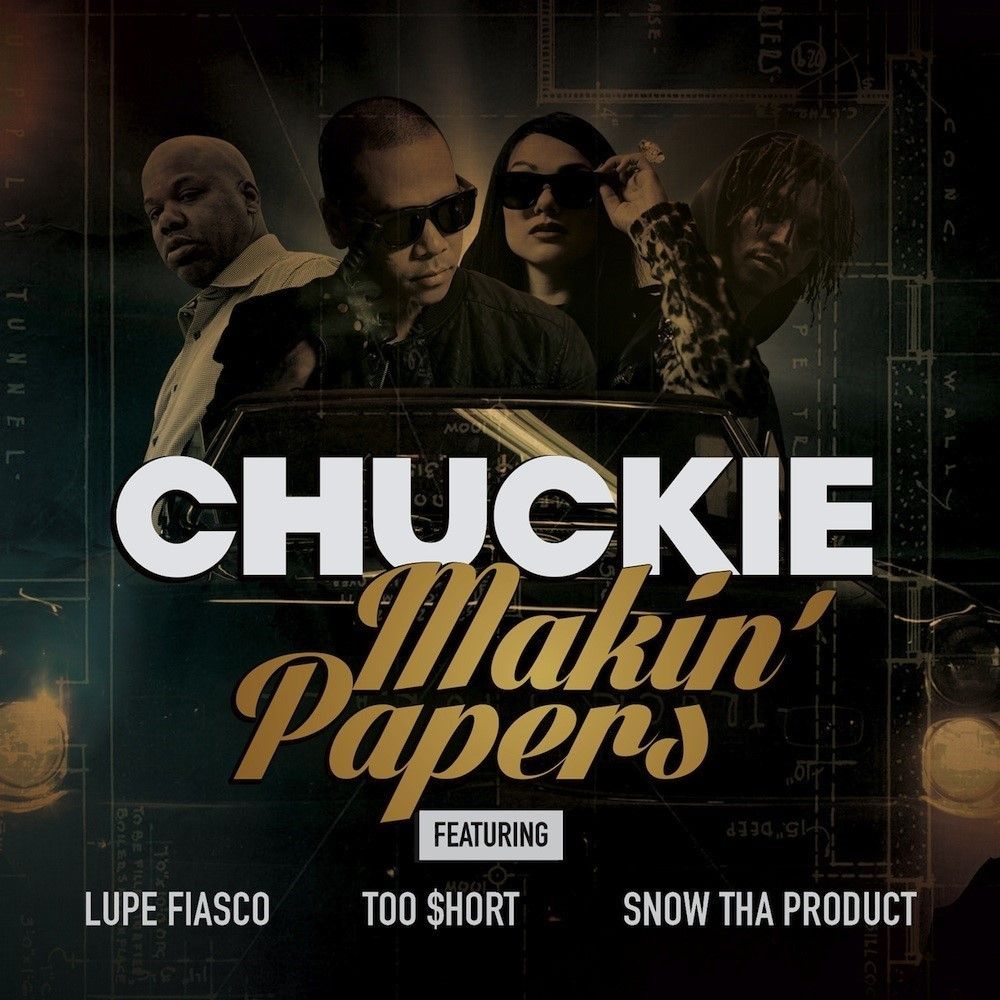 Chuckie – Makin' Papers
Internationally acclaimed DJ/producer, Chuckie, reveals his eagerly anticipated new single, "Makin' Papers (Feat. Lupe Fiasco, Too $hort, and Snow Tha Product)," arriving at all leading digital retailers today (http://smarturl.it/MakinPapers) on Big Beat Records.
Having earned international fame for his groundbreaking fusion of hip-hop and electronic dance music, "Makin' Papers" marks Chuckie's biggest and boldest crossover thus far. The genre-bending track received its world premiere this past Sunday via 50 Cent Presents G-Unit Sundays: The L.A. Leakers the influential SiriusXM radio show hosted by DJs sourMILK and Justin Credible, and broadcast on Shade 45, the uncensored hip-hop channel created by Eminem.
"As genre lines are beginning to blur more and more in 2013," VIBE validates "Dirty Dutch superstar spinner Chuckie hooked up with Lupe Fiasco, Too $hort, and Snow The Product to bring a unique high-octane collaboration as Lupe provides a sticky-like-glue hook." "On this electro beat, the rappers spit some hot rhymes" denotes XXL, while Rap Up demands the "head to the dance floor" appeal of this "hustler's anthem." The track is "refreshing on all aural facets" recounts the dance community as well, including Dancing Astronaut, who declares, "Chuckie shines the brightest with Lupe and Too $hort by his side… deliver[ing] more than a pleasurable listen, but insight into the mind of Clyde Sergio Narain."
Unquestionably among the planet's preeminent live DJs, Chuckie is slated to rock the globe long into the immediate future, including a high-profile array of club and festival dates here in the United States. Highlights include the much-anticipated H2O Music Festival, set for August 17th at Los Angeles State Historic Park, as well as a continuing residency at Las Vegas' hugely popular Marquee Nightclub & Dayclub. For complete details, please find North American live dates below or please visit http://www.djchuckie.com.
Hailed by Forbes as "a global phenomenon," Chuckie has earned widespread applause for his dazzlingly creative sonic clash of hip-hop, rock, and electronic dance music. The South America-born, Amsterdam-based DJ – a.k.a. Clyde Sergio Narain – first broke through to intercontinental fame and chart success with club classics like the top 10 UK smash, "Let The Bass Kick." The track – as well as additional hits like "Aftershock" and "Move It 2 The Drum" – heralded his revolutionary "Dirty Dutch" sound, merging big grooves, sizzling synths, and always-explosive beats into his own trademark vision. Chuckie further staked a claim for greatness with his multi-faceted Dirty Dutch live events, a series of ever-growing gatherings attracting worldwide audiences in excess of 30,000. As if that weren't enough, his Dirty Dutch Radio is broadcast on stations around the world in addition to now being made available on the iTunes Store as a free weekly podcast (http://dirtydut.ch/DDradioiT).
Chuckie has also proven one of the world's most in-demand producers and remixers, collaborating with such diverse artists as Lil Jon, T-Pain, David Guetta, Marina & The Diamonds, 3OH!3 (Feat. Ke$ha), Black Eyed Peas, Bob Sinclair, Rihanna (Feat. Calvin Harris), and Michael Jackson, for whom he crafted the sole official remix of 2011's posthumous hit single, "Hollywood Tonight."
Recently named as one of Rolling Stone's top "Dance Music Producers of the Moment," Chuckie has received rapturous critical approbation from major publications around the world. The two-time MOBO Award-winning DJ/producer has starred on the covers of both Mixmag and DJ Mag, with Billboard noting in its "EDM Preview 2013" that "Chuckie is hip-hop enough to spin at NBA parties and house enough to headline Identity, Live Nation's traveling rave." "It's no secret that a DJ has the power to make or break a good party," declared the UK's Daily Mail, "but the challenge of keeping over 6,000 people in good spirits in a sold out venue is something that DJ Chuckie has mastered to perfection." "Chuckie made the walls (and boo-tays) shake at 120 BPMs well into the late hours," declared Vibe, while Dancing Astronaut commended the recent Chuckie & BetaTraxx vs. Slash track, "Rocktronica," as "unlike anything they've released as individual artists and…catalyst for the emergence of a new sound."

"It's always been about bringing different styles of music together for me. With Makin' Papers, we've managed to fuse the freshest and most exciting music scenes on the planet together in one track."
– Chuckie
"Chuckie always rips it when he's spinning and Lupe is one of the best rappers ever so it was real big to be able to collaborate with both of them"
– Too $hort
"It was an honor and I am happy to be a part of two awesome worlds on one track."
– Snow The Product