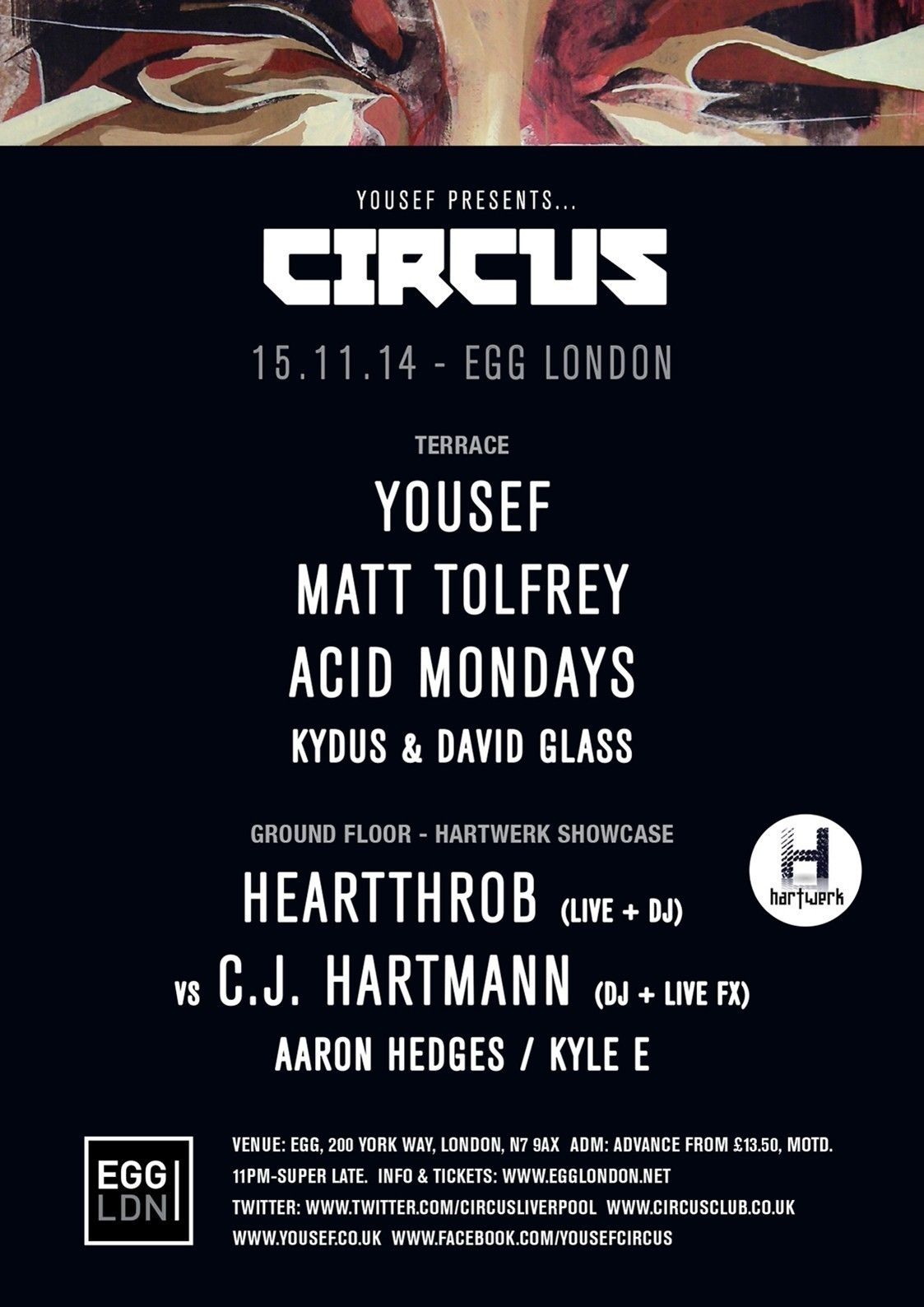 CIRCUS
Yousef, Matt Tolfrey, Acid Mondays, Kydus, David Glass, Hartwerk Showcase
Saturday November 15th
Yousef has been drawing in crowds to his legendary Circus parties for over a decade. The Circus boss is joined by Matt Tolfrey and Acid Mondays to celebrate a huge show at EGG in London. Ground floor will be hosted by Hartwerk.
Leftroom label boss Matt Tolfrey is welcomed by Yousef to what is certain to be another prolific chapter in the Circus party series. Tolfrey's experimental blend of house and techno has deservedly cemented him in Resident Advisor's top 100 DJ poll for the past several years. With a monumental career that has seen the British born DJ hold residencies at some of the worlds most famous clubs such as The Verboten, Matt Tolfrey is one of the most eagerly anticipated artists to watch at EGG on November 15th.
Bursting onto the international scene over the last 2 years, DJ duo, Acid Mondays have had a string of notable releases. Their debut EP's released on 'Illusion Recordings' in 2013 have been recognised and praised by the likes of Tini, DJ Sneak and of course, Yousef. Captivating audiences with mind-altering techno and hallucinogenic house, they are certain to leave the dance floor wanting more.
Hartwerk is a platform established in 2014 by DJ/Producer C.J. Hartmann and Natalie Schmacht. They plan to bring you cutting-edge electronic music, quality artists and events that will blow your mind!