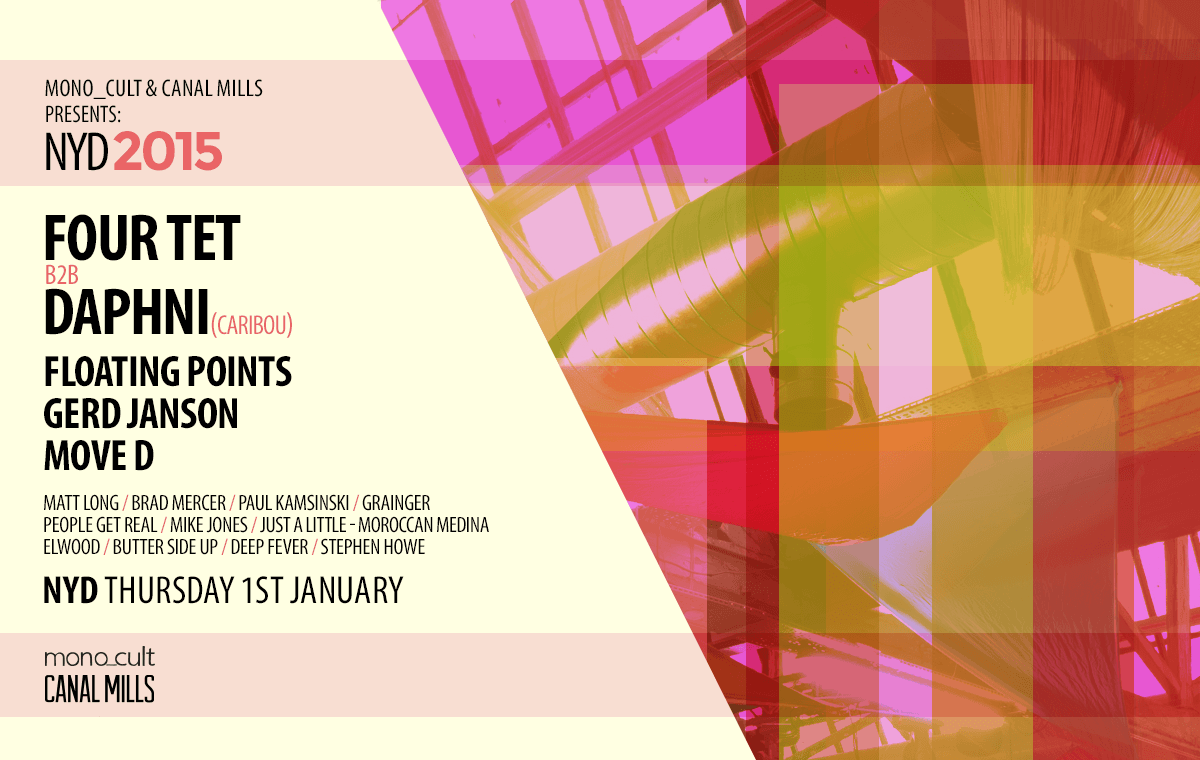 mono_cult presents New Year's Day 2015
For this edition of the New Year's Day session, Canal Mills have pulled out all the stops to bring you a rare back-to-back session from two of the best selectors around, along with two rooms of artists including Floating Points, Gerd Janson, Move D and more.
Four Tet and Daphni a.k.a Caribou will be heading up the bill with a rare b2b appearance in Leeds that's sure to see them digging deep to produce something special for such an occasion!
They'll be supported by Floating Points, the artist known for his discerning ear, tireless commitment to sourcing exciting new music, and diverse selection policy, who'll be making his Room 1 debut at Canal Mills.
As a resident of the esteemed Panorama Bar and head of the brilliant Running Back label, Gerd Janson has become renowned for his support of the most unique, exciting music about. His recent mixes for XLR8R and LWE are proof of his authority as a DJ and his set should prove one of the highlights of the night!
Finally, what mono_cult party would be complete without Move D? Whether in London, Barcelona or Leeds, he's played for mono_cult countless times and brought something new to the table every single time. If you're yet to catch a Move D set, you won't be disappointed…
Room 3 will play host to Just A Little's Moroccan Medina, a stage dedicated entirely to only the biggest party tunes and guilty pleasures. Having been one of the most talked about stages at Unknown in Croatia for the last couple of years, (RA claimed that 'every festival needs a Medina') you don't want to miss their first party on UK soil!
Support comes from residents Matt Long, Brad Mercer, Paul Kaminski and the DJs from Butter Side Up and Deep Fever.