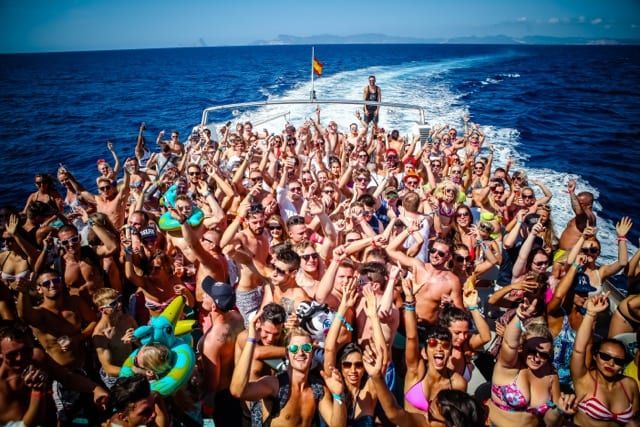 Cirque De La Nuit Launches Ibiza's Biggest Party Boat To Date
Leading boat party Cirque de la Nuit is offering almost 100 shows from May 6th to September 30th this summer. No one else on the island will get anywhere close to this, and when you consider each of these shows will take place on the brand new Ibiza Boat Club – the biggest boat in Ibiza hosting boat parties and holding 350 shipmates to dance and mingle with – there really is no arguing that they are the leaders in the industry.
The boat has a killer VOID Acoustic sound system that is the very best in the world, boasts various bars on different floors, plenty of toilets, as well as a 4 metre diving board for some adrenaline fuelled fun, plus friendly waitress service so your free (!) drinks are brought right to you on the dance floor – no queuing!
Cirque De La Nuit are the only cruise to hold an official Trip Advisor Certificate of Excellence so you can be assured of the very best experience once on board. The trip includes entry to two clubs when you get back on land, a stop off for a swim you so can cool down in the clear blue seas and also unlimited drinks including beer, cava, sangria, soft drinks, bellinis and sex on the boat cocktails.
Musically expect only the very best and biggest stars from the worlds of house, disco and techno: in the past the likes of Solomun, Seth Troxler, Guy Gerber, Miguel Campbell, tINI, Pan-Pot, Dennis Ferrer and more have all hopped on board and tore the roof off.
CDLN's resident Ryan Platts not only became a hot newcomer that is nowadays regularly playing the big clubs of the island already but is very successfully hosting his Casa parties in the south of England, too.
Each cruise day starts from 1pm with the Breakfast Club at Dunes Bar (next to Ushuaia) in Playa d'en Bossa (which you can get to in a free shuttle bus from San Antonio) where you can strengthen yourself with good food and drinks before heading to Ibiza's biggest floating dance floor at 3pm. You then set sail for three and a half hours until 6.30pm, during which time you will see the amazing Ibiza coastline and glittering waters. Once you land, the party carries on in a choice of clubs and so you can party with Cirque de la Nuit all day and all night for a very affordable price.
Tickets: http://cirquedelanuitibiza.com
Facebook: https://www.facebook.com/cirquedelanuit.ibiza/
May
6, 7,10, 13, 14, 17, 19, 20, 22, 24, 26, 27, 29, 31
June
3, 5, 7, 10, 12, 14, 16, 17, 19, 21, 23, 24, 26, 28, 30
July
1, 3, 4, 5, 7, 8, 10, 11, 12, 14, 15, 17, 18, 19, 21, 22, 24, 26, 28, 29, 31
August
2, 4, 5, 7, 9, 11, 12, 14, 16, 19, 21, 23, 26, 28, 30
September
2, 4, 6, 9, 11, 13, 16, 18, 20, 23, 27, 30