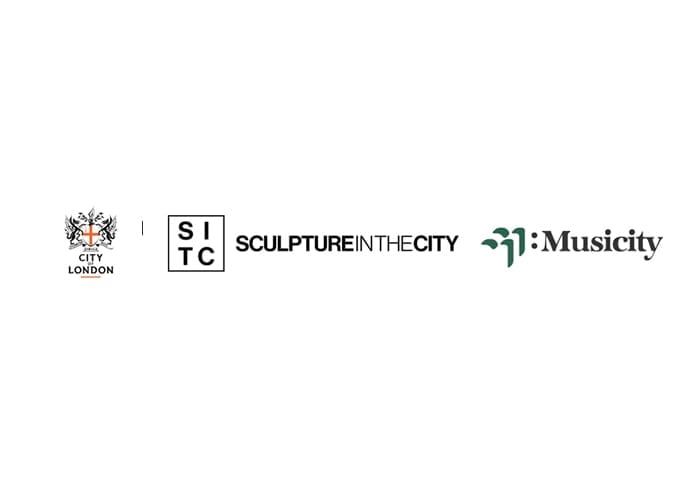 City of London's Public Art Programme Sculpture in the City Launches
Sculpture in the City, the City of London's annual public art programme set amongst iconic architectural landmarks, features 18 artworks making up this year's outdoor sculpture park in the Square Mile.
For the eighth edition, the exhibition includes works from internationally renowned artists including Sarah Lucas, Tracey Emin, Sean Scully and Nancy Rubins while also introducing three new commissioned works. The artworks are displayed close to some of the City's most famous buildings, including 30 St Mary Axe ('the Gherkin'), The Leadenhall Building (the 'Cheesegrater'), as well as new locations for this year, including historic corners of the City, Heneage Lane and Hartsthorn Alley.
Launching on Saturday 21st July, Musicity x Sculpture in the City, supported by Brookfield Properties, is a brand-new programme that adds to the digital transformation of Sculpture in the City and will enliven ten sites from Aldgate to Shoreditch and from Leadenhall Market to St. Botolph's-without-Bishopsgate with audio tracks. The launch of the programme coincides with Nocturnal Creatures, Whitechapel Gallery's inaugural late-night contemporary arts festival taking place on Saturday 21st July.
Musicity is a web app that provides a new way of seeing and hearing the city where the visitor can experience architecture-inspired music and sound art in the place that sparked its creation, through headphones on a mobile device. Musicity invites musicians and recording artists to compose tracks for locations in cities around the world and will be delivering ten new tracks as part of this unique collaboration.
Musicity x Sculpture in the City forms part of the project's continued mission to provide a multi-sensory experience and reinforce the opportunity of embracing the City's dynamic spaces, offering passers-by the chance to hear as well as see artists responding to the architecture.
Ten newly commissioned audio tracks, ranging from modern classical and electronic to globally inspired soundscapes, will include new site-specific work by Sarathy Korwar, Midori Komachi, Bambooman and Angèle David-Guillou that visitors will be able to experience for the run of the eighth edition of Sculpture in the City.
The locations and musicians are:
St Botolph's without Bishopsgate EC2M 3TL – Tawiah
99 Bishopsgate EC2M 3XD – Angèle David-Guillou
Bury Court EC3A 8EX – Sarathy Korwar
Mitre Square EC3A 5DH – Simon Vincent
Leadenhall Market EC3V 1LT – Abirdwhale
Lime Street EC3M 7DQ – SuperCool-Guy feat. Fay Cannings
Undershaft EC3A 6HX – Midori Komachi
St. Helen's Square EC3V 4QT – Datassette
Principal Place EC2A 2BA – Ski Oakenfull and Bluey
Aldgate Tower E1 8EP – Bambooman
Sculpture in the City is an associate programme partner of Nocturnal Creatures and will be offering thematic walks and talks by five of the artists featured in the current edition of Sculpture in the City, two further tours of the project as well as Musicity x Sculpture in the City Live that will deliver live music performances at four Musicity x Sculpture in the City locations by commissioned artists.
A series of thematic tours of the area will be led by Sculpture in the City artists including Amanda Lwin, Jyll Bradley and Shaun C Badham while Juliana Cerqueira Leite will hold a reading at Mitre Square and Thomas J Price will be in conversation with Tabish Khan, visual arts critic for the Londonist at the Leadenhall Building. There will be live performances from Midori Komachi, Angèle David-Guillou, SuperCool-Guy feat. Fay Cannings and Bambooman. All events are free and bookable in advance.
For the first ever Nocturnal Creatures, cultural and historic venues within walking distance of the Whitechapel Gallery will feature spectacular artworks and performance for one night only and local galleries will open their doors late into the night. Additional highlights from the Whitechapel Gallery include an immersive audio-visual environment created by Tom Lock staged with Nocturnal Creatures' headline sponsor Broadgate and a multi-media experience bringing together performance and film accompanied by an intense, beat-driven live soundtrack by Larry Achiampong at the White Chapel Building.