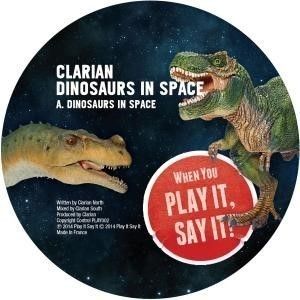 Clarian – Dinosaurs In Space
After the phenomenal success of the first release – WMC anthem 'Tripi' by Sharam (Deep Dish) – Seth Troxler's new imprint Play It Say It is back with another serious heavy hitter, this time from Montreal's favourite producer Clarian. Venturing away for his more vocal based, smooth electronic style, the versatile producer delves into the more techy side of things with the trippy dance floor weapon 'Dinosaurs in Space'. On the B -side, techno heavy-weight Paul Ritch steps up for remix duty with his 'Astro Lizard Mix' a driving techno bomb destined for a big room affair. He also provides a deeper yet equally as driving 'Cosmic Fossil Mix' to be released as digital only. This EP is peak time material at its best and is sure to destroy dance floors worldwide this summer.
A standout talent and powerhouse on the underground scene, Clarian North formerly of electro-pop duo Footprintz has released, remixed and featured on various house labels du jour, such as Visionquest, Supplement Facts, Culprit LA and Life & Death. With an upcoming collaboration on Digitaria's album on Hot Creations and this exceptional release on Seth Troxler's label there is no doubt he will continue to see his solo career soar.
In 2007, Paul Ritch took the techno scene by storm both on stage and as a producer. Ever since, Paul has been defined by his passionate musical rhetoric, projected in releases for labels like Drumcode, Sci+Tech, Saved, Cocoon Recordings, Soma Records and Bpitch Control, among many others, and remixes to classic tracks such as Ondu, Positive Education, Tropical Melons, Remainings III, Magic K, The Test and I´m Burning Inside.
Paul brought to life his own imprint, Quartz Rec in 2008 with smashing results followed by a more recent project called "All Jacks", a vinyl -only label with a special vibe for jacking beats.