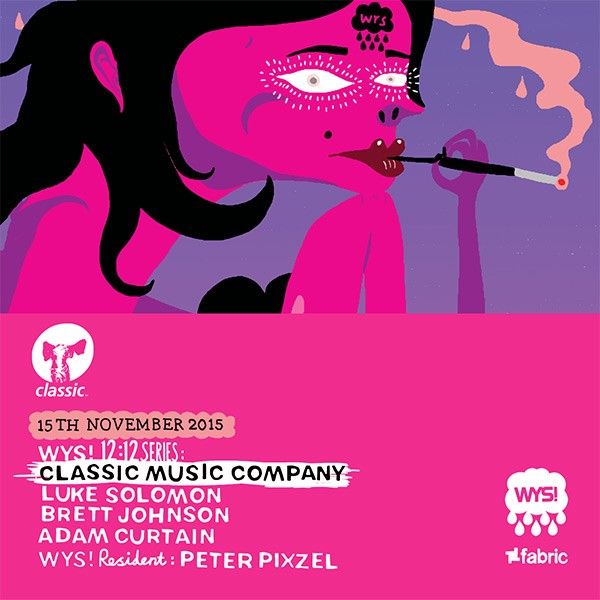 Classic Music Company play fabric
On Sunday 15 November Classic Music Company makes it fabric debut as part of WetYourSelf!'s new 12:12 party series, with a stellar line-up of label family and friends.

Already viewed as a seminal record label, Classic has once again started to make an indelible mark on the vista of underground house and techno, with a slew of well-received releases – including the massive Detroit Swindle remix of Seven Davis Jr. 'Friends' – establishing them as one of the scene's label's du jour.

Other successes include their continued association with inimitable artists such as Honey Dijon, while the upcoming Classic Music Company Presents 'Nouveau Chicago' will see Chicago luminaries The Black Madonna, Rahaan, Chrissy, and Shaun J Wright & Alinka appear on a single release.

Taking control of fabric's infamous Room 1 on the night will be label co-founder Luke Solomon alongside Brett Johnson and Adam Curtain, both of whom have released incredible records with the label over the years.

"The labels we have chosen are a snap shot of what we feel is most current and exciting, musically. The people behind these labels are all individuals who have earned our love and respect over the years for keeping the underground happening and alive and they're all people we feel are worth celebrating." WetYourSelf!

Now in its ninth year of operation, WetYourSelf! has firmly established itself as one of London's most popular Sunday night clubbing experiences. Named after its original home, Club Aquarium – so called because it comes equipped with its own swimming pool – the WYS! team have long been fuelled by their shared desire to bring serious dancefloor hedonism to Sunday nights.

They've ably presented their own brand of quality music in an unpretentious way at fabric since February 2009 and they've gained international recognition with further residencies at Space in Ibiza, Rex in Paris, Culturebox in Copenhagen and D.edge in Sao Paulo.

Starting on 06 September, WetYourSelf!'s new 12:12 series is simply an embellishment of their operation and a further continuation of the team's initial ethos with the residents working hard to shine a light on 12 hardworking London-based labels over the course of 12 events which are set to run over 12 weeks.