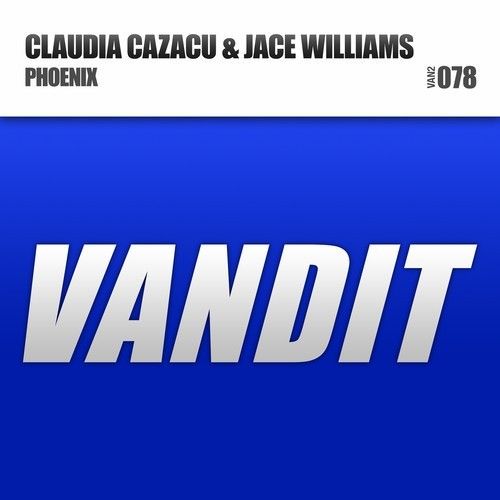 Claudia Cazacu & Jace Williams – Phoenix
When you put Romanian DJ/producer vixen Claudia Cazacu and the suddenly-everywhere Jace Williams in the studio together inevitably you're playing with fire! That's just what VANDIT have done though and from the flames has risen the club destroying 'Phoenix'.
Following a year-end rush hour of releases, bringing with it new studio ware from Las Salinas, Alex M.O.R.P.H., Martin de Jong and others, VANDIT prep to deliver their 2013 coup-de-grace. December 9th sees that fierce ruling diva-of-the-decks Claudia Cazacu taking a timeout from her Couture label and teaming up with Jace Williams for their first VANDIT outing.
Propelled by its piston-ing drums, dark, echoing perc loops and murky, super-subby FX, 'Phoenix' rolls out in tech-trance mode. Into the drop the pair throttle back for a moment, letting in a shaft of melodic harmony. It's a brief respite for the floor though and in the blink of an eye the horsepower's back. With tension ratcheting synth lines, a blizzard of EDM electricity and equally intense frequencies, the track throws open the doors to the Big Room. Tripping the endorphin switches hard, full-scale combustion for 'Phoenix' is only seconds behind it!
In their review DJ Mag says: "Romania meets South Wales (must be a first!) on VANDIT's latest with this team-up between Cazacu and newcomer Jace Williams. On 'Phoenix' Claudia's known-for skills are well on show. This is about locomotive beats propelling a dense techy timbre, lighting the shortest of fuses for a finale you could measure in megatons. To that end, 'Phoenix' excels. 8/10"
Tracklist: 01: Claudia Cazacu & Jase Williams – Phoenix – Original Mix
www.facebook.com/djclaudiacazacu
www.claudiacazacu.com
www.facebook.com/jacewilliamsmusic
www.soundcloud.com/jace-williams
www.vandit.com
www.soundcloud.com/vanditrecords