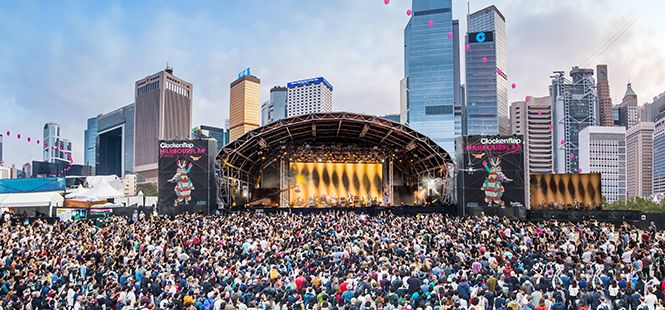 Clockenflap Hong Kong announces final line-up
With just three weeks to go and anticipation reaching fever pitch, Clockenflap today reveals 51 additional names to the final line up and on site programme. Joining the likes of Interpol, Wolf Alice, Khalid, David Byrne and The Vaccines are neo soul queen Erykah Badu who will be headlining the Sunday line up, Brit pop pioneer Jarvis Cocker, ambient pop band Cigarettes After Sex, breakout Japanese stars Suchmos, and Trainspotting author-turned-DJ Irvine Welsh.
Also announced are UK grime MC Big Shaq, Taiwanese folk singer 黃玠瑋 Zooey Wonder, Hong Kong's controversial hip-hop collective The Low Mays, post hardcore band Instinct Of Light, Hong Kong female duo GTB, Haifeng indie-folksters 五條人 Wu Tiao Ren, amongst many more.
Set along the stunning backdrop of the famous Hong Kong skyline, Clockenflap continues for its tradition of honouring the unique 'East­-meets-West' history of the city. This year's meticulously curated lineup provides festival-goers with over 100 international, regional and local artists, bringing the finest music acts from both the Eastern and Western scenes together for its equally international festival audience.

Tickets for the festival, which takes place Friday, November 9 to Sunday, November 11, 2018 at Central Harbourfront, are on sale now.
Beyond its music line up, Clockenflap's festival site is filled with unique interactive experiences and picaresque landmarks. Each attraction is custom-designed for capturing memorable moments and include: Balloon Chain, a gigantic constantly changing sculpture made of helium-filled balloons; a giant inflatable Garden that offers the perfect backdrop for capturing your festival;Spikey, a huge inflatable dome covered in glowing spikes that also serves as the stage cover for the Acorn/Robot stage; Lotus Temple, a six-metre high inflatable structure inspired by the lotus flower and Goa, India; BE•A•RING, a unique interactive experience and chill out zone made from rotating columns and optically illusive mirrors; The Nose Knows, a mysterious olfactory-inspired installation that emits a range of intriguing odours; Reverscope, a curious reflective contraption inspired by periscopes; and Tentacles, the fantastical waymarker that has become a much-loved Clockenflap signature.
Exploring Clockenflap's festival site means encountering a weird and wonderful cast of characters that are equal parts living art installations and otherworldly beings. Festival-goers should look out for The Eye, a giant roving eyeball complete with blinking eyelid and glowing heart; Birdman, a trio of huge luminous bird-like creatures that wander inquisitively among the crowd and are sure to be one of the most photographed attractions at this year's festival; andPinky Disco, the mobile pedal-powered DJ booth on wheels, a fan favourite from last year's edition.
Everyone needs a breather, and there's no shortage of shaded spots around the festival site to grab a drink, a bite to eat or to simply chill out in relaxed surroundings. The Team at Okra (owned by renowned chef Max Levy) will exclusively launch their new project Sausage Commitment at Clockenflap. Focusing on house-made, smoked sausages with a specifically Asian flavour profile, Commitment aims to change the way Hong Kongers think about sausages. At Food Bazaar, chow down on a wide selection of tempting cuisines or refreshing drinks from over 20 handpicked suppliers within easy reach of the main stages, while Kuuchi Café offers a laidback picnic for festivalgoers.
Explore and shop at MILK MART, a merchandising platform established by MILK magazine, a high-quality craft market with 22 intriguing booths, and be sure to check out the PayMe Cha Chaan Teng, where you can buy classic Hong Kong snacks and drinks, charge your phone or enjoy the site.

The Acorn/Robot Stage at Future Fields will once again host a range of family-friendly activities throughout the day, including: slapstick escapology from The Noname Family Circus Presents Danny Danger In The Danny Danger Dangerous Danger(sic)Show; mesmerising close-up magic from Ferdinand; bouncing basslines from the incredible three-year-old DJ Archie; yoga-based fun from The Whoopee Club featuring May Nogoy (Soultrains) and Dee Cheung (SUPYoga Hong Kong); and creative art and music workshops with The Children's Discovery Museum. There will also be performances throughout the weekend from Clockenflap regulars such as local children's entertainment favourites Rumple & Friends and much-loved UK children's songs performer Nick Cope.
Ticket information
Phase two ticket are on sale here until 25 October.
General admission 3-Day weekend tickets are HK$1,620
General admission Friday tickets are HK$890
General admission Saturday and Sunday tickets are HK$1,080
Student 3-Day weekend tickets are HK$1,080
Student Friday tickets are HK$570
Student Saturday and Sunday tickets are HK$640
Clockenflap offers free entry for children aged 12 and under (maximum two per one paying adult).