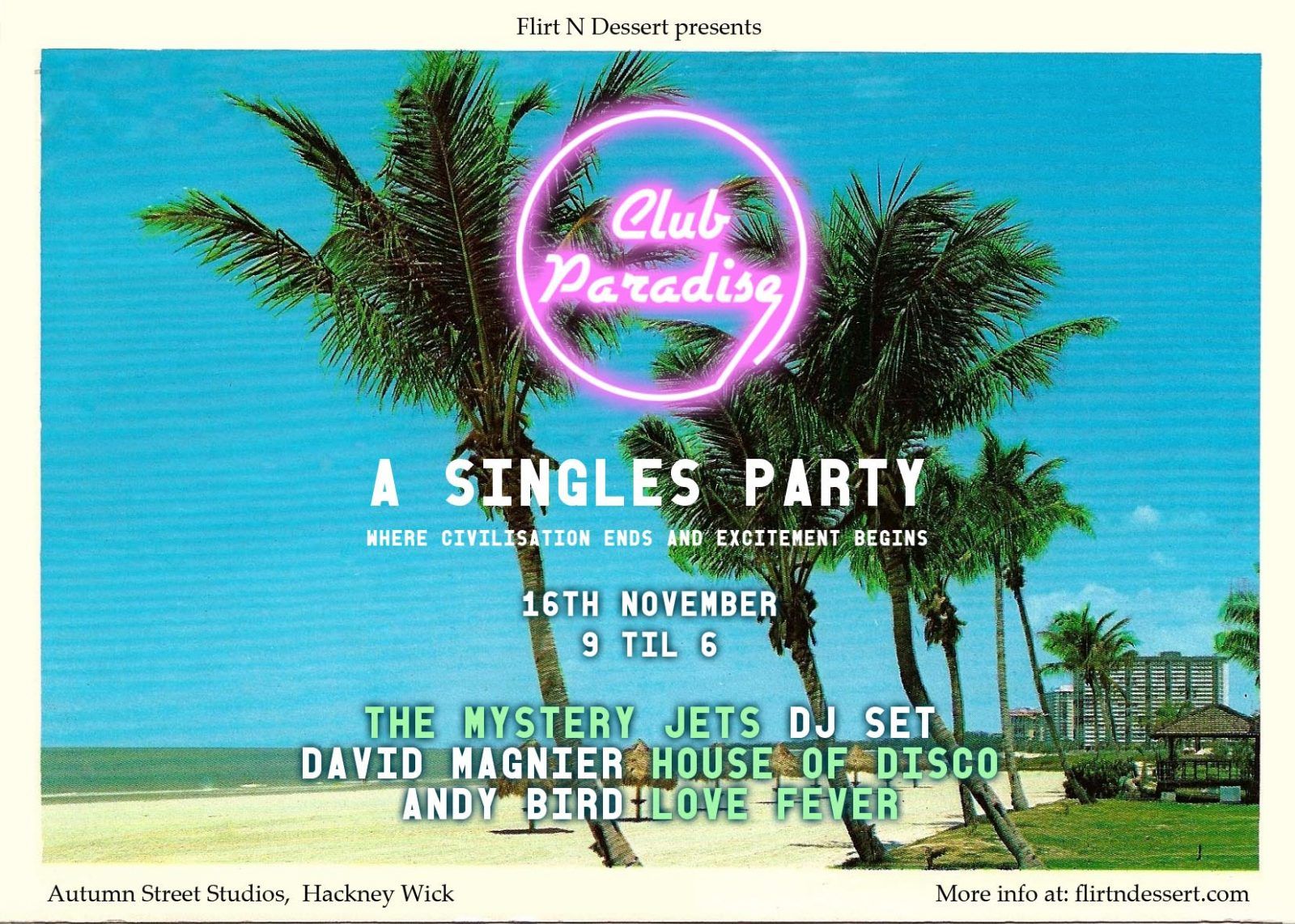 CLUB PARADISE
FLIRT N DESSERT PRESENTS
CLUB PARADISE
Autumn Studios
16 November
"Where civilisation ends and excitement begins" Flirt N Desert
"It's a singles night for the hipsters" Andy Bird
"A fun playground – where inhibitions are lost and love is found." Flirt N Desert
Flirt N Desert join forces with Andy Bird of Bird Song Music and Love Fever, for the first London singles club event named "Club Paradise" on 16th November at Autumn Street Studios in Hackney Wick.
Bored with online dating, tired of Tinder, not into cringe worthy speed dating? But interested in going out to an East London club full of like minded singletons? then you've arrived at the right place…. Club Paradise.
Make your escape to Club Paradise, where civilisation ends and excitement begins. Featuring excellent DJs and music, fun games, full set design, water cannons, glitter guns, free flip flops and some cheeky behaviour…all in place to guide you on an exciting journey and memorable evening with a view to meeting the lady or man of your dreams!
Club Paradise guarantee a perfect soundtrack of sublime party music, lots of other fun activities to help you enjoy the evening…so spread the word, invite your friends, get involved… be ready to meet cute guys and super fly girls… let's forget the formalities, it's all about frivolities!
Special guest DJs will be playing a plethora of fine music including indie, rock, pop, house, re-edits & disco..
The Mystery Jets DJ set
David Magnier (House Of Disco)
Andy Bird (Love Fever)
Blaine Harrison from indie rock band "The Mystery Jets" will be taking time out of the band's busy schedule to DJ some fine party music.
"David Mangier" head honcho of underground label "House of Disco" favourited by Tensnake, Resident Advisor, Feel My Bicep to name a few…knows how to get the party started, with his favourite genres house and disco, playing classic and underground delights ahead of HOD forthcoming releases, including limited edition pink vinyl and collaborations with Kolour Records + the solo EP from Sixth Avenue Records available on Juno.
Andy Bird co owner of Love Fever, DJ and promoter, owner of BirdSong Music will be dropping disco, re-edits, rare house gems…
Flirt and Dessert invite you to join them for their debut singles event "Club Paradise" on Saturday 16th November, at Autumn Street Studios from 9 pm until 4 am.
Early bird tickets available at £12.50 each, but hurry as they are very limited.
£15 – £20 thereafter all can be purchased from tickettailor.com/all-tickets/3282/e3ae
CLUB PARADISE
Saturday 16th November
39 Autumn Street Studios
Hackney, E3 2TT
http://mysteryjets.com/

http://www.lovefever.org/
http://flirtndessert.com/
Love & Sex
Club Paradise.