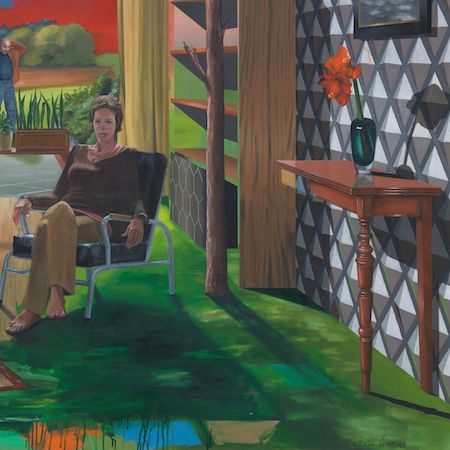 Marlon Hoffstadt - Coach Mike
'In an ever-growing society, you easily fail to keep pace with your surroundings. You relapse and try to escape the flow. Like the strange feeling when a train moves slightly slower than yours, sometimes we feel like moving backwards even though we are progressing; in fact we are moving retrograde.' (Natureboy Gold, Retrograde)
Berlin-based Marlon Hoffstadt drops 'Coach Mike', the fourth EP on his own Retrograde imprint, featuring remixes from Massimiliano Pagliara and The Friend and following a hat trick of successful releases.

The four-track EP is the sophomore release from Hoffstadt on his burgeoning label, which he co-founded with Natureboy Gold and Matteo Luis in August 2015. Previously featuring the likes of Kris Wadsworth and Tuff City Kids, Retrograde provides a platform for the artists to explore music alongside other forms of expression such as art, particularly surrealism. The vinyl sleeve artwork from the first four releases, when fitted together, completes the painting 'Interaction' by surrealist Hermann Reimer.

'We are Retrograde: 3 close friends – living on the same street, working together and with the surrealist Hermann Reimer,' says Hoffstadt. 'A family affair that uses its synergy to broadcast their vision with every release and every artwork anew.'

With previous releases on FFRR and Play It Down, Hoffstadt boasts a sound that is both innovative yet authentic, and 'Coach Mike' displays the sonic alchemy that the talented producer, aged only 22, has already become known for.
The title track starts as a grooving acid-based cut peppered with percussion before building up suspense to a surprising yet satisfying breakdown. This is his first release without vocals, allowing him to focus entirely on creating pure soundscape. Panorama Bar resident and Live at Robert Johnson mainstay Massimiliano Pagliara's rework of the A side is a Balearic-tinged affair; starting with a solid drum and building to a crescendo of bass, pads and synths, along with the analog synth elements for which he's known. This is an undeniable summer anthem that will captivate dancefloors across the world.

'Broncos' is a club track created for the floor. An acid bassline sits alongside industrial elements and stabbing synths. On remix duty is The Friend. As part of the mysterious F.A.M.E Crew and co-founder of How to Kill Detroit, his interpretation is down-tempo techno distortion at its best.

With a consistently strong output, both for the eye and the ear, the Retrograde imprint grows from strength to strength, and 'Coach Mike' is sure to be a hit with DJs and clubbers alike.

https://soundcloud.com/marlonhoffstadt
https://www.facebook.com/marlon.hoffstadt1

https://soundcloud.com/retrograde-records
https://www.facebook.com/retrograderecords