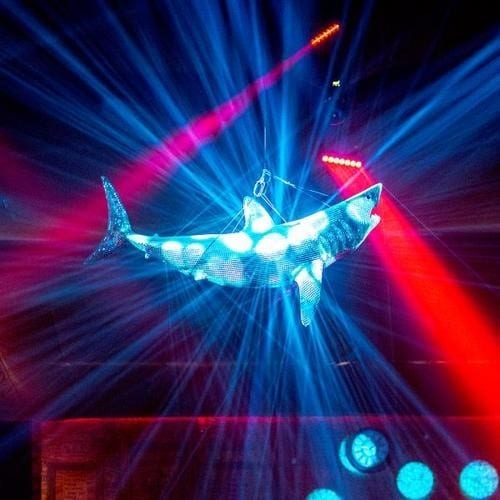 Coachella 'DISCO SHARK' Artist Kevin McHugh Launches Fundraiser For Shark Conservation
Disco Shark made its return to Coachella's YUMA Tent where it shone brightly to the techno and house beats throughout both weekends. In an effort to raise awareness of endangered species in the ocean, specifically sharks and the human practices driving sharks to extinction, Disco Shark creator, New York based artist and conservationist Kevin McHugh has launched a GoFundMe fundraiser to raise $20,000 with a portion of proceeds benefiting shark conservation organizations Oceana and Shark Team One.
This campaign aims to change the belief that sharks are vicious predators and raise awareness of human practices further threatening these endangered species. As festival goers and fans of Disco Shark have given it life via social media, it has also gained support from Daymond John from ABC's Shark Tank who appears in the fundraiser video. Mini-Disco Shark memorabilia is available for different donation tiers ranging from a Disco Shark key chain up to an eight foot Disco Shark sculpture.

GoFundMe Disco Shark [Donate Here]
After decades of managing the careers of influential artists and DJ's such as Nicole Moudaber (Coachella 2014) and Danny Tenaglia (Coachella 2008, 2015), artist Kevin McHugh began a personal artistic exploration of his own along the way.
Inspired by his fishing trips with his father as a child, Kevin developed an interest in the beauty of sea life. He began creating fiberglass renditions of sailfish and sharks, adorned with different materials: everything from iridescent mother of pearl and brilliant Swarovski crystals to leather and lacquer. The pieces are meant to change the way people perceive the notion of trophy fish by transforming them into stunning works of art.