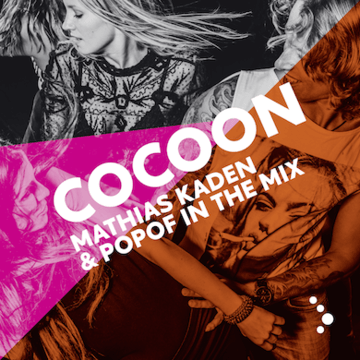 Cocoon Ibiza mixed by Mathias Kaden & Popof
t's that time of year again when everyone turns to Cocoon and their famous mix series to see what the sounds of the summer will be. This time charged with laying out the enduring German label's sonic mix for Ibiza 2014 is Mathias Kaden and label regular Popof. They do so across two fantastic mix CDs, which in turn help to celebrate the fact Cocoon Ibiza is now 15 years old, and both DJs are set to preform live at Amnesia a number of times this summer.
German Mathias Kaden is a tech house producer of some repute who most often appears on Vakant and has done so for almost a decade now. Popof, meanwhile, has been active since the mid nineties and the French man is celebrated for his unique take on minimal techno and electro (and the talented producer was also featured together with Mathias Kaden on Cocoon's Compilation "J" back in 2010).
Kaden takes the first disc with a tasteful selection that starts all atmospheric before quickly settling into a slick and sleek minimal groove courtesy of a great Luciano track. The following tracks by Shonky, Detroit Swindle, Derrick Carter and Bulgarian retro-hero KiNK emphasize the solid house touch of Kaden's mix. However there is more to come. With an elegant John Tejada piece Kaden shift gears slowly up to Carl Cox and a mind blowing Kenny Larking remix for Ben Klock. It's peak time now and we start to get lost in sound. The final section of the mix features tracks by Honesty & Daniel Paul, Ripperton and a Kaden-remix for Daniel Stefanik and gets back to the deeper energetic vibe from the beginning of the mix.
Popof seems to follow the sound that Mathias Kaden features in his mix… it's house merged with classic techno elements and the artists included are DJ Phono, Alex Kid, Nikoloa Gala, Jay Shepheard and grandmaster Sneak. With his tight mixing and great flow Popof creates the perfect summer vibe early on, and it continues with tracks by Johnny D and Joeski before the energy levels rise more and more as Simon Garcia and Philip Bader and finally label regular Roman Flugel all get reached for.
Both discs here showcase every fact of the world famous Cocoon sound and although the label has now been defining trends for 15 years, it is still right at the sharp end of electronic music across the world, as well as in the hotbed that is Ibiza.
Tracklist
CD 1
1. Pablo Bolivar – Heat
2. Luciano – Dance Unity
3. Felipe Valenzuela & Jkco Mosqueira – Different Bass
4. El Prevost feat. D.Ham – Allez Ally (Shonky Remix)
5. The Analog Roland Orchestra – Pattern Four
6. Markus Fix – What I Talking About
7. Luly.B – Astronomic (Franco Cinelli Remix)
8. Detroit Swindle – The Fat Rat
9. L.B. Dub Corp – Turner's House
10. Sven Väth – L'Esperanza (Derrick Carter Remix)
11. André Michelle – A2
12. Rachel Row – L-Square (Kink Remix)
13. The Chain – Geo
14. John Tejada – Now We're Here
15. wAFF – Freeks
16. Carl Cox – Time for House
17. Uner – Undisclosed
18. Ben Klock – OK feat. Elif Biçer (Kenny Larkin Remix)
19. Honesty & Daniel Paul – Atrium (Konstantin Sibold Remix)
20. Ripperton – Let's Hope
21. Daniel Stefanik – Keep On (Mathias Kaden's Brothers in Crime Remix)
22. Praezisa Rapid 3000 – Robot Monologues Pt.1 (Birds Two Cage Rework)
CD 2
1. DJ Phono – Gone (David August Vocal Mix)
2. Rafael Murillo – Background feat. Jaw (Alexkid Remix)
3. Tiefschwarz – No Message feat. Argenis Brito (Re-UP Remix)
4. Camea – City Watch Over Me
5. Nikola Gala – The Process (Acid Off Mix)
6. Tom Demac – Crewcuts And Curls (Jamie Jones' Water Cooler Remix)
7. Jay Shepheard – Right Reason
8. DJ Sneak – Residente De Calle (Tripmastaz Hypno Edit)
9. Popof – Work It Out (Exclusive Track)
10. Marcus Meinhardt – Lucky Punch (Bart Skills & Anton Pieete Remix)
11. Sid Le Rock – Temptress (Alex Jones Remix)
12. Dario D'Attis – The Good Old Days
13. Johnny D – Point Of Now Return
14. Joeski – All By Myself (Nathan Barato Remix)
15. Andre Butano & Miguel Lobo – Straight Ahead
16. Canson – About You
17. Simon Garcia – Bass II Bass
18. Hirtenfellner & Philip Bader – Monday
19. Benjamin Fehr – Stay at Home, Read a Book (Roman Flügel Remix II)