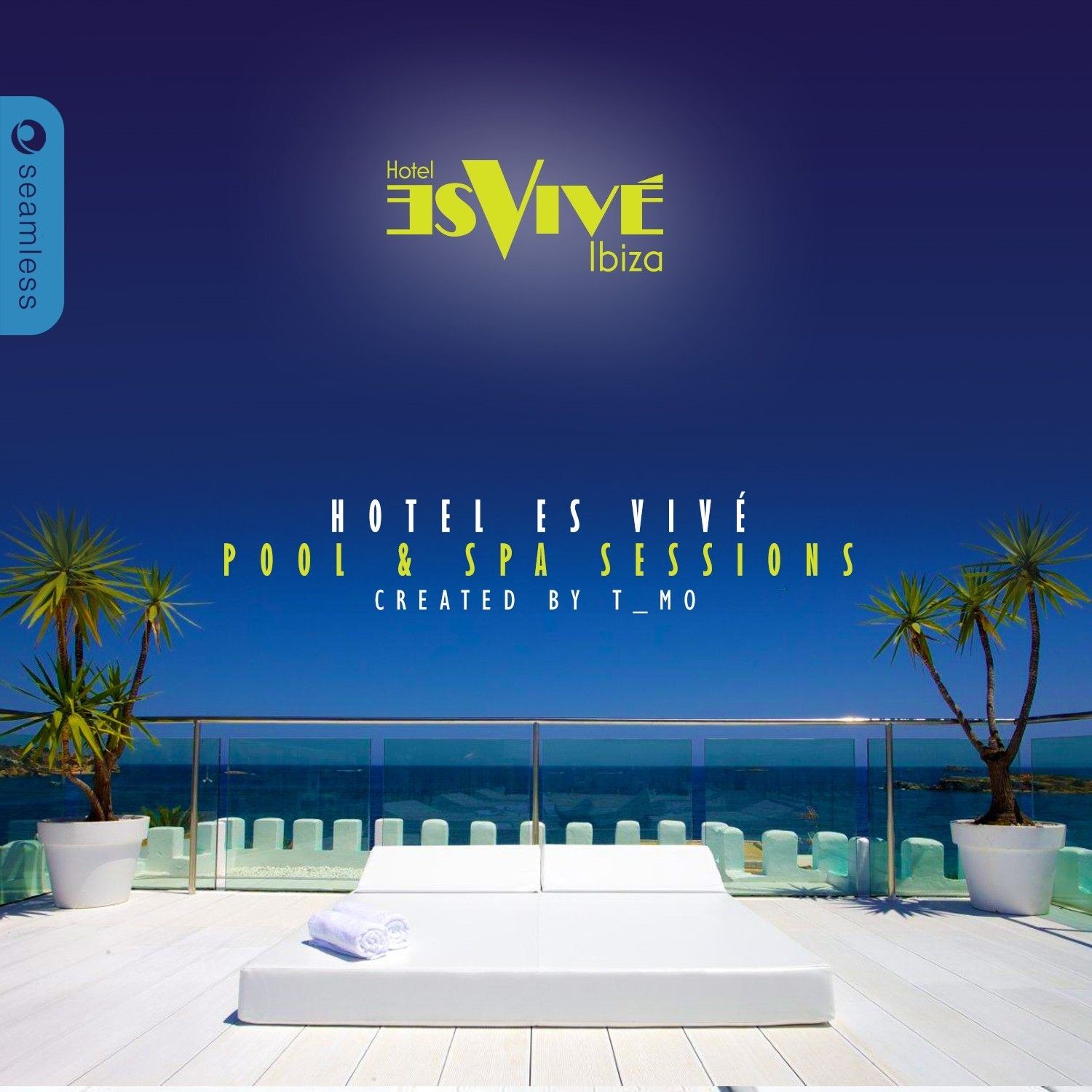 Hotel es Vive Ibiza Pool & Spa Sessions Created By T_Mo
Hotel Es Vive Ibiza, long known for its hedonistic party side, it equally is a hotel that oozes relaxation, nestled next to the sparkling waters of the Med, the roof top terrace has panoramic views of the bay. The poolside is the hangout for the party set, soaking up the sun's energy for another night of nonstop party.
T_Mo, has produced not only a fantastic poolside selection perfect for grabbing time by the pool for some quality me time but has also written an hour long piece of music which if you ever have another massage, make sure you bring it with you..
In his own words T_Mo – Alpha Theta
This hour long piece of continuous spa music composed by Timo Garcia (aka T_Mo) has the intention of releasing the listener from over stimulation (a Beta mind state) caused by the stresses of modern day life. Massage therapy is renowned for assisting the experience of slower brain waves and this piece of complimentary music encourages a Theta state of deep hypnosis / healing. In your mind the Alpha brain waves oscillate from 8 to 13 cycles per second, creating a relaxed alert feeling which should occur during therapy whilst listening to the start of this piece of music. As a person drifts from Alpha into deeper relaxation, Theta waves occur from 4 to 7 cycles per second. A classic example of Theta is demonstrated when a client feels the therapists touch and hears the music, but from a distant, altered state of consciousness. Theta induces deep psychological relaxation as well as physiological regeneration and healing. This album of spa music was designed specifically to help the brain drift from the Alpha to Theta states. To enable full appreciation of the massage whilst then assisting to gently return the clients brain waves to the Alpha state towards the end of their therapy by using a subtle change of key, tones and the familiarity of sounds previously used at the beginning of the piece. This unique composition differs from other chillout / spa CDs on the market which feature disruptive silent gaps between tracks and inappropriate rousing drum loops. Alpha Theta is a continuous piece of music which takes you on an undisturbed journey through deepening layers of consciousness.
This Alpha Theta album is an essential tool for the bodywork therapist, as it actively induces Alpha and Theta waves to rejuvenate the recipients central nervous system. These same brain waves are cultivated through meditative or self awareness practices, so this album could also be effectively used for meditation or yoga classes. The special effects on the album have been carefully crafted not to disturb the inner peace of the massage client and is a signature piece of spa music. The Theta brain wave governs the subconscious, being capable of awakening both creativity and inspiration. This album reflects T_Mo's musical diversity and is an ambient journey into spiritual bliss, leaving the listener with a new found sense of tranquility on all levels (mentally, physically & emotionally). Alpha Theta encapsulates the heart of holistic Ibiza, far removed from the hedonism the balearic isle also has to offer. May it be your perfect rescue remedy and therapeutic tonic for the soul.
CD1 Compiled and mixed by T_Mo
1. Abductions (Original Mix) T_Mo
2. Fork Any Hawks (Original Mix) T_Mo
3. No One Gets Left Behind (DJ Yellow & Sea Creatues Mental Beauty Mix) DJ Yellow Flowers & Sea Creatures
4. Fathoms (Esteble Dive Deep Mix ft BeatuniQue On Hang) Chymera
5. Hopeless (Kyson Remix) Nut Nut
6. Taman Sari (Original Mix) SAMBOX
7. Reset Head(Original Mix) Seekae
8. Foggy (Original Mix) 9 In Common
9. Blue Sunshine (Original Mix) HTRK
10. Cracks (Original Mix) Ensemble Du Verre
11. The Hang Track pt II (Rupert & Mennert Imploded Remix) Timo Garcia & Manu Delago
12. Sun Theory (Original Mix) Burudu
13. La Ritournelle (Original Mix) T_Mo
14. Sun In My Eyes feat Amber Jolene (T_Mo Mix) Myomi
CD2 Alpha Theta by T_MO
1hr long 'massage' piece of music