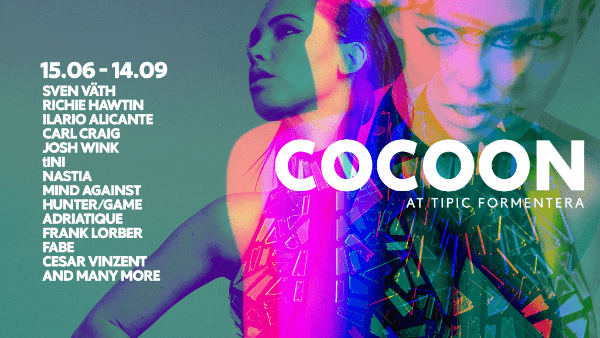 Cocoon Tipic at Formentera 2017 artists revealed
Welcome to the 6th season. We scratch our heads. How can it be 6 already? And how can this announcement be so full of goodness that it makes our knees tremble?
No point in trying to keep a lid on it. Our Thursday nighter on the beautiful island across the way has a life of its own now, it has become a part of our season and rest assured the charm, intimacy and good looks are still there.
Arrive early to enjoy this gorgeous location and have a chat or some contemplative moments on the terrace and look forward to a dancefloor that sort of hugs and caresses on Thursdays.
This year not only is Sven Väth making his annual Tipic trip but we will be presenting the wondrous Richie Hawtin. With 5 Monday night gigs in Amnesia it is a thrill to tell you that he will also join us in Formentera for his very first gig on the island.
As if this was not enough, a certain Ilario Alicante is back for 4 shows. It was love at first sight with Ilario and Tipic some years ago. The romance continues to bloom. Carl Craig, Josh Wink, tINI, Nastia and more. Listed below the artists so far confirmed for the biggest ever season of Cocoon @ Tipic. The calendar is coming very soon, sharpen your pencil.
If you have joined us before @ Tipic over the last 5 years we know we will be seeing you again in 2017. If you have not yet had the pleasure, this is the year to make a plan. Make a day and night of it in Formentera.
http://www.cocoon.net/
https://www.facebook.com/COCOON.OFFICIAL/
https://twitter.com/cocoon_official
https://www.instagram.com/cocoon_official/
15.06 – 14.09
ARTISTS PERFORMING :
SVEN VÄTH
RICHIE HAWTIN
ILARIO ALICANTE
CARL CRAIG
JOSH WINK
tINI
NASTIA
MIND AGAINST
HUNTER/GAME
FABE
ADRIATIQUE
AND MANY MORE.