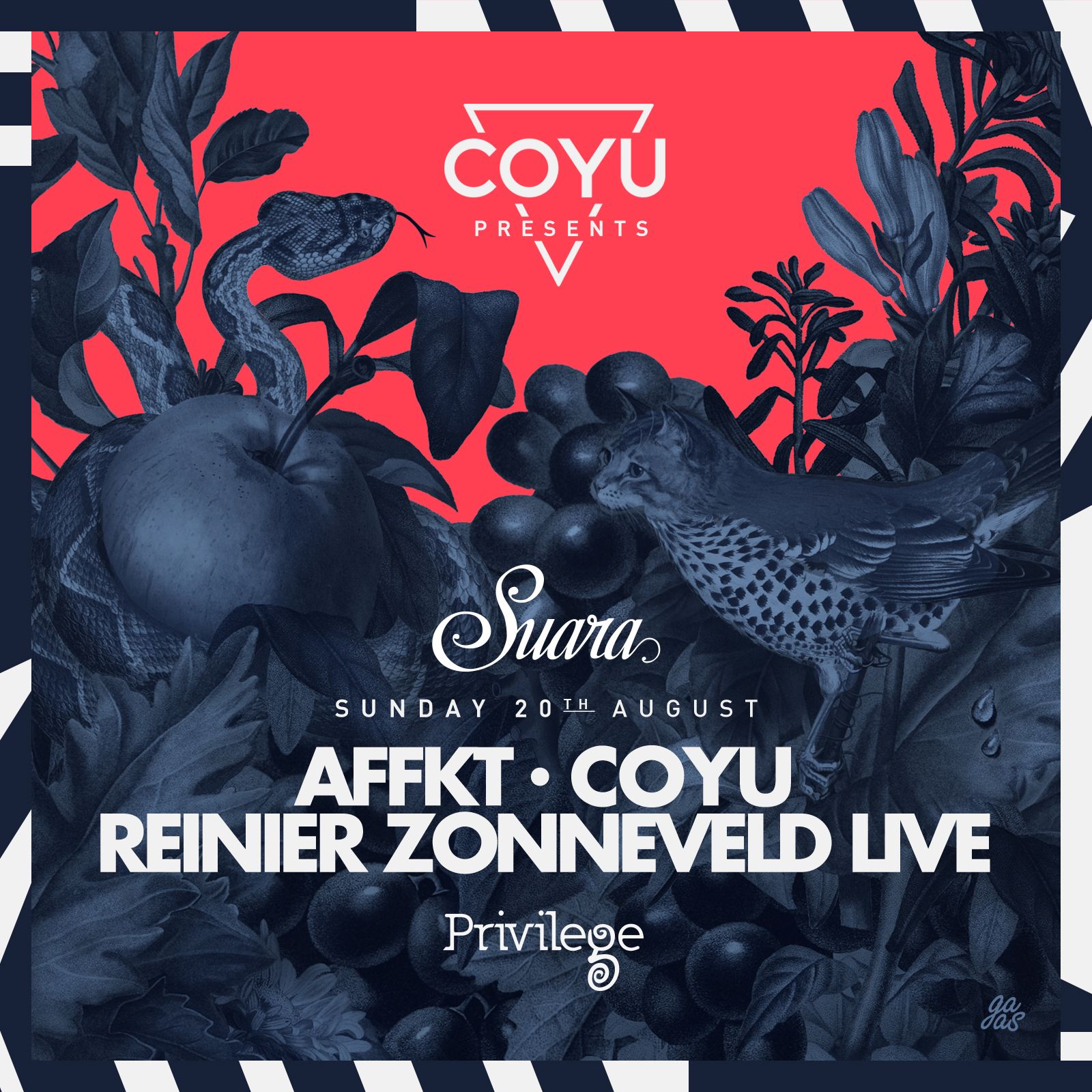 Coming up at Suara… Privilege Ibiza
Suara 20th & 27th of August and 3rd of September
AFFKT, Reinier Zonneveld, Charlotte de Witte, Markus Suckut, Hunter/Game joining Coyu´s Suara
Sundays at Privilege Ibiza this summer have been synonymous with Coyu´s distinctive concept Suara…11 weeks of top notch underground music and counting. August is in full swing on the White Isle and so are the Suara nights at Privilege Ibiza, so save the following three dates:
Week 12 – Sunday 20th August
Joining the Suara host Coyu on August 20th is none other than Sincopat head honcho AFFKT, and the live wizardry of German producer Reinier Zonneveld, currently one of the hottest producers, he's also the most charted artist on Beatport over the last few months following his success with various number 1's, and also with whom Coyu has released a great explosive cocktail of techno and acid "My Head Is On Fire" a few weeks back.
Week 13 – Sunday 27th August
Gracing the decks of the intimate Vista on Sunday 27th August is techno stalwart Markus Suckut, and one of the most powerful artists that Suara has released in the last year, one that sets new standards for female djs : the Belgian Charlotte de Witte. They will both join Suara mainstay Coyu for what will be a truly unforgettable night for Suara at Privilege.
Week 14 – Sunday 3rd of September
As soon as we land on the first Sunday of September, Hunter/Game will accompany Coyu in the booth to put the icing on the cake for Suara´s penultimate date at Privilege Ibiza this season. The line-up for the Closing Party on 10th September will be announced soon so stay tuned.