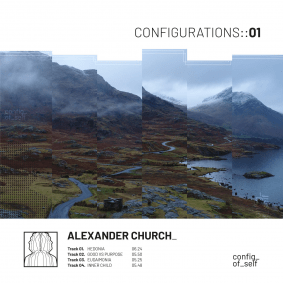 Alexander Church - Configurations Of Self 001
Alexander Church offers up the inaugural release on his configurations imprint this January, comprising four originals from the Northern-England based artist.
Yorkshire, UK's Alexander Church first made waves with his own productions and imprint Midnight Records at the turn of the millennium with his spacey, emotive and progressive sound picking up support from some of the more respected purveyors of this sound such as Sasha & Digweed, Hernan Cattaneo and Danny Howells to name a few. Returning after a hiatus in 2012 Alexander formed the duo Dronelock alongside Martin Cartledge, focusing on a more industrial raw sound and picking up support from the likes of Mumdance and Surgeon. Now returning solo, Alexander comes full circle, returning to his more melodic sounds with his new Configurations imprint.
'Hedonia' leads on the package with dreamy ethereal textures, plucked synths and swirling resonant licks all ebbing and flowing amongst one another whilst a soft, dynamic rhythm further fuels the ever-unfolding groove. 'Good vs Purpose' follows next with bubbling arpeggio lines, chuggy bass and a shuffled drum groove.
Opening the flip-side is 'Euidamonia', stripping things back this time to focus on winding bell chimes, hypnotic synth flourishes and a driving low end before 'Inner Child' rounds out the package, shifting focus to a pulsating bass groove, modulating drums and a vacillating chord sequence.
Alexander Church's 'Configurations001' is out January 2019.
Tracklist:
1. Hedonia
2. GoodvsPurpose 3. Euidamonia
4. InnerChild