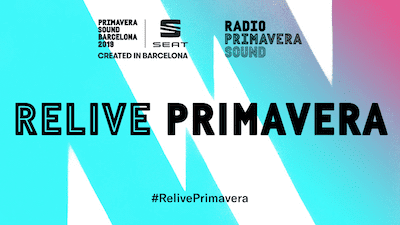 Connect to Primavera Sound 2019: watch and listen to the festival from home
Miley Cyrus, Rosalía, Mac DeMarco, Nas, Courtney Barnett, Low… relive the best moments of the festival wherever you are
Thursday sees the start of over 30 hours of concerts and other exclusive content via streaming that join the special schedule of programmes during the whole week on Radio Primavera Sound.

If you don't come to Primavera Sound, Primavera Sound will come to you. Wherever you are, near or far, you will be able to feel (almost) that you are in the Parc del Fòrum by connecting to the special schedule of programmes that have been broadcast, thanks to SEAT, on Radio Primavera Sound since last Monday. From 18:00 tomorrow, with the inaugural concert of Big Red Machine still ringing in our ears, these programmes will be joined by over 30 hours of concerts via streaming. If our cameras can't get there our microphones will and vice versa. Open your eyes and keep your ears tuned in because exclusive broadcast distributed over the next four days is about to kick off, enabling you to live and relive, in whatever order you want and to see and hear the best moments of Primavera Sound 2019. Have you got room at home? You better have. Because Miley Cyrus, Rosalía, Mac DeMarco, Robyn, Nas, Courtney Barnett, Jarvis Cocker, Kali Uchis, Nina Kraviz, Low, Cuco, Built To Spill, Stereolab, Big Thief, Primal Scream, Snail Mail and Little Simz, amongst several other names from the lineup, are getting ready to gatecrash.

The coverage #RelivePrimavera will focus on live music, but will be so much more than that: the most outstanding performances on the four main stages and the recently inaugurated SEAT Village Stage will be only a part of the specific content that you will be able to follow thanks to the broadcast via streaming and the programmes both in English and Spanish on Radio Primavera Sound. The live broadcast from the festival site will be a window on what is happening not only during a concert, but before and after: interviews with artists, talk shows, spaces for fans, special programmes… This year Primavera Sound defies spatio-temporal coordinates as it goes beyond the Parc del Fòrum, and beyond the days of the festival.

Connect or download the Radio Primavera Sound app so you can see and hear everything that is going on at the 19th edition of the festival. And what about touching? Well, almost. You will be able to get so close to all the details of the festival that maybe you won't even regret not enjoying the experience in person… and maybe you'll be enjoying it until next year. Keep a close eye on the social networks on the daily updates of the schedules and who knows maybe there will be some surprises.

Check, check: Primavera Sound 2019 starts right now -bigger and closer to you than ever.