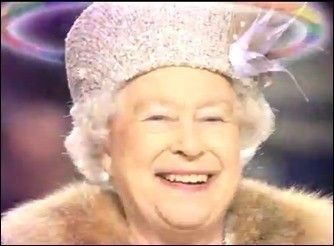 Controversial Music Video Turns Spotlight On Homophobic World Figures
A controversial music video that shines a light on anti-gay world figures has been unveiled today by boutique New York label, Sea To Sun Recordings.

The provocative video to 'Love Is Love' by VenSun spreads a message of equality and addresses the global struggle for human rights. It highlights homophobic politicians, world leaders and public figures who have openly expressed opposition to same sex marriage and basic rights for gay people, and adorns them with rainbow coloured, fascist-style moustaches.

Images that appear in the video include Russian President Vladimir Putin, Republican Sarah Palin and Zimbabwe President Robert Mugabe amongst others.

In contrast, it also features numerous politicians and world leaders adorned with rainbow-coloured halos in acknowledgment of their support for gay rights. These include President Barack Obama, Hilary Clinton, Queen Elizabeth and David Cameron.
'Love Is Love' is set to a backdrop of footage from famous events and marches such as New York City Gay Pride in 2013, the 1993 Equal Rights March in Washington, the Women's Rights movement and the Stonewall riots. These images are to remind people of the on-going struggle not only for LGBTQ rights, but for all human rights.

'Love Is Love' is the debut single from VenSun, a new artist project from French producer, David Vendetta with lyrics from esteemed, electronic music Songwriter/Vocalist, Sylvia Tosun. Sylvia is also a social activist and long time supporter of human rights; a regular advocate for LGBTQ organisations, performing for, and supporting numerous charities. Sylvia said:

"My inspiration to pen Love Is Love came from a feeling that love should and will always unite people, no matter who we are. Coincidentally, President Obama tweeted following the Supreme Court's decision to overturn the Defense of Marriage Act: "Today's DOMA ruling is a historic step forward for #MarriageEquality #LoveIsLove". Many of my friends are affected by issues of Equality. Love is Love symbolizes a basic divine reality – the right to love."

David Vendetta is a French DJ/Producer, popular worldwide, but with a strong following in Russia where he regularly performs. With this video he has put his livelihood on the line to make a statement against the treatment of gay people by the Russian government. David said;

"In my country we attach great importance to human rights and democracy. I believe that every individual has the right to freedom of thought and to choose their way of life. I'm pro gay-marriage – everyone should be entitled to the same rights and freedom as anyone else."

#loveislove

LINKS
www.seatosun.com
www.sylviatosun.com
www.twitter.com/SylviaTosun
www.davidvendetta.com
www.twitter.com/DavidVendettaof