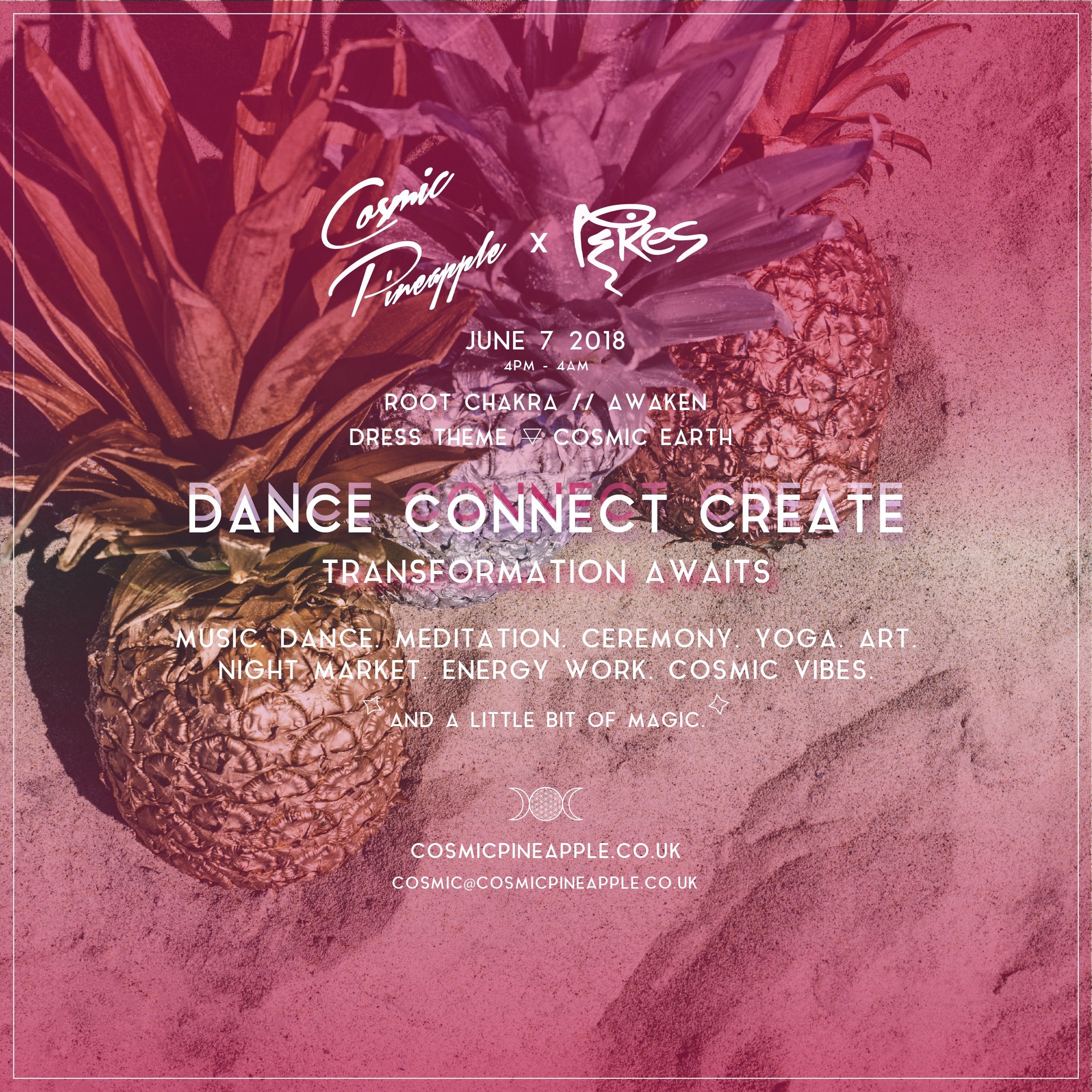 Cosmic Pineapple – Awaken – June 7th – schedule announced
Wild childs get cosmic…
One thing I have noticed about wild childs who get cosmic, is that there is a sense of realness. There is floating off into the cosmic vibrations, but we don´t get lost in it. We are a new generation of creative change makers. We come together, many races, backgrounds and religions; warriors of creative change crafted in unique ways only we can imagine. With love as our guide, an awareness of the work we need to do, and a deep need for something different inside and out, we rise.
Along with the music and the magic of the island of Ibiza, this 'something different' is what I want to vibrate at Cosmic Pineapple. There are going to be inspiring talks, classes, yoga, dances and workshops in the day to activate your mind and invite you to connect with your hearts; each crafted around the intention and focus of the particular event. There will be healers working with different modalities, a 'Once Upon a Time' creative market, healthy food and drinks and more. And in the night there will be music to make you dance from some brilliant and visionary music selectors, ready to offer music for a good cause (each event is for charity). As well as mystical sound vibrations for those who want to be enchanted and drift off into another musical realm.
Everything is energy. We – humans – are manifested forms of energy. When we work through our personal work in a conscious way, magical things can happen in our lives. We have to heal what's inside first in order to go into the world and do our work on the outside (I love the Lauryn Hill lyrics, "How you gonna win if you ain't right within." and also the Banksy art ´Laugh Now')…
Which is why this year is based on the chakras – the energy centres of the human body. There are many different energy languages out there, but the language of the chakras was the first that I really connected with to help me get out of my mind and into the energy of the work I needed to do to come back into balance.
Cosmic Pineapple returns to Ibiza for the third season. There will be four events at Pikes, with creative plans to work through and connect to the first four energy centres. And in October we will hold a co-creational retreat, to work the higher three energy centres.
Cosmic June 7: The Root chakra – AWAKEN

Colour: Red. Earth. Trust. I am energy. I am safe. The universe protects me. I am grounded. Physical identity. Ambition. Security. Grounding. Stability. Kundalini awakens. Awaken your life force.
– Music – Dance – Meditation – Ceremony – Yoga – Art – Night Market – Energy Work – Cosmic Vibes –
Cosmic Pineapple
@ Pikes, Ibiza
June 7
July 5
July 26
September 6
4PM – 4AM
A journey through the chakras…
Calling all wild childs
With magical styles and creative minds
Whose vision sees more
Than what meets the eyes…