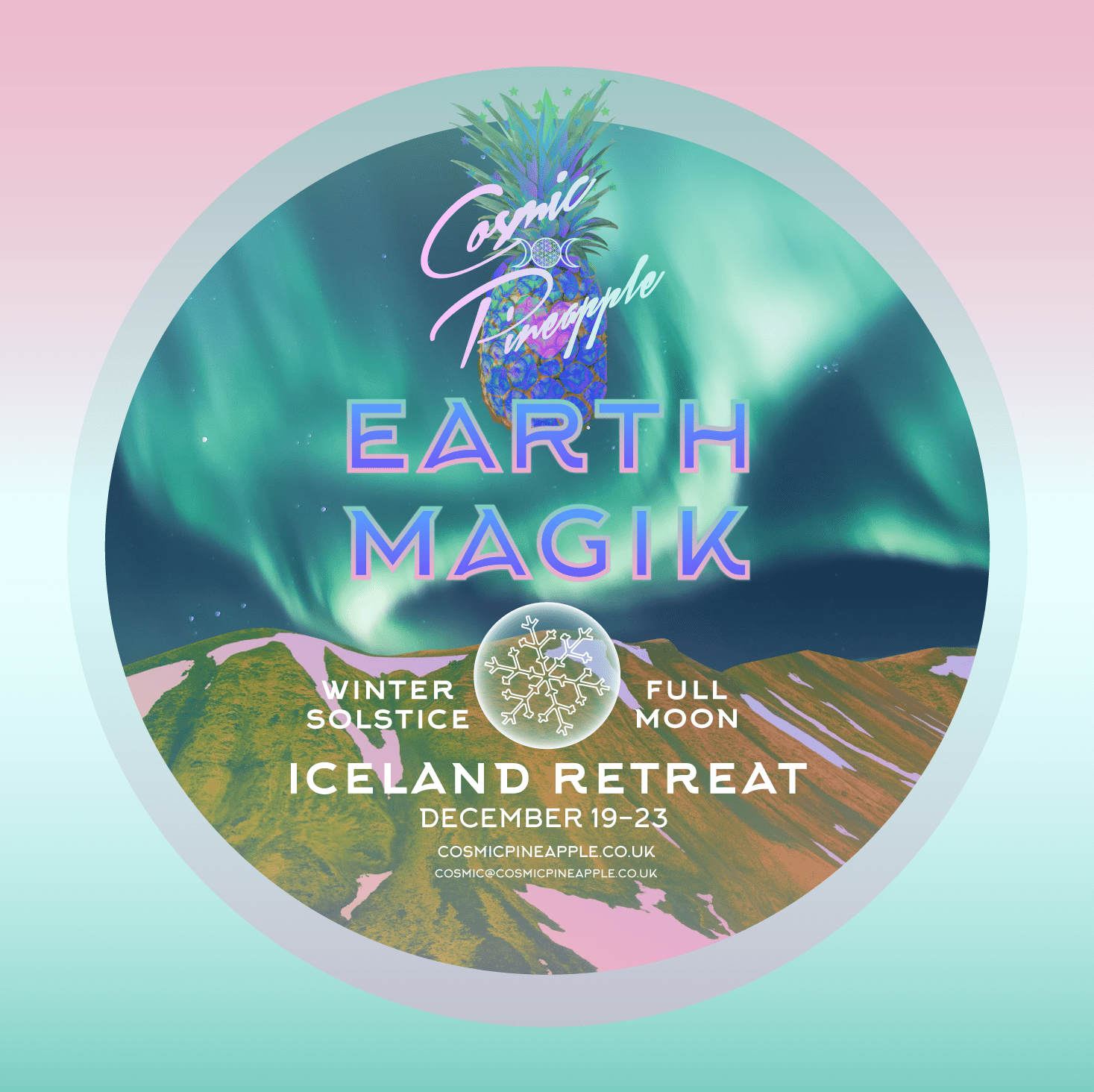 Cosmic Pineapple – Earth Magik – Iceland retreat – December 19 – 23
Winter Solstice – December 21 – marks the longest night and shortest day in the northern hemisphere. In Iceland, a whisper of light rises around midday lasting a few hours before the sky returns to darkness. Yet, this shortest day of the year marks a celebration, of the light that is to return. I spent the winter in Iceland some years ago with the intention to go into my darkness and find the cosmic and creative flame within. This was the first time I really deeply connected to winter solstice and the earth's rhythms and her magic – stepping on new snow as it lay on the earth, witnessing the majesty of the Northern lights, witnessing the beauty of nature's nakedness, laying in natural outdoor heated pools, sitting cozy inside. I meditated a lot, I studied a lot and I also connected to Icelandic shamanism in this time and was able to see and feel a deeper connection to the magic of earth all around. Iceland is the most powerful land I have visited. The land of fire and ice has volcanoes, glaciers, gésiers, hot springs and a nation of beautiful, creative people that believe in elves and fairies…
Overview of Cosmic intentions:
My intention on this retreat is for us to live and connect in a community space, to let go of what is no longer needed, to connect to mother earth and her rhythms, to shed a layer of conditioning, connect to our inside light – our source – and see and feel that magic that exists for us all. Through yoga, meditation, sound journeys, a cacao ceremony, organic vegan food and drink, earth connection, workshops and an Icelandic sweat lodge, we will connect not only to the winter solstice energies on December 21, but also to the energy of the full moon, only a day later. The retreat will be set at Spirit Farm, a community oriented farm situated next to a river close to the Golden Circle and other beautiful natural wonders. The land of fire and ice awaits!
Includes:
Accommodation
Nature day trip
Icelandic Shamanic Solstice Sweat lodge
Full moon cacao ceremony
Daily yoga and meditation
Crystal sound journey
Vegetarian food menu
Sample day:
9 – 10.30 Morning Yoga
10.30 – 11.30 Breakfast
12 – 1.30 Workshop
2 – 3.00 Lunch
3.00 – 6.30 Free time to relax/ explore / therapies
6.30 – 8pm – Evening yoga class, meditation or ceremony
8 – 9.30pm – Dinner
9.30pm – Free time – sky watching is advisable!
*Price includes full board and all meals for the week – flights not included.
December 19
Afternoon arrival / evening yoga class and crystal bowl bath / welcome meal
December 20
Morning yoga. Nature trip. Crystal sound healing.
December 21 – winter solstice
Morning yoga. Icelandic shamanic sweat lodge – connection and reflection.
December 22 – full moon
Morning yoga. Cacao ceremony. Full moon letting go.
December 23
Morning grounding yoga and integration. New beginnings. Check out @ midday
Costs:
Cosmic Pineapple Earth Magik Retreat – Iceland
December 19 – 23 (check in 3pm / check out midday on the 23rd)
Please email [email protected] for all enquiries