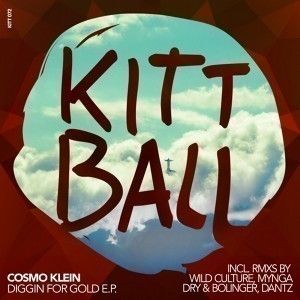 Cosmo Klein – Diggin For Gold
Multitalented Berlin based virtuoso Cosmo Kleinrocketed into the limelight back in 2010 with his collaboration alongside Syke'n'Sugarstarr & DBN on 'My Belief', dominating the European dance charts whilst staying at No.1 in Germany for several weeks. Since then the genius singer, songwriter and producer has continued to cause waves, 'Beautiful Lie' hit the No.1 spot in Brazil and Portugal, with the latter awarding him Best Live Act in 2011. His production output has been faultless since, with releases on the likes of Kontor, We Play, Armada, Pacha Recordings, not to mention his own reputable Cosmopolytix imprint.
'Diggin For Gold' on Kittball is another testament to his impeccable quality, the track is awash with warmth – strumming guitars and deep synths merge wonderfully whilst Klein's amiable vocals act as the perfect icing on the cake. Prized Kittball duo Wild Culture then take things deeper and darker in their remix, combining an infectious synth-line with now heavily SFX'd vocals before throwing in a dense bassline in the latter half.
Next up German duo MYNGA's renovation initiates calmly, guitar strumming and soft atmospherics saunter along gently before an unexpected eruption of monstrous proportions. Dry & Bolinger then focus on a heady groove, its purring bassline and vocal-led breakdowns make for a no-nonsense roller of a track, before Japanese house heavyweight DANTZ ties up the release with an uplifting and progressive take on the original. Radio Edit included in the Zip.