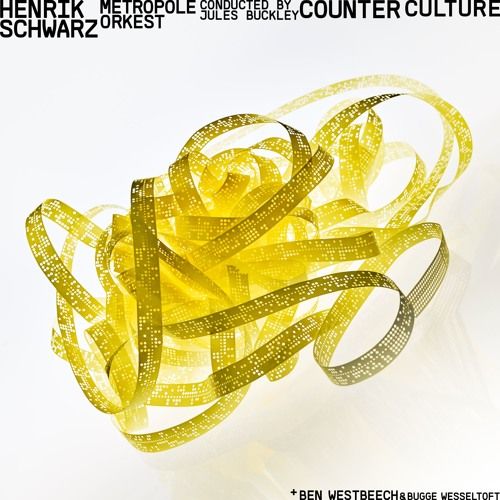 Henrik Schwarz & Metropole Orkest ft. Ben Westbeech - Counter Culture
Henrik Schwarz, one of electronic music's most well-respected producers, has collaborated with the internationally renowned Metropole Orkest and its conductor Jules Buckley to release a new, full-length LP titled 'Scripted Orkestra' on 7K!. Metropole Orkest is one of the world's leading orchestras when it comes to performing anything but classical music and they have played and helped shape the world of contemporary orchestra music since their foundation in 1945.
Originally performed live as the opening concert of ADE 2016 and broadcast by Boiler Room, this new studio recording delves further into Schwarz's increasingly formidable orchestral talent, showcasing the incomparable thrill of seamlessly blending acoustic performance with computer generated music.
The new single 'Counter Culture' features vocalist and longtime friend Ben Westbeech. 'Many bad, weird, absurd, unforeseen things are happening in the world around us. However I didn't want to complain because I believe negative talking and thinking is the wrong way. So I decided to write an ambitious "positive protest song". I was like walking on a thin line to get the words and music right but with the help and ideas of my friend and wonderful vocalist Ben Westbeech it turned out to be easier than expected.
Same thing with the video. It's easy to show all the nasty leaders and autocrats and all the other bad things but how would you look at all that from the other side? This video captures everything I was looking for in a beautifully subtle way.'
The video, directed by Sky Ainsbury and Jamie CA, reflect this same positive spirit. 'For this video we wanted to channel Henrik's message by making the act of platonic love a spectacle. We sent performers to hug, hold hands and show vulnerability in public places. The reactions are genuine responses to a benign disruption of life's bustling flow.'
'Scripted Orkestra' stands out because computer technology and processes have been translated and converted into a composition for live instruments. Technology came before the performance. "Some say orchestra music is dying, that orchestras are dying. I believe they are about to be reborn," says Schwarz. "Computers and technology are taking over our lives; people have been hiding behind their screens, but there's a yearning for more human interaction. With orchestras, the human element is undeniable. I think there are some very interesting developments happening in modern composition. It's at the start of something new."