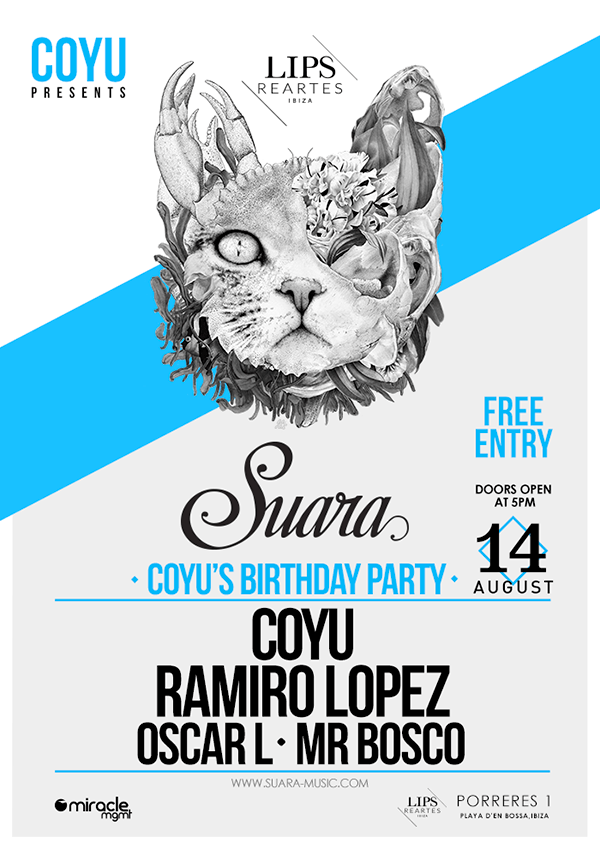 Coyu's Birthday Party @ Lips Rearte
As described by Coyu via his Facebook page "Suara only can reaffirm that our duty is with our fans and followers across everything we do… That's why we're not going to play their game as it would only waste our time for what we really love to focus on: YOU, the music and the cats".
So, let's turn the page and look to the future, let's keep sharing good vibes and from now on come and join the party at Lips Reartes – Ibiza (a beautiful venue on the Playa d'en Boss beach-front who have previously hosted pre-parties and official dinners for tINI, ENTER, Vagabundos or Kehakuma)
We start today (Friday, August 14) from 5pm to midnight with FREE Entry, quality house music and the sea breeze.
LINE-UP:
COYU
RAMIRO LÓPEZ
OSCAR L
MR BOSCO
In many ways, this is a very special party as Coyu will be celebrating his birthday (between you and thousands of us, he turns 30) and you're all invited!