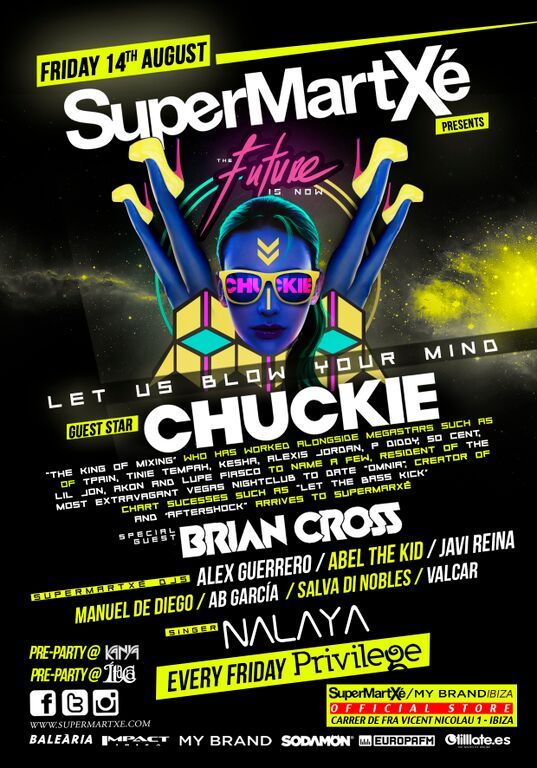 SuperMartXé: The Future Is Now
SuperMartXé presents this Friday 14 August, The Future is Now – with the incredible Guest Star Chuckie & Special Guest BRIAN CROSS
After the incredible session of Mattew Koma last Friday, arrives at SuperMartXé the King of Mixing, the DJ and Dutch producer Chuckie. With several awards behind and among the top 50 DJs in the world in the DJ MAG list for years, this artist has worked with megastars like Tinie Tempah, Kesha, Harwell, Alexis Jordan, P. Diddy, 50 cent, Lil Jon or Akon.
Chuckie besides being a resident of "Omnia", the most amazing club in Las Vegas is a master of mashup, and remix of various styles and genres, as hip-hop, RnB, house, raga, pop, garage, jungle that has led him to be number one across the globe with songs like Let The Bass Kick In Miami Beach with LMFAO or Aftershock among many other songs of the international and iconic dance music.
Together with him, will round the night the sessions of SuperMartXé Guest Star of the Summer, Brian Cross and SuperMartXé Djs: Alex Guerrero, Abel The Kid, Javi Reina, Manuel de Diego, Ab Garcia, Salva Di Nobles, Valcar and the voice of Nalaya, in a fluorine and futurist universe, where will reign the performances, extravagant dancers, acrobats and the greatest production of special effects and special Visual Shows of Ibiza.
SuperMan that is living an impressive second season in the island, introduces the kids of Hell Heaven, the best gay festival in Brazil that will land on Privilege Ibiza to put behind the booth of Vista Club its most representative dj, Guga Rahner straight from Sao Paulo, accompanying the residents Hugo Sanchez, Leo Blanco and Guéna LG.
This Friday comes to visit the future with SuperMartXé.
LET US BLOW YOUR MIND!
Follow Us:
www.supermartxe.com
www.facebook.com/supermartxe
twitter.com/SuperMartXeWT