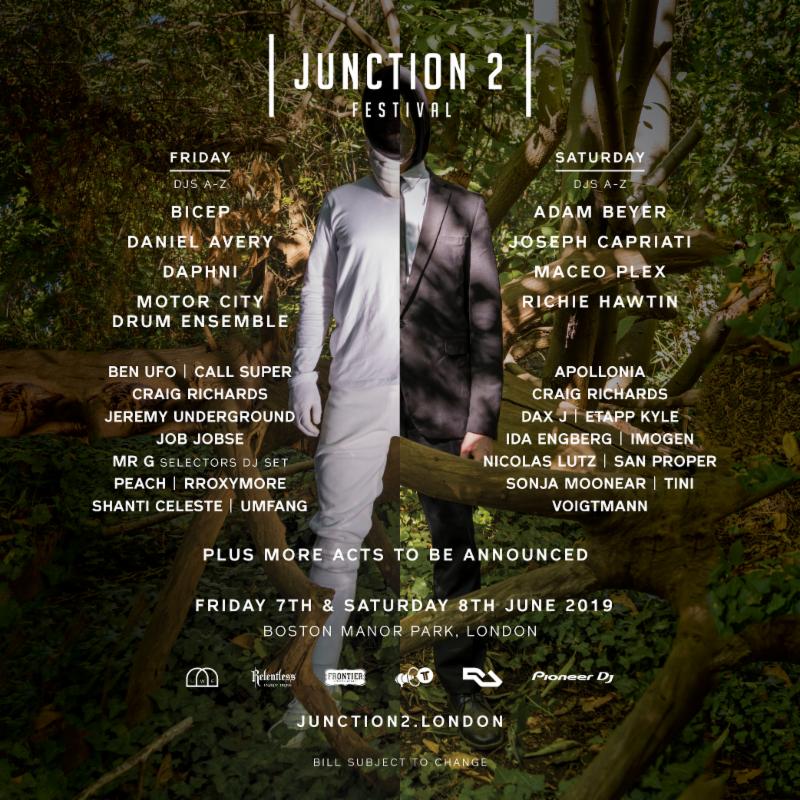 Craig Richards To Play Across Both Days As Junction 2 Unveil Further Names For 2019 Edition
Fresh from revealing the first names for its debut two-day edition, Junction 2 locks in Craig Richards sets across both days, with Ben UFO, Mr. G (Selectors DJ Set), Sonja Moonear, Jeremy Underground and more also joining a stunning bill.
A true London icon in every sense of the word, Craig Richards has garnered worldwide acclaim for his long-running fabric residency, in which his extraordinary approach to programming and now-legendary extended sets shaped the clubbing landscape within the city. In a unique step, he treats Junction 2 to two diverse, unmissable sets across both days to demonstrate why he's so highly revered around the world.
Joining the likes of Bicep, Shanti Celeste, Daniel Avery and more on Friday 7th June 2019, there are Junction 2 debuts for Hessle Audio mastermind Ben UFO, one of electronic music's most sought-after selectors in recent times, rapidly rising star Rroxymore and the trailblazing Umfang, co-founder of the Discwoman collective. Jeremy Underground brings his extensive collection of house and disco rarities to Boston Manor Park, and the legendary Mr. G steps up to deliver what he's been doing for two decades, a breathtaking Selectors DJ Set that is sure to rank as one of the festival's standout moments amongst so many.
Saturday 8th June 2019 promises to explore darker, techno territories, with Richie Hawtin, Ida Engberg and Adam Beyer previously announced, and these new additions fit the bill nicely. After their much talked about B2B in 2018, Sonja Moonear and Nicolas Lutz, two artists that consistently defy genre, return to Junction 2 for impossible-to-predict, individual sets, and they'll be alongside a Paris trio that know exactly how to send crowds into a frenzy, Apollonia. Co-founder of London's Toi.Toi.Musik's party, Voigtmann is considered one of dance music's most fearless curators and he'll undoubtedly prove why once again, with Part Of The Gang label boss tINI also bringing her wealth of knowledge and irresistible selections to Boston Manor Park.
With more eye-catching names still yet to be announced across both days, it's set to be Junction 2's biggest year ever. Tickets are available here: www.junction2.london.
Junction 2 2019 press kit can be found here – Please use image credits provided: https://www.dropbox.com/sh/1mjmq4rr2gjorcs/AABENs5kvwBzUF_mvoCpOBDQa?dl=0
Junction 2 will be throwing a colossal day and night launch party at Tobacco Dock with Adam Beyer, Dixon, Åme, Rødhåd, Amelie Lens and more on Saturday 29th December 2018. Full details and tickets can be found here: http://www.lwe.events/events/junction-2-at-tobacco-dock
Junction 2 Launch Party – Night will be hosted at fabric with Adam Beyer + more TBA.
Tickets available from: https://www.tickettannoy.com/event/LtN6H_SMG0ue9CIIHyRXXQ?u=MAgsIODT8UK7…
Combo tickets available now for Tobacco Dock and fabric for £55.00+BF
*Subject to license
ABOUT JUNCTION 2
Junction 2 is an underground electronic music festival organised by LWE. It merges natural beauty, green fields, rambling rivers, woodland pathways and hidden enclaves – all dominated by striking industrial features that make the site iconic.
Hosted at Boston Manor Park, under the M4 motorway, which dominates the site as one of five unique arenas which play host to the world's most in-demand electronic music artists. LWE's attention to detail is obvious across the site, with operational excellence, exceptional sound – the loudest in London.
Keeping the focus on quality music, the all-day dancefloor homage offers a vast spectrum of sonic textures.
MORE INFO:
www.junction2.london
www.facebook.com/Junction2London
www.twitter.com/junction_2
www.instagram.com/junction_2