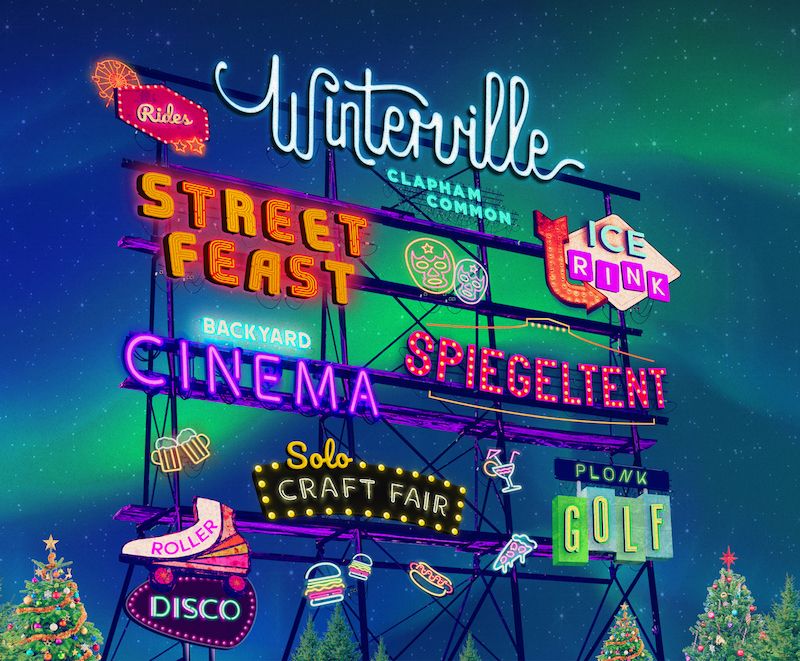 Winterville Is Open! London's Alternative Festive Experience Taking Over Clapham Common
As the Christmas nights draw in, and the mulled wine stirs in bright lights – Winterville sits as the unmistakable hub of alternative festive fun, welcoming thousands through its doors already as a go-to destination for December in London – and it's just getting started.
Making a real slam, Lucha Britannia returns to Winterville with their Mexican Wrestling extravaganza with shows for both families and adults warming up the winter, as will Mariah & Friendz with their distinctly disturbed take on the holiday season for an unforgettable club night December 9th. Acclaimed London festival Mighty Hoopla are putting on their own Christmas Jumpergeddon night of catwalked jumper frolics all soundtracked by Sink The Pink DJs , while The South London Soul Train and yacht-rock spinners Twin Sun also leave their own distinct mark for must-see nights in the heart of Clapham Common.
London's top club nights will are making their ho-ho-home at Winterville for the month, with pop heavyweights Guilty Pleasures and the UK's longest running party Bugged Out providing dancefloor fillers every weekend. Singalong donsMassaoke will be at the reigns every Thursday, and Karaoke Hole on Saturdays, for all your crooning needs, while eyes will be down for Indeedy Musical Bingo who will pop in for a Saturday night specials. Grab your mates for the Sounds Familiar Music Quiz (promising a test of wits and cracking Christmas confidence) and get a glimpse of hilarious-mistletoe capers withDating Against Humanity! There's nothing quite like Winterville when it comes to unmistakeable festive evenings.
Spinning around like nobody's business, Twisted Wheels' Roller Disco is an undeniable must at Winterville this year – by day a bustling hub of fun and energy, and by night a pumping party central. Check in through December for special nights themed around Wham, Madonna, 00s Pop Bangers, the 80s and much more!
This exceptional programme of festive entertainment runs alongside the many daily activities at Winterville, including: The Backyard Cinema and it's Christmas Labyrinth; the neon-lit pitch and putt Plonk Golf; the high-octane Winterville Funfair; and, everyone's Christmas favourite the Ice Rink – the only outdoor one located in South London this year. With the 18+ Puppet Show, a mouth-watering array of Food & Drink served up by the guys from Street Feast, joyous smiles with your toddler's favourite ravers Big Fish Little Fish providing day-glo vibes, theatrical escapades from Bus King and educational entertainment from Okido – Winterville is the destination perfect for all this December.
Chiming with cheer, Winterville is a venue packed with unique and unmissable moments at every turn – the perfect place to drink in the mulled wine vibes, jump aboard the array of thrilling rides and attractions, catch a winter movie and wonder at phenomenal shows and late-night fun. Christmas has never sounded so good.
Tickets to the Ice Rink, Roller Disco, Backyard Cinema and selected shows are available to book in advance from the Winterville website.
This December at Winterville:
Tuesday 4th – The Incredible Science of Santa (Talk)
Thursday 6th – Mexican Wrestling
Thursday 6th – Massaoke
Friday 7th – South London Soul Train
Friday 7th – Bugged Out!'s Little Bugger
Friday 7th – Back to the 80's Roller Party
Saturday 8th – Indeedy Musical Bingo
Saturday 8th – Guilty Pleasures
Saturday 8th – The Karaoke Hole
Saturday 8th – Lycra – 80s Roller Party
Saturday 8th – Okido – Gravity (for Kids)
Saturday 8th – Big Fish Little Fish (for Kids)
Sunday 9th – Mariah & Friendz
Sunday 9th – Mariah & Friendz Present SPLAT (for Kids)
Sunday 9th – Mrs H & The Singalong Band (for Kids)
Tuesday 11th – Christmas Cards From a Killer (Talk)
Wednesday 12th – Sounds Familiar Music Quiz
Wednesday 12th – Dating Against Humanity
Wednesday 12th – Chivaree Circus Presents CRASH
Thursday 13th – Chivaree Circus Presents CRASH
Thursday 13th – Massaoke
Friday 14th – DJ Yoda – 80s Edition
Friday 14th – Bugged Out!'s Little Bugger
Friday 14th – Dancing Queen Roller Party
Saturday 15th – Indeedy Musical Bingo
Saturday 15th – Guilty Pleasures
Saturday 15th – The Karaoke Hole
Saturday 15th – Okido – Static Electricity (for Kids)
Saturday 15th – Story Labs (for Kids)
Saturday 15th – Wham-tastic! Roller Party
Sunday 16th – Mighty Hoopla Jumpergeddon
Sunday 16th – Twin Sun Sunday
Sunday 16th – Become a Space Explorer (for Kids)
Sunday 16th – Big Fish Little Fish (for Kids)
Tuesday 18th – Christmas – A Deeper Meaning? (Talk)
Wednesday 19th – Chivaree Circus Presents CRASH
Thursday 20th – Chivaree Circus Presents CRASH
Thursday 20th – Gospeloke
Friday 21st – Jazzie B + Ross Allen
Friday 21st – Bugged Out!'s Little Bugger
Friday 21st – Hip Hop Hooray Roller Party
Saturday 22nd – Chivaree Circus Presents CRASH
Saturday 22nd – Non-Stop Christmas Hits Roller Party