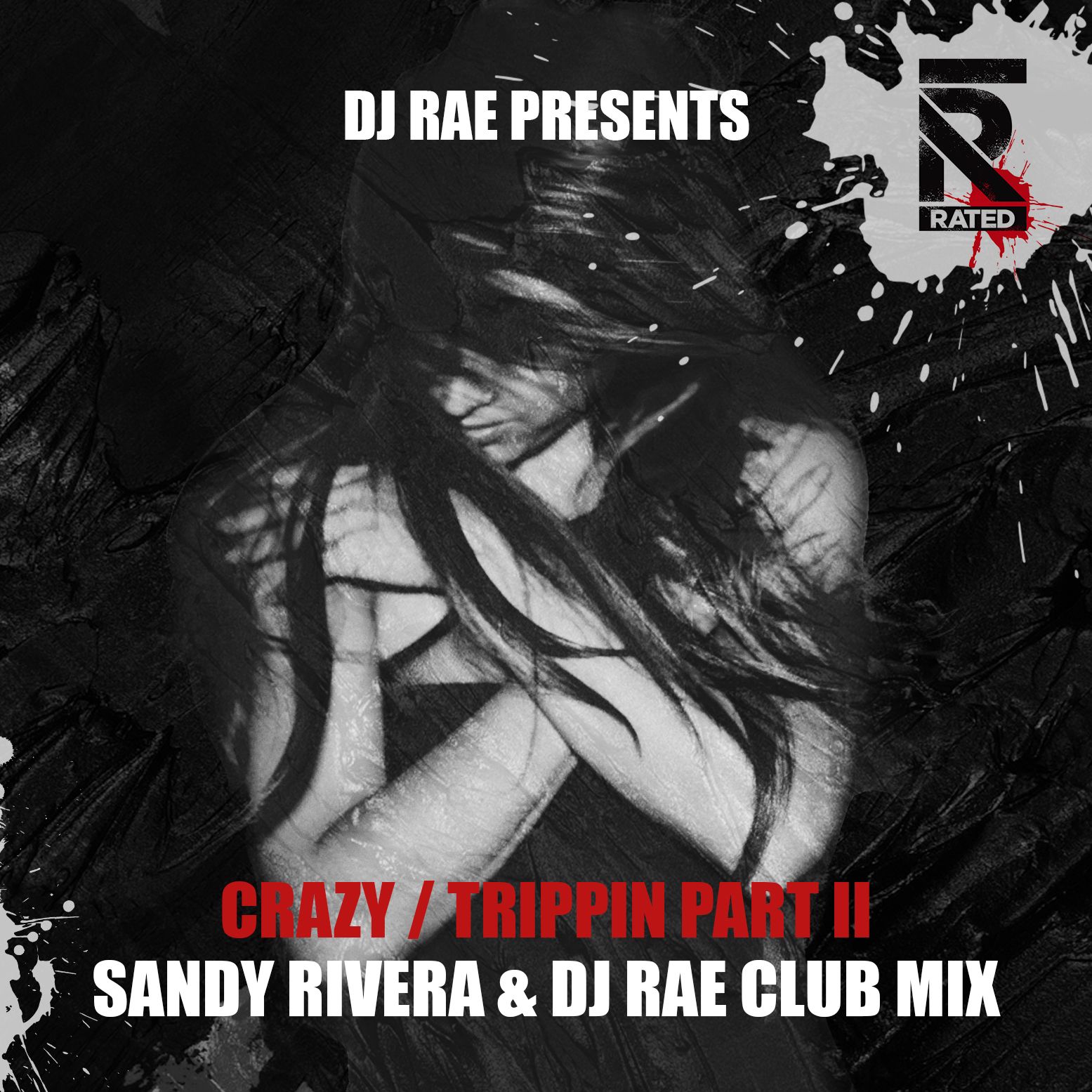 DJ RAE & Sandy Rivera - Crazy / Trippin Part II
A decade on from the classic house anthem 'Can't Stop', DJ RAE and legendary Producer/DJ Sandy Rivera are reunited on the powerful 'Crazy/Trippin Part II', released on DJ RAE's RATED label on 2 July 2018.
'Crazy/Trippin Part II' is set to be another big release for DJ RAE and Sandy Rivera whose previous collaborations 'Can't Stop' in 2008 and 'Hide U' in 2010, both on Defected Records, plus 'Persuasion' in 2009 on Blackwiz became international smashes.
Back in the studio for the first time since 'Hide U', Sandy Rivera and DJ RAE unleash a fresh and exciting interpretation of a dance-floor classic, GoldTrix ft Andrea Brown 'It's Love (Trippin)' – a track that is a natural fit for the duo. The timeless production seeps with nostalgia with a nod to the deeper sounds of today's dance floors, resulting in an exhilarating re-work showcasing RAE's stunning, powerful vocal delivery.
'Crazy /Trippin Part II' has already received fantastic support including from Luciano ("Amazing, love this track!"), LTJ Bukem, Paco Osuna, Tom Novy, and Horse Meat Disco, and many others.
On 'Crazy / Trippin Part II' DJ RAE says: "Ten years ago I met Sandy Rivera at Bora Bora Ibiza. He was late to play, and I was the keen little DJ ready to jump on with a bag of my best vinyl. My first chance to play in Ibiza – destiny strikes… That day changed my life. Sandy and I hooked up back in London – obviously I knew all his music and as soon as he knew I was also a singer and writer we got straight into the studio and made 'Can't Stop'. I remember thinking these keys are special, and the lyrics just spilled out so easily. Defected signed it straight away and the rest as they say is history.
We went on to make 'Persuasion' together and our self-made video hit #1 on the MTV dance chart, then came 'Hide U', which became a huge clubland smash. It's not often you hit that vibe in the studio. We were on a roll. We toured like mad and had a great time along the way. Sandy has always been an inspiration to me, and he was a real mentor to me in those early days. It's an honour to be working together again ten years later.
Rae shares a great history with Defected Records since her first, self-penned release with the label, 'Can't Stop' with Kings of Tomorrow became a house anthem. Rae's multi-faceted talent lead to her fast becoming an artist in demand, headlining tours as both a DJ and live act worldwide, with residencies at Ushuaïa and Pacha Ibiza, paving the way with confident productions such as 'Hide U' with Sandy Rivera, 'Another Day', and the massive Top 20 release 'Take Me Away' with DJ S.K.T. Recent releases include 'Yesterday' and 'Get Me Down' on Armada, 'Groove On' on Spinnin', 'That Feeling' on Get Twisted, 'Harmony' on Love & Other, 'Sweat' on Nothing Else Matters/Sony, 'Reachin' on In The Loop, 'Good Times EP' On Toolroom, and 'Work On Me' on Audio Rehab.
RAE launched her label RATED in 2017 with her releases, 'My Soul' and 'Surrender', plus Kamereon 'Watch You', supported by a wide variety of leading selectors including Mark Knight, Roger Sanchez, Marco Carola, MistaJam, Crookers, and Horse Meat Disco.
Rae is also a sought-after songwriter within the dance and pop industry, collaborating and penning songs for major artists across the genres. Using her full name Rae Hall, recent features include 'Lose Myself' from up and coming producer Kharfi, 'You & Me' with Ryan Blyth & Scrufizzer, 'Sundown/Loving Me' with KC Lights, and 'Feel My Love' with Jack Wins.
To add to a CV of ever-growing accomplishments, Rae is currently performing as guest vocalist for the hugely successful Hacienda Classical tour, which has already seen Rae unleash her incredible vocals on such iconic stages as The Royal Albert Hall and on The Pyramid Stage at Glastonbury Festival.
As one of the most respected house producers around, Sandy Rivera has recorded classics both under his own name ('Changes') and that of his legendary Kings of Tomorrow moniker ('Finally'). Sandy Rivera has a great talent for fusing a vast array of stylistic influences into his music, from funk and soul, to disco and techno, and also drawing on his Puerto Rican heritage and New York upbringing.
Social Media
DJ RAE
facebook.com/agirlcalledrae
twitter.com/raedjartist
soundcloud.com/raedjartist
raedjartist.com
Sandy Rivera
www.facebook.com/sandyriveradj
www.twitter.com/djsandyrivera
www.soundcloud.com/sandy-rivera
www.youtube.com/user/sandyriverasofficial
RATED
www.facebook.com/RATEDRECORDS
twitter.com/RatedRecords