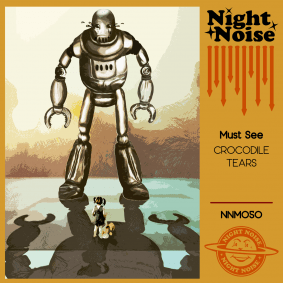 Must See - Crocodile Tears
Night Noise Music hits release number fifty as its commitment to showcasing new talent continues with a debut release from Michal Dabrowski AKA 'Must See'. Remixers include two Night Noise favourites who were involved the label's very first release, namely Acid Washed's Andrew Claristidge and AWITW, while joining them is the wonderful Inigo Vontier.
A few years ago Paris born, Warsaw raised Dabrowski—an analogue obsessive since his teens—met the acclaimed French duo Acid Washed and they began talking about music, specifically a track called 'Crocodile Tears' that he had recorded under his Must See guise. It had since been lost following a hard drive crash, so Acid Washed suggested that he help re-record the track in his unique analogue style.
The excellent result is a robotic ballad you can file under electronic pop, with sombre bass and vocals all dragging you into a melancholic musical world. Crashing hits drive it along and the whole thing is riddled with sic-fi melodies. The other standout original is entitled 'A Waste of Time,' and features raw and serrated synth lines, spoken word vocals that add a dark and moody feel and corrugated electro beats that will jack the club.
Guadalajara man and Turbo and Correspondent producer Inigo Vontier is someone with a rugged sound and he brings that to his remix of 'Crocodile Tears.' It's a brilliantly twisted track with tough drums and freaky vocals all run through with wild synths and stabs. Acid Washed's Andrew Claristidge then steps up to tackle 'A Waste of Time', bringing plenty of macho electro-disco funk to the drums and punchy kicks. Last of all, AWITW remixes 'Crocodile Tears' into a stripped back and otherworldly track that is mysterious, with buzzing synth modulations and optimistic pads eventually taking over and soothing your soul.
This is an innovative EP from artists old and new that marks Night Noise's 50th release with perfect style.
Tracklist:
1- Crocodile Tears
2- A Waste Of Time
3- Crocodile Tears (Inigo Vontier Remix)
4- A Waste Of Time (Andrew Claristidge Remix)
5- Crocodile Tears (AWITW Remix)