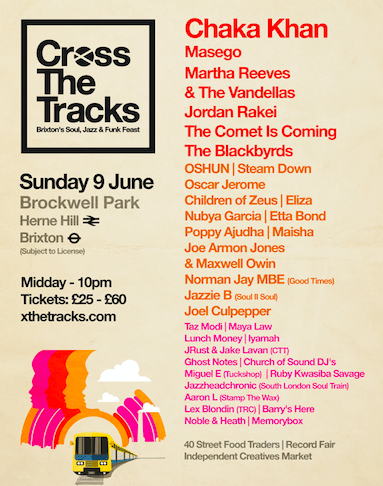 Cross The Tracks – New London festival announcement
Today, Cross The Tracks, a brand new music and food focused event for South London announce their arrival on Sunday 9th June, at Brixton's luscious Brockwell Park for a day of music, food, workshops, talks and more.
Cross The Tracks invites a mixture of legendary and upcoming artists representing a hybrid of jazz, soul, funk whilst welcoming over 40 of London's most talked about street food traders, alongside the city's finest craft beer brewers.
Championing a female orientated line-up, Cross The Tracks' headliner is none other than Queen of FunkChaka Khan, whose career spans over five decades of endless hits. This week she announces her first album in 12 years Hello Happiness – fans can have the first listen live in London. Motown heads are in for a treat as all female powerhouse group Martha Reeves & The Vandellas will be performing live, alongside American hip hop come soul duo, OSHUN, who define the sonic manifestation of Afrofuturism. Elsewhere, Island Records signing self confessed jazz come rap pioneer Masego will also head to Brixton.
American rhythm and blues and jazz-funk fusion group The Blackbyrds will be making their way to Brockwell Par whilst Manchester's Children of Zeus will supply their genre-spanning jazz infused hip hop sound. Mercury nominated The Comet is Coming will give crowds a musical education with their unique sound infusing jazz, electronica, funk and psychedelic rock and expect soulful, jazz and hip-hop driven sound from Ninja Tune signee Jordan Rakei.
The new wave of smoked out RnB has a strong presence at Cross The Tracks – fresh from her album launch in 2018 is Eliza with her jazz infused beats and blurry vocals. Elsewhere, Skinhead Soul PrincessEtta Bond as well as South London musician on the rise Poppy Adjudha showcasing her hybrid of funk, soul and reggae. Six piece jazz ensemble and Brownswood signees – Maisha will also be representing London's blooming jazz scene.
With its roots firmly based in London, Cross The Tracks invites some of the scene's most exciting artists to set the foundations for their first year. First up is London-based saxophonist and composer, Nubya Garcia – one of the leading forces behind the resurgence of jazz-influenced sounds in the UK, she will perform alongside South London's own Joel Culpepper. Multifaceted jazz and soul musician Oscar Jerome will bring his unique sound alongside South London duo and vital part of the jazz's scenes eclectic communityJoe Armon Jones & Maxwell Owin.
Powerhouse collective the Steam Down Orchestra – comprising of Ahnanse, Nubya Garcia, members from Sons Of Kemet, Kokoroko and more are also set to make an appearance alongside the ethereal sounds of Submotion Orchestra's own Taz Modi. Newcomer to the acoustic folk scene – Maya Law will form the line up alongside star-on-the-rise Iyamah.
Soul fans take note, the legendary Norman Jay MBE will be performing a rare groove vinyl set, whilst Soul II Soul's own, bonafide legend Jazzie B will also grace the decks playing an 80s Africa Centre set as well as Wildheart label founder Ruby Kwasiba Savage and Stamp the Wax co-founder Aaron L.
In addition to the heavyweight roster of artists, Cross The Tracks have invited a whole host of London's forward thinking promoters to soundtrack the day, nurturing those who curate the cities eclectic scene. Pushing the new jazz sound – South London venue turned collective Ghost Notes will be joined by DJ collective Lunch Money playing feel good disco, house, garage and all in between. Church of Sound DJ's showcasing jazz, funk and future sounds and last but not least, Tuckshop DJ's providing sounds from across the globe.
Peckham institutional party, South London Soul Train's own Jazzheadchronic will be providing the finest funk and soul, whilst and Total Refreshment Centre DJ's round off the bill.
That's not all though, Cross The Tracks will host over 40 of London's most talked about street food traders bringing food from all the world to Brockwell Park, alongside talks, panels, workshops and an independent creative market including a record fair and local art traders.
Set in South London's Brockwell Park with Herne Hill and Brixton stations just a stone's throw away, Cross The Tracks is easily accessible for the whole of the city.
Chaka Khan – Martha Reeves & The Vandellas – Masego – Jordan Rakei – The Blackbyrds – The Comet Is Coming – Oshun – Steam Down Orchestra – Children of Zeus – Nubya Garcia – Eliza – Etta Bond – Poppy Adjudha – Oscar Jerome – Maisha – Joel Culpepper – Joe Armon Jones & Maxwell Owin – Taz Modi – Lunch Money – Maya Law – Iyamah – Norman Jay – Jazzie B – Ghost Notes – Church of Sound DJ's – Tuckshop DJ's – Ruby Kwasiba Savage – Jazzheadchronic (South London Soul Train) – Aaron L (Stamp The Wax) – Total Refreshment Centre DJ's – Lex Blondin – Barry's Here – Noble & Heath – Memorybox
INFO
Cross The Tracks
Sunday 9th July 2019
Brockwell Park, London (Subject to License)