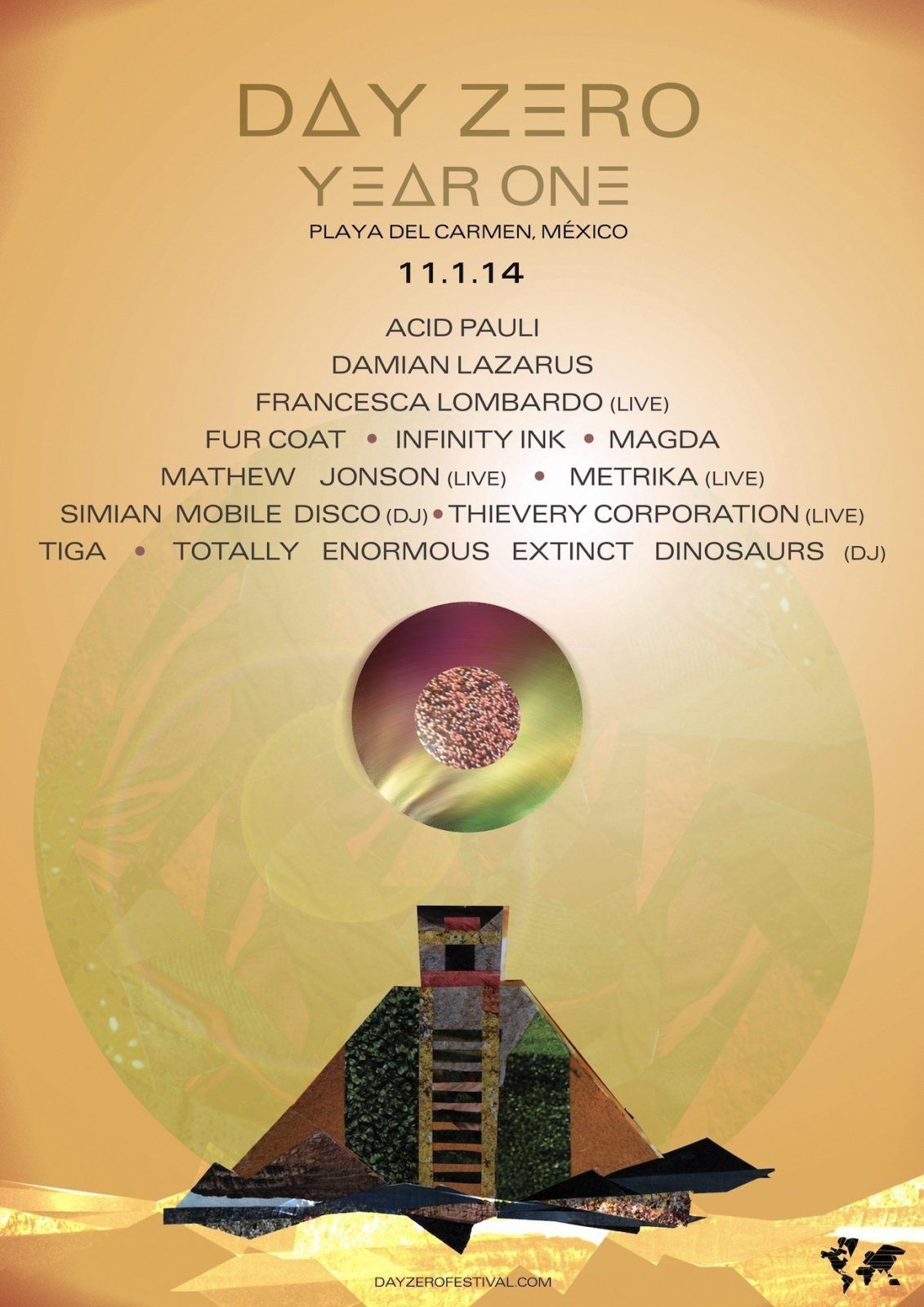 Crosstown Rebels present Day Zero: Year One – Line-up Released
After its electrifying launch last year welcoming the end of the final cycle of the Mesoamerican Long Count calendar, Day Zero returns for a spiritual gathering to once again celebrate a new beginning Day Zero: Year One.
On 11th January 2014, Crosstown Rebels will proudly present a selection of some of the finest electronic artists on earth in the amazing sun-soaked jungle of Playa del Carmen, Mexico, on the tropical Caribbean coast.
The event will bring together some of the most dedicated party people from around the world as they contemplate the passing of the last year in a sacred celebration of life, love and music.
The stunning and ethereal presence of the natural surroundings, combined with the pulsating positive energy of the assembled crowds, will provide the perfect atmosphere to welcome the birth of a new and spiritually beautiful tomorrow.
The carefully handpicked line up represents a group of performers who intimately understand the emotion and resonance of the moment, and the ability of music to inspire and touch people's souls.
Playing live at the event will be Grammy nominated and electronic superstars Thievery Corporation who will play their first ever live set in Playa del Carmen at Day Zero. Fusing dub, bossa nova and jazz with cool electronica and a punk attitude, their carnival-esque live performances are second to none.
To guide you through the musical journey, Simian Mobile Disco will be gracing the decks with their magical and compelling electro-cosmic sounds.
Totally Enormous Extinct Dinosaurs, or TEED as he's more affectionately known, will be returning with his hi-energy attitude while he performs a dj set amongst the Mayan ruins that form the perfect backdrop to the festival.
TEED said: "Last year's Day Zero was one of the most memorable gigs of my career. The whole event was unlike anything I've ever been too! So, so excited to be involved again!"
Having made waves in the past 2 years as the newest star in the Crosstown Rebels galaxy, classically trained musician, DJ and producer, Francesca Lombardo will be playing her first ever live festival performance, a show that has captured people's hearts since being exclusively aired on the Boiler Room last month.
After bringing his set from last years festival to a dramatic close with Phil Collins' 'In The Air Tonight', Crosstown Rebels founder and the man that made Day Zero a reality, Damian Lazarus, will return with a typically creative, energetic and rebellious approach to electronic bliss as he takes on the sunrise session.
Damian said: "Last year we created an event that felt so special and so right. The planets literally aligned to help us create a magical spectacle that we assumed would be a one off event but after much reflection and much soul searching, we decided that we would come again and build on what we started.
"Set in the mystical jungle setting, among three Mayan pyramids and two lakes, we will endeavour to produce an event that people will cherish for the rest of their lives. It's a tall order but we feel up to the task.
"I have very carefully selected a broad spectrum of artists to entertain us over the 18 hours in paradise and our friends from Secret Productions are busy helping us bring to life a creative vision not normally associated with underground music. We are going for it at Day Zero: Year One. Come and join us."
Infinity Ink have had an incredibly successful year and will be joining in the celebrations with their uplifting live set featuring vocals from Hot Natured and solo artist Ali Love and production wizard Luca C.
Legendary Montreal born DJ and producer Tiga was delighted to be booked and said: "You had me at Mayan Temple!"
Dramatic sounds and eccentric basslines will be brought to the party by Magda while other Crosstown Rebels artists include Acid Pauli, Fur Coat and live sets from Mathew Jonson and Mexico City based recording artist, Metrika.
The event will also welcome a broad selection of outstanding alternative performances, workshops, astronomy classes and jaw-dropping lighting and fx.
For tickets and more information please visit http://www.dayzerofestival.com/
For a taste of last years festival, please head to http://tinyurl.com/DayZero-Vice-Movie