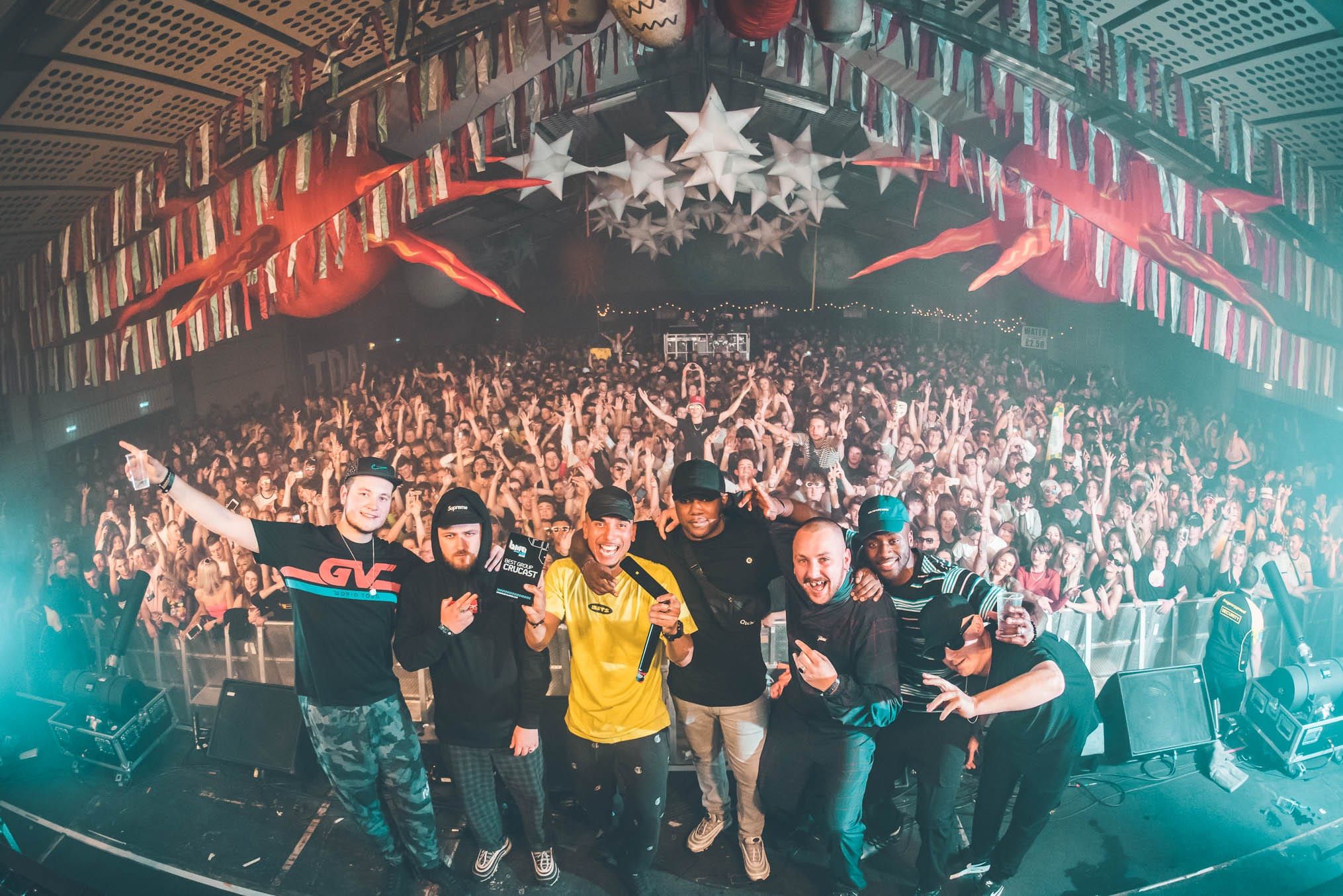 CruCast announces indoor festival at Printworks
CruCast has announced the date and full line-up for a huge indoor festival at London's Printworks, the final part of the leading UK bass music brand's four-date UK autumn 2019 tour. The London event, which takes place on Saturday 23rd November, follows large-scale indoor festival shows in Newcastle, Birmingham, and Nottingham.
The stellar line-up for Printworks' includes Crucast featuring Skepsis, Darkzy, Bru-C, TS7, Window Kid, LazCru and Mr Virgo in the Press Halls, with very special guests Problem Central (Logan D, Majistrate, Eksman, Evil B), Watch the Ride featuring Randall b2b DJ Die b2b Dismantle featuring Prime plus a very special unannounced guest, Distres Signal (Kanine, K Motionz, Simula), Jungle Cakes Take Over feat. Ed Solo B2B Deekline B2B Benny Page B2B Serial Killaz, hosted by Navigator, Upgrade, DJ Q b2b Jamie Duggan, DJ Guv b2b Hedex​ Royal T b2b Champion.
Completing the venue takeover, The Dark Room at Printworks will feature Darkzy (dubstep set), Taiki Nulight b2b Cause & Affect, Bou, Cajam, Indika, Meltout Crew, Sammy Virji (UKG set), Subsonic, Tsuki, and Zero.
The CruCast autumn shows are the label's biggest endeavour yet, with other special CruCast indoor festival events taking place at Digital in Newcastle on Friday 4th October, Rock City in Nottingham on Sunday 13th October, and a street party event at Lab 11 in Birmingham on Saturday 5th October. Each one features major artist line-ups, the hottest new talent, and state-of-the-art production.
CruCast is largely involved with the new wave of British bass music including drum & bass and garage and is known for developing the ever-growing bassline sound that's fast becoming the soundtrack for a new generation of UK ravers, both in terms of recordings and live events. Fresh from three previous back-to-back sold out UK tours, CruCast has hit new heights in 2019 taking over festival stages at Glastonbury, Reading and Leeds, Creamfields, SW4, Kendall Calling to name a few, as well as Amnesia in Ibiza.
The label itself works with a roll call of the best bass music artists including bassline stars Skepsis and Darkzy and label mates Bru-C, Window Kid, Mr Virgo, Kanine, Lazcru and TS7. Crucast releases such as Skepsis' 'Goes Like', Darkzy's 'Gun Fingers' and Kanine 'Want You' have gone on to become iconic tracks for what's emerging as a new era for UK dance music.
CruCast Printworks indoor festival line-up:
Press Halls
Crucast featuring
Skepsis​
Darkzy
Bru-C
TS7
Window Kid
LazCru
Mr Virgo
(a-z)
DJ Guv b2b Hedex​
DJ Q b2b Jamie Duggan
Distres Signal (Kanine, K Motionz, Simula)
Jungle Cakes Take Over feat. Ed Solo B2B Deekline B2B Benny Page B2B Serial Killaz, hosted by Navigator
Royal T b2b Champion
Upgrade
Watch the Ride feat. Randall b2b DJ Die b2b Dismantle featuring Prime and very special
unannounced special guest
Very Special Guests
Problem Central (Logan D, Majistrate, Eksman, Evil B)
Dark Room
Darkzy (Dubstep set)
Taiki Nulight b2b Cause & Affect
(a-z) 
Bou
Cajama
Indika
Meltout Crew
Sammy Virji (UKG Set)
Subsonic
Tsuki
Zero
CruCast video:
https://www.dropbox.com/s/q5hj0bvy9lxq652/
Crucast%20Winter19%20Dates%20%5B2%5D.mp4?dl=0