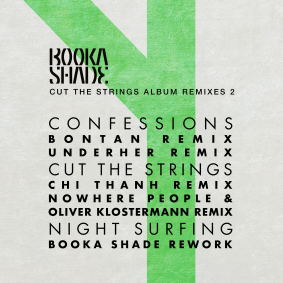 Booka Shade - Cut The Strings Album Remixes 2
Bontan, Underher, Chi Thanh, Nowhere People & Oliver Kolstermann step up to remix Booka Shade for the second installment of the 'Cut The Strings Remixes' alongside their own rework.
Berlin based Booka Shade's Blaufield imprint offers the second remix package after the success of the critically acclaimed 'Cut The Strings' LP which dropped in April. The duo have approached more fellow artists to provide their own interpretations of the album, as well as adding in their own rework.
Following 'The First Time' which became Hot Creations biggest selling record of the year 2017, Bontan steps up for his take on the track 'Confessions'. Clean drums lead the way before powerful, arpeggiated synths unfold and a robust bass line takes center stage. Montreal based live act UNDERHER then offer up a rework of 'Confessions' with their signature, ethereal female vocal sounds and pulsating bass, creating an intense atmosphere.
The first 'Cut The Strings' remix then comes from Blaufield's own Chi Thanh utilizing an amalgamation of nimble synth arpeggios and a raw, underpinning piano alongside crunchy bass synths to build tension. Berlin's Bullitt Club resident, Nowhere People, teams up with Munich composer and producer, Oliver Klostermann next to provide their interpretation of the single with intelligent sound design and a rumbling sub bass combined with crunchy synths to deliver a dramatic take on the original.
Booka Shade's rework of 'Night Surfing' closes, based on a live version the duo have played in recent shows, the fresh take brings us a heavier low end and brooding, heady synths that give a darker feel to things.
The Booka Shade 'Cut The Strings Album Remixes 2' package is out on Blaufield 8th June 2018.
Tracklist
1. Confessions (Bontan Remix)
2. Confessions (Underher Remix)
3. Cut The Strings (Chi Thanh Remix)
4. Cut The Strings (Remix)
5. Night Surfing (Booka Shade Rework)