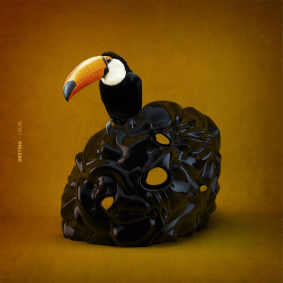 Destino - Louis
Destino is a new experimental side-project by Yuksek, who debuts it on La Belle Records with two innovative tracks and a remix by Alek Lee.
Over a career that spans more than 12 years, Yuksek has released three albums and many EPs next to making movie soundtracks. He is someone who lives in the studio and this new project finds him in there making beats for hours, all on the fly. "It's just about looking for textures and not worrying about genres, tempo or length of the track," says the artist.
Opening track 'Louis' is a perfectly intoxicating summer cut with cosmic pads drifting about above a slow motion groove. It's languid and horizontal and designed to bliss you out with the sparse percussion and pitch shifted vocals adding to the effect.
The masterfully hypnotic 'Isla Grande' is another super laid back effort with slow claps, pixelated synths and psyched-out guitar riffs that carry you off into the cosmos. Starry eyed and golden in colour, it's a late night track of the highest order.
Remixer Alek Lee is a much-respected producer who has released EPs on the acclaimed Antinote Records. His take on 'Louis' is tender but more driven, jumbled, organic drums bring the groove while warped and saturated chords add heat. It's spooky and subversive and rounds out what is a genuinely inventive and original package.
Tracklist:
1. Louis
2. Isla Grande
3. Louis (Alek Lee Remix)