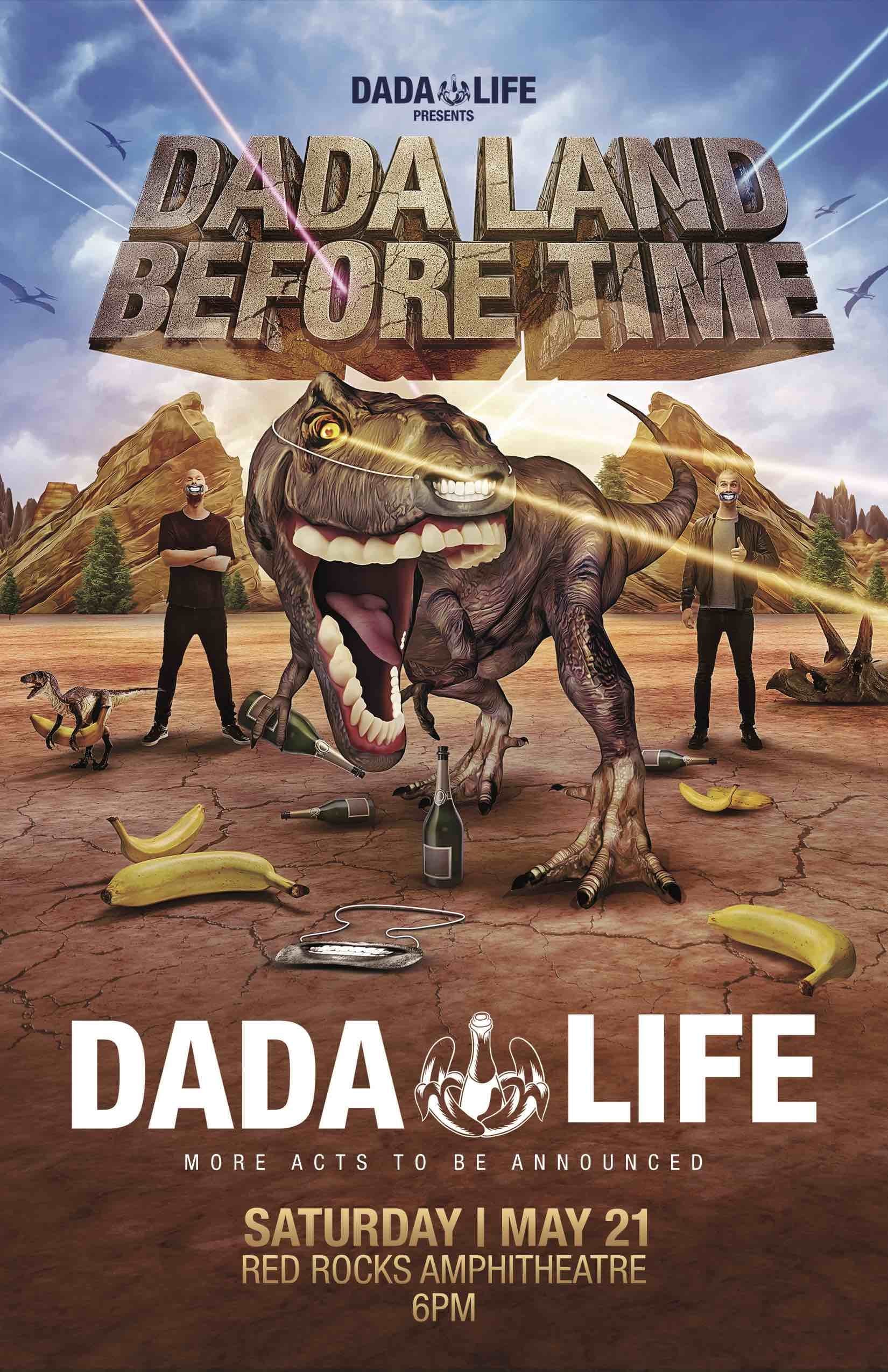 Dada Land Before Time at Red Rocks
Just when you thought it was safe to go back onto the dance floor, crazy Swedes Stefan Engblom and Olle Corneer up the ante yet again with the announcement of a brand new concept show, DADA LIFE PRESENTS DADA LAND BEFORE TIME.

PRE-ORDER YOUR TICKETS NOW

Opening at the iconic Red Rocks Amphitheatre on Saturday May 21st 2016, tickets go on sale from 9am PST / 10am MST this Friday (November 13th) via www.axs.com or by calling the ticket hotline on 888.929.7849. For those wanting to make sure that tickets are a cert, fans can also pre-order now at www.hive.co/l/auip.

While details of supporting acts remain a closely guarded secret for now, rumours are rife that Stefan and Olle plan to throw the rule book entirely out of the window musically for this one, which as die-hard fans know could mean absolutely anything. This is, after all, the world of Dada Life, where there are no rules – only the Rules of Dada.

Known around the world for their insane stunts, next-level art and visual instillations and a willingness to push past the boundaries of sound and production as they search for the ultimate experience, Dada Life have had an immense couple of years. Their global Dada Land Compound tours and the inaugural and sophomore editions of festival The Voyage have given fans a taste of what is possible with such a creative duo as the driving force behind all aspects of an event. As 2016 dawns, DADA LAND BEFORE TIME promises to give music lovers even more of what they've come to expect from Dada Life – not just a show, not merely a performance, but an all-in, out-of-their-minds musical extravaganza that will transport those lucky enough to be there to a whole new world of Dada beauty, in the surroundings of one of the most epic dance arenas of all time.