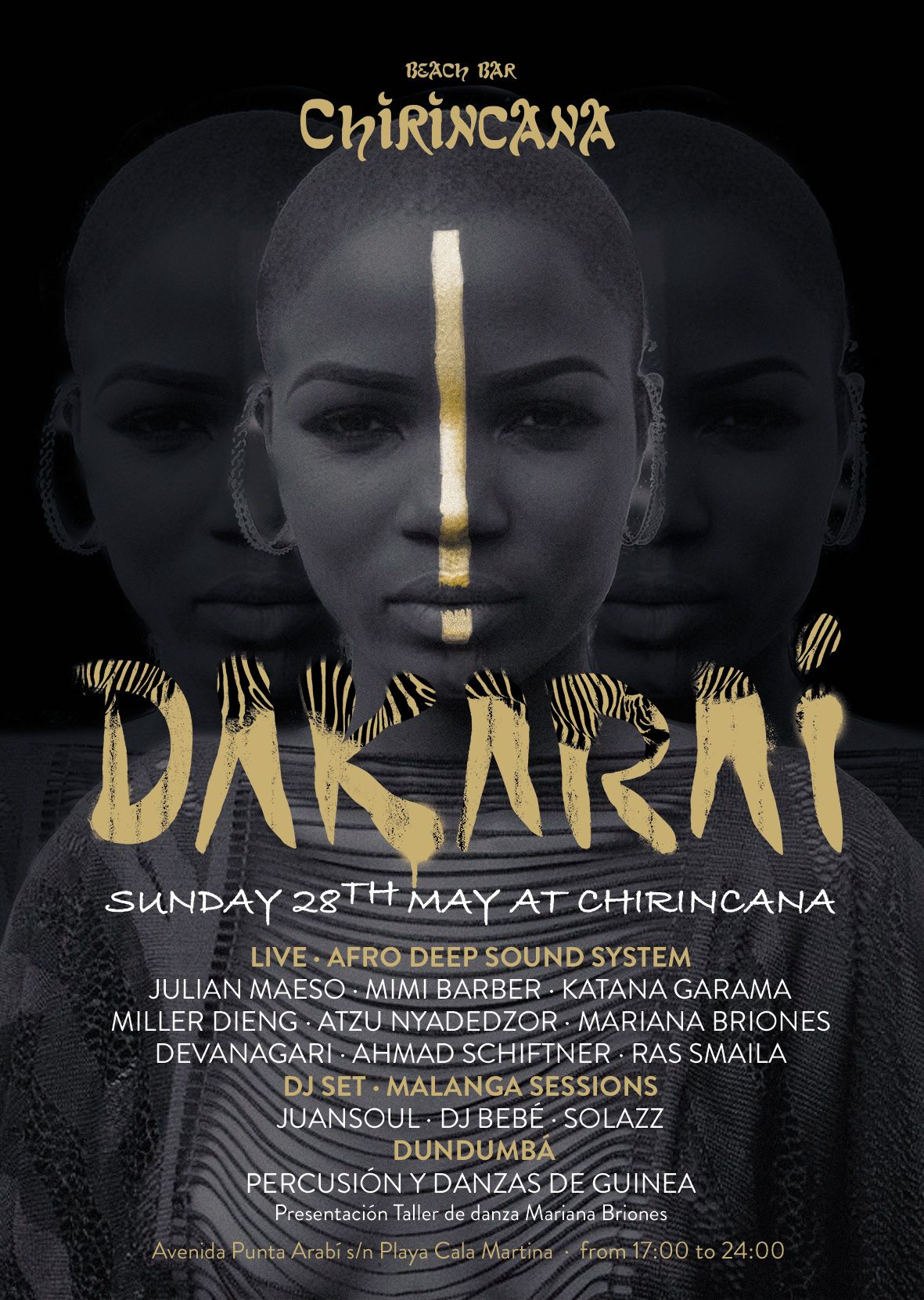 DAKARAI every Sunday at Chirincana
Malanga Eventos presents DAKARAI [with joy], an adventure through Mother Earth. A journey from the soul, from the root to the towards learning. A new event concept that emerges from the heart of Africa and the fusion of Afro music.
Afro deep Sound system, directed by producer and DJ Juan Soul, goes -from Sunday 28th May – to Chirincana (Es Canar), becoming the curator and resident artist of the party for 21 consecutive Sundays, inviting Artists both internationally and locally, to fuse the Afro sound with the most elegant side of electronics.
In this first installment, DAKARAI debuts with big names in Afro music asJulian Maeso, who will be in charge of harmonizing with the sound of his Hammond organ the best funk of the 70s. Mimi Barber, pure strength and emotion. Ras Smaila and his large doses of good vibes. Do not miss the rhythm of Katana Garama or Atsu Nyadedzor among many others, who will join the event, such as Juan Soul, Dj Bebé and Solazz, well known for their sessions full of energy in Malanga; Or Mariana Briones with her show Dundumbà percussion and dance of Guinea.
"Feel the call … the joy, the soul … DAKARAI"
Sunday 28th May Chirincana, from 5pm to 12am
LIVE
Afro deep Sound system
Feat:
Julián Maeso
Ras Smaila
Mimi Barber
Katana Garama
Miler Dieng
Atsu Nyadedzor
Mariana Briones
Devanagari
Ahmad Schiftner

DJ SET
Juan Soul
Dj Bebé
Solazz

DUNDUMBÁ
Percusión y danzas de Guinea
(Presentación Taller de danza Mariana Briones)