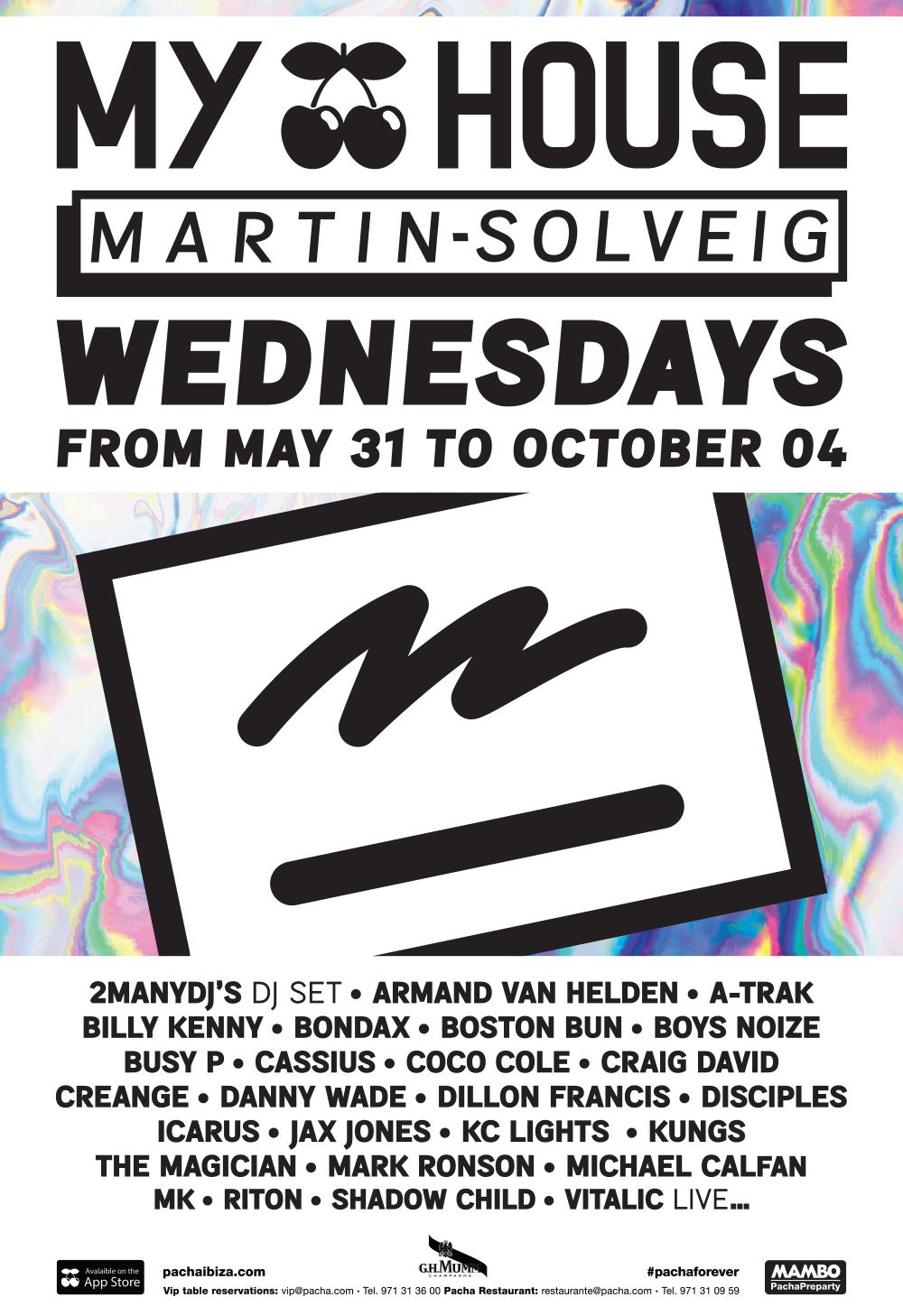 Martin Solveig & Pacha Ibiza reveal 'My House' 2017 ibiza line-up
The Parisian hitmaker will play alongside the likes of MK, Craig David and The Magician at Pacha from the 31st May – 4th October 2017
TICKETS: http://bit.ly/Solveig2017
Pacha Ibiza & Martin Solveig reveal the full line-up for this year's 'My House' residency at his second home, Pacha – Ibiza. Returning for the third year, 'My House' will continue to take place every Wednesday from 31st May – 4th October.
Alongside 'My House' resident Coco Cole, Solveig will be joined by dance music heavyweights MK, Mark Ronson and Armand Van Helden, at this year's residency. The charismatic Frenchman will also welcome Kungs, Icarus and Disciples, who alongside UK Garage legend Craig David, will be making their 'My House' debut. Following his appearance at the London edition of 'My House' earlier this year, Jax Jones is ready to reunite with Solveig this summer. Additionally, Solveig will be accompanied by Cassius and Busy P for an exclusive Ed Banger takeover mid-season. Not stopping there, The Magician will also head back to Pacha, for what will be the most in-demand party on the Island.
Solveig's 'My House' party series has grown exponentially over the past few years; from its first night at Pacha 3 years ago, it has now gained remarkable success on the international festival and club circuit, with appearances at Creamfields, Lollapalooza and Amsterdam Dance Event. The spirit of party is perfectly portrayed in Solveig's most recent, silver-certified single 'Places' featuring Ina Wroldsen. The music video provides a flashback to his time at Pacha and Café Mambo last year, reminding us that summer is just around the corner.
In addition to this season's eclectic 'My House' cast, Solveig is gearing up for the launch of his new single, 'All Stars' featuring Finnish singer Alma. The eagerly-awaited track is set to become a firm fixture on Pacha's legendary dancefloor.
Martin Solveig 'My House' Ibiza 2017 Line-up
MAY
Wednesday 31st – My House (Opening) – Martin Solveig with MK, Coco Cole, Creange, DJ Pippi & Willie Graff [Funky Room]
JUNE
Wednesday 7th – My House – Martin Solveig with Kungs, The Magician, Coco Cole, Danny Wade, DJ Pippi & Willie Graff [Funky Room] Wednesday 14th – My House – Martin Solveig with Craig David, Riton, Coco Cole, DJ Pippi & Willie Graff [Funky Room] Wednesday 21st – My House – Martin Solveig with 2MANYDJS (DJ Set), Cassius, Coco Cole, Creange, DJ Pippi & Willie Graff [Funky Room] Wednesday 28th – My House – Martin Solveig with Bondax, TBA, Coco Cole, Danny Wade, DJ Pippi & Willie Graff [Funky Room]
JULY
Wednesday 5th – My House – Martin Solveig with MK, Jax Jones, Coco Cole, DJ Pippi & Willie Graff [Funky Room] Wednesday 12th – My House – Martin Solveig x Ed Banger, Cassius, Busy P, Coco Cole, DJ Pippi & Willie Graff [Funky Room] Wednesday 19th – My House – Martin Solveig with A-Trak, Kungs, Coco Cole, Danny Wade, DJ Pippi & Willie Graff [Funky Room] Wednesday 26th – My House – Martin Solveig with MK, Icarus, Coco Cole, Creange, DJ Pippi & Willie Graff [Funky Room]
AUGUST
Wednesday 2nd – My House – Martin Solveig with Mark Ronson, Coco Cole, Creange, DJ Pippi & Willie Graff [Funky Room] Wednesday 9th – My House – Martin Solveig with Boys Noize, Boston Bun, Coco Cole, DJ Pippi & Willie Graff [Funky Room] Wednesday 16th – My House – Martin Solveig with Armand Van Helden, Jax Jones, Coco Cole, DJ Pippi & Willie Graff [Funky Room] Wednesday 23rd – My House – Martin Solveig with MK, KC Lights, Coco Cole, DJ Pippi & Willie Graff [Funky Room] Wednesday 30th – My House – Martin Solveig with Dillon Francis, Michael Calfan, Coco Cole, Danny Wade, DJ Pippi & Willie Graff [Funky Room]
SEPTEMBER
Wednesday 6th – My House – Martin Solveig with Boys Noize, Billy Kenny, Coco Cole, Creange, DJ Pippi & Willie Graff [Funky Room] Wednesday 13th – My House – Martin Solveig with The Magician, Shadow Child, Coco Cole, Danny Wade, DJ Pippi & Willie Graff [Funky Room] Wednesday 20th – My House – Martin Solveig with Vitalic Live, Billy Kenny, Coco Cole, DJ Pippi & Willie Graff [Funky Room] Wednesday 27th – My House – Martin Solveig with MK, Disciples, Coco Cole
OCTOBER
Wednesday 4th – My House (Closing) – The Magician, Jax Jones, Coco Cole, Creange, DJ Pippi & Willie Graff [Funky Room]
www.pacha.com