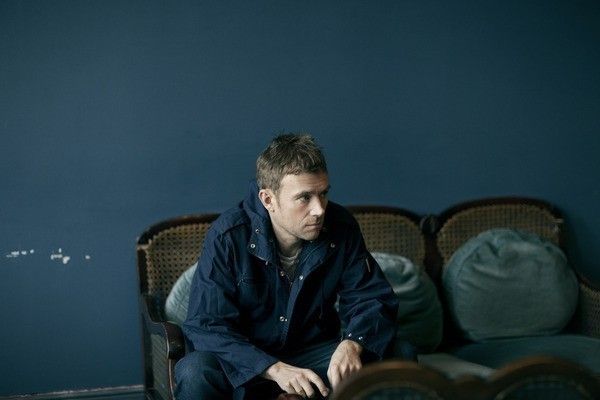 Damon Albarn to Headline EXIT Festival
Damon Albarn, the British musician best known as the frontman of Blur, co-creator of one of the most popular virtual acts in the woorld, Gorillaz, and an integral part in supergroups such as The Good, the Bad & the Queen and Rocket Juice & the Moon will play EXIT's Main Stage on Saturday 12th July, as part of a tour to mark the release of his first solo record 'Everyday Robots'.
Grammy award winner Damon Albarn's flourishing career, which counts various projects earned him so far five BRIT awards, eleven NME awards, six MTV awards, as well as nine Q awards. He has sold over 30 million records worldwide and his debut album with Gorillaz was sold in excess of 5 million copies worldwide, earning multi-platinum status. In April this year, Damon Albarn will present his first solo project, 'Everyday Robots', his most personal and autobiographical project since his musical journey began.
Damon Albarn will embark on a tour at the end of April starting in London, with further performances in Spain, France, Denmark, USA, The Netherlands and Belgium, and on July 12, Damon is coming to Serbia!
Damon Albarn has unveiled the lead single and the title track from his forthcoming debut solo album 'Everyday Robots' in January, whereas the video, a digital portrait of Damon by the artist and designer Aitor Thorup, is available at Damon Albarn's official Youtube channel, at this link. The video for his new song, 'Lonely Press Play', was unveiled last Wednesday and was entirely shot by Damon on a tablet in Tokyo, London, Dallas, Utah, Colchester, Iceland and Devon.The new album explores the relationship between nature and technology, and features Brian Eno and Natasha Khan of Bat for Lashes as special guests.
The fifteenth edition of the 'Best Major European Festival' is marked with the sign of EXIT ADVENTURE, which first takes us to EXIT FESTIVAL, held from July 10 to 13, 2014 at the Petrovaradin Fortress in Novi Sad, only to continue at SEA DANCE FESTIVAL, held from July 15 to 17, 2014 at one of the most beautiful beaches on the Adriatic Sea, Jaz Beach. Get ready for an unforgettable road trip and enjoy a diverse range of artists, for seven unforgettable nights spent with your best mates in the sizzling hot Balkan sunshine. Sounds good? It's time for EXIT ADVENTURE!
So far, confirmed acts for EXIT FESTIVAL include Disclosure LIVE, Rudimental LIVE, Skrillex LIVE, Carl Craig vs. Green Velvet, Dub FX, Dusky vs. Paul Woolford, Jackmaster & Oneman present 'Can U Dance' and Koven LIVE. More to be announced soon!
EXIT FESTIVAL TICKETS, TRAVEL & ACCOMODATION:
EXIT FESTIVAL regular 4 day ticket £95 / 110 Euros + b/f
EXIT ADVENTURE (EXIT + SEA DANCE FESTIVAL) tickets £105 / 125 Euros
Camping tickets for EXIT and SEA DANCE will be available at the price of £25 / 30 Euros each +b/f each.
Buy tickets here: www.exitfest.org/en/worldwide
Getting to EXIT is easy! The nearest airport is Belgrade, with flights from the UK with JAT and Wizz Air and many others with all European carriers. Belgrade is only one hour from Novi Sad and you easily can take a taxi or shuttle bus. EXIT Trip is the Official Travel and accommodation service for the EXIT Festival with the lowest prices guaranteed!
Travel packages from only £115 / 139 Euros including festival ticket, transfers and accommodation. More information on packages, tickets, travel and accommodation here www.exittrip.org
EXIT IS A NON PROFIT ORGANISATION:
As well as the Music, EXIT never forgets its beginnings and aims to evolutions the revolution it started more than one decade ago with several key topics to improve initiative, engagement and further development of young people. EXIT is the only music festival to be created as an effect of youth activism and aims to continue to mobilise the public opinion and thought leaders in the field of youth development on a regional and a global level.
An agreement with the cooperation of the University of Novi Sad and EXIT was signed, with a goal to promote the importance of culture, science and education among the youth and the society in general.
Through a series of public discussions, media articles, workshops, lectures by successful startups, Exit is encouraging young people to take destiny in their own hands and start their own start up business. Several workshops took place on festivals were mentors were giving free lecturing about various topics including; how to create/produce electronic music.
The leading European eco-conference Go Group in cooperation with the European Festival Association was also held, alongside a large number of socially responsible actions that were created during the festival, and whose results will come to life during the next edition of the festival.
Other projects EXIT are involved with are promoting positive role models for young people in the region and highlight all those young, talented, creative people who work hard everyday to make positive change in their own life and their community. Exit donated hundreds of free tickets to the best students, youth activists, young artists and young humanitarian workers.
EXIT. Where hedonism meets activism.
www.exitfest.org